Here are my top 7 Bible verses about pain. Which ones might you include?
Revelation 21:4 "
And God will wipe away all tears from their eyes; and there will be no more death, neither sorrow, nor crying, neither shall there be any more pain: for the former things are passed away

."

This might be my favorite verse about pain and it's because it'll all be gone someday and that is something that I believe most will be relieved about. The older I get the more I look forward to that but this is more than just physical pain that the Apostle John is writing about. It is an emotional pain that includes sorrow and the pain of losing loved ones to death. That will be gone someday forever since Jesus conquered the grave and defeated death at its own game!
Hebrews 12:11 "
For the moment all discipline seems painful rather than pleasant, but later it yields the peaceful fruit of righteousness to those who have been trained by it

."

Discipline is no fun at all. When the Lord disciplines us, and remember that every child of His will be disciplined, it can be very painful but in the end, "God is treating you as sons (and daughters). For what son is there whom his father does not discipline? If you are left without discipline, in which all have participated, then you are illegitimate children and not sons" (Heb 12:7-8). Keep in mind that discipline and love go together since "the Lord disciplines the one he loves, and chastises every son (and daughter) whom he receives" (Heb 12:6).
Romans 8:18 "
For I consider that the sufferings of this present time are not worth comparing with the glory that is to be revealed to us

."

If we live with the end in mind, we can more easily endure the present. Just think of pain and suffering in the way that Paul did; compare our pain today with the glory that's coming and when we enter glory, we'll look back at our present suffering and pain and think that it's "not worth comparing with the glory that is to be revealed" in you and in me.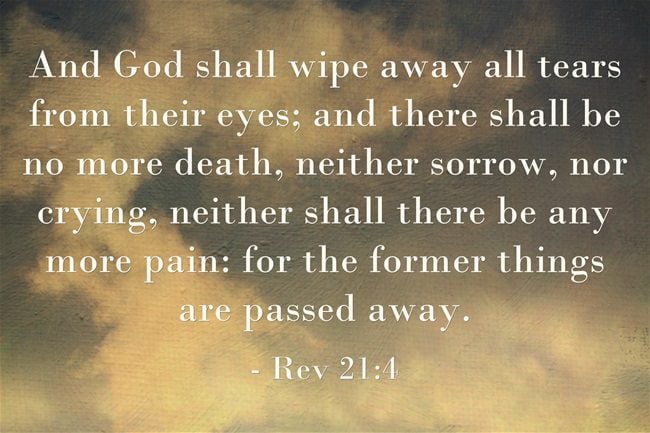 Romans 8:22 "
For we know that the whole creation has been groaning together in the pains of childbirth until now

."

I believe that the earth is groaning under the weight of sin and since the whole creation is groaning and we are part of that creation, then we too groan with pain and suffering, waiting for our deliverance to come someday. The earth is held in the bondage of decay too but when the King of kings and Lord of lords returns, we'll have a new heave and a new earth (Isaiah 65:17; Rev 21:1) and the whole creation can breathe a giant sigh of relief…and that would include us too. Jesus says "I am making everything new" (Rev 21:5).
John 16:21 "
When a woman is giving birth, she has sorrow because her hour has come, but when she has delivered the baby, she no longer remembers the anguish, for joy that a human being has been born into the world

."

The pain of childbirth, I am told, may be the greatest amount of pain anyone will ever go through but after that and the child has come, joy enters for a child has been born and the pain and anguish are remembered less because of the overwhelming joy that floods into a mother's heart.
Job 15:21 "
The wicked man writhes in pain all his days, through all the years that are laid up for the ruthless

."

This is why we evangelize. We desire no one goes through the pain of living a wicked life. A lot of this pain is the mental anguish. The Christian is not immune to pain of course but their relief will come in due time and for sure after death or when the kingdom arrives at Christ's appearance (Rev 21, 22). The overwhelming joy of entering into the presence of the Lord can make all the pain we endured in this life seem like a distant and faded memory, but for the wicked, they will have no rest, either or night and there is no way I can even describe the pain that comes after the judgment of the unrepentant (Rev 20:12-15).
Matthew 4:24 "
So his fame spread throughout all Syria, and they brought him all the sick, those afflicted with various diseases and pains, those oppressed by demons, epileptics, and paralytics, and he healed them

."

Jesus knew a lot about pain. Just think of the agony He endured for hours hanging on the cross. The mental anguish of taking on the sins of humanity and the heartrending pain of being separated from the Father but here, Jesus as the Great Physician, took a lot of people's pain away. Their pains came from their sicknesses, their diseases, the demonic possessions, their epileptic seizures, and their paralysis. Jesus took on all our pains and sorrows upon Himself.
Conclusion
If we remember what Isaiah wrote, Jesus was "a man of sorrows, and acquainted with grief" (Isaiah 53:3), "he has borne our griefs and carried our sorrows" (Isaiah 53:4a), "he was stricken, [and] smitten by God, and afflicted" (Isaiah 53:4b), "he was pierced for our transgressions; he was crushed for our iniquities" (Isaiah 53:5a), "upon him was the chastisement that brought us peace, and with his wounds we are healed" (Isaiah 53:5), "he was oppressed, and he was afflicted" (Isaiah 53:7), because "the Lord has laid on him the iniquity of us all" (Isaiah 53:6b). Think about Jesus the next time you're in pain and the pain that He endured for you.
Article by Jack Wellman
Jack Wellman is Pastor of the Mulvane Brethren church in Mulvane Kansas. Jack is also the Senior Writer at What Christians Want To Know whose mission is to equip, encourage, and energize Christians and to address questions about the believer's daily walk with God and the Bible. You can follow Jack on Google Plus or check out his book Blind Chance or Intelligent Design available on Amazon.