Why does the Bible describe the Promised Land as a land that flows with milk and honey? What does this represent?
The Word as Honey
The Bible compares the Word of God as honey where the psalmist writes "How sweet are your words to my taste, sweeter than honey to my mouth" (Psalm 119:103) but so also are the decrees (words) of the Lord (Psalm 19:9) spoken of as "More to be desired are they than gold, even much fine gold; sweeter also than honey and drippings of the honeycomb" and "by them is your servant warned; in keeping them there is great reward" (Psalm 19:10-11). The psalmist writes that by God's Word "he would feed you with the finest of the wheat, and with honey from the rock I would satisfy you" (Psalm 81:16). Ezekiel was once told by God, "Son of man, feed your belly with this scroll that I give you and fill your stomach with it." Then I ate it, and it was in my mouth as sweet as honey" (Ezk 3:3) so in many places the Word of God is spoken of as honey which is both sweet and nutritious but what about milk? How is milk referred to in the Bible?
The Milk of the Word
Milk has both good and bad overtones when used by the Word of God. For example in Hebrews 5:12-13 it says "For though by this time you ought to be teachers, you need someone to teach you again the basic principles of the oracles of God. You need milk, not solid food, for everyone who lives on milk is unskilled in the word of righteousness, since he is a child" which has negative connotations about their still being babes and not ready for the solid food of the Word. That's why Paul gave a slight rebuke to the Corinthians when he wrote "I fed you with milk, not solid food, for you were not ready for it. And even now you are not yet ready, for you are still of the flesh. For while there is jealousy and strife among you, are you not of the flesh and behaving only in a human way" (1st Cor 3:12-13)? Peter uses the word milk in a positive way when he wrote "Like newborn infants, long for the pure spiritual milk, that by it you may grow up into salvation—if indeed you have tasted that the Lord is good" (1st Pet 2:2-3). So milk and honey are generally used in a positive sense most of the time and they typically refer to feeding on the Word of God and that is always a beneficial thing but what does the phrase "the land flowing with milk and honey" represent in the Bible, with particular reference to the Old Testament, where it is found?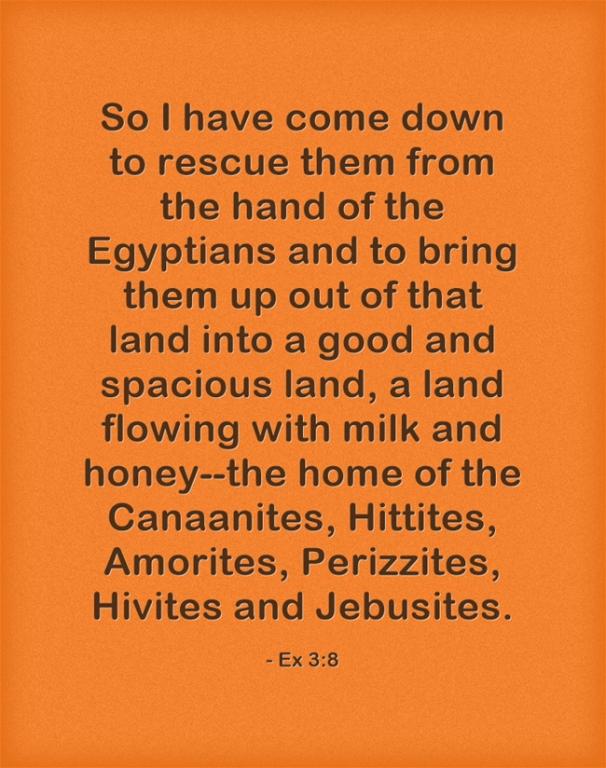 The Promise of Milk and Honey
The early explorers and later, the early American settlers called this land "the land of milk and honey" because it was such a productive and prosperous land. Just like the Promised Land in Canaan, it had abundantly rich resources. Apparently they borrowed this phrase from the Bible where God said "I promise that I will bring you up out of the affliction of Egypt to the land of the Canaanites, the Hittites, the Amorites, the Perizzites, the Hivites, and the Jebusites, a land flowing with milk and honey" (Ex 3:17). When God spoke about Israel's rescue He said that He had brought them "out of the hand of the Egyptians and to bring them up out of that land to a good and broad land, a land flowing with milk and honey" (Ex 3:8) and this land was a land "flowing with milk and honey, the most beautiful of all lands" (Ex 20:6). God warned them about keeping His commands though and that they must "be careful to do them, that it may go well with you, and that you may multiply greatly, as the Lord, the God of your fathers, has promised you, in a land flowing with milk and honey" (Duet 6:3) indicating that their staying in the land was conditioned on their obedience to God and His laws. Furthermore, of God's decrees and laws, He told the nation "you shall write on them all the words of this law, when you cross over to enter the land that the Lord your God is giving you, a land flowing with milk and honey, as the Lord, the God of your fathers, has promised you" (Duet 27:3).
Conclusion
Today, God is still calling men and women into the Promised Land but it's not in Canaan but in the kingdom of heaven. He only asks that they repent (turn away and forsake their sins) and put their trust in the Son of God. This is better than any land flowing with milk and honey for He offers eternal life for all who believe in Him (John 3:16) but promises the wrath of God for those who disbelieve (John 3:36b). You have a choice to make; choose eternal life in Christ or choose eternal separation from God. There are no other options available.
Article by Jack Wellman
Jack Wellman is Pastor of the Mulvane Brethren church in Mulvane Kansas. Jack is also the Senior Writer at What Christians Want To Know whose mission is to equip, encourage, and energize Christians and to address questions about the believer's daily walk with God and the Bible. You can follow Jack on Google Plus or check out his book Blind Chance or Intelligent Design available on Amazon.