Here are my top seven Bible verses about putting your past behind you.
Philippians 4:13-14 "Brothers, I do not consider that I have made it my own. But one thing I do: forgetting what lies behind and straining forward to what lies ahead, I press on toward the goal for the prize of the upward call of God in Christ Jesus."
There is no way to be looking forward while still looking back at "what lies behind" and you can't strain forward and press ahead by looking over your shoulder. Christians are only pilgrims in this world and we are looking ahead to a better future so it doesn't do believers any good to keep looking back all the time. Imagine trying to drive a car by using the rearview mirror. That's an accident waiting to happen, isn't it?
Genesis 19:17 "And as they brought them out, one said, "Escape for your life. Do not look back or stop anywhere in the valley. Escape to the hills, lest you be swept away."
Here was Lot and his family running for their lives and being warned to not look back or stop. Looking back could be seen as still coveting what Lot and his family left behind. Lot and his family resisted leaving the city and so "the men seized him and his wife and his two daughters by the hand, the Lord being merciful to him, and they brought him out and set him outside the city" (Gen 19:16). Did these men, who were really angels, take Lot and his family by force and supernaturally transport them out of the city? It is possible because of the way it said "they brought him out and set him outside the city" (Gen 19:16b). This was evidence that the Lord was "being merciful to him"
Luke 9:62 "Jesus replied, "No one who puts a hand to the plow and looks back is fit for service in the kingdom of God."
This verse falls within the context of the paragraph about the cost of discipleship and of following Jesus (Luke 9:57-62). Jesus is saying that God doesn't see anyone that looks back longingly at the world as being fit for the kingdom because they, just like Lot's wife, don't really want to leave the world. Is the plow symbolic of the work of the kingdom and sowing the seed of the Word of God? Jesus told them before they would chose to follow Him that even He had "nowhere to lay his head" at night (Luke 9:58c) so they had better count the cost and then don't look back.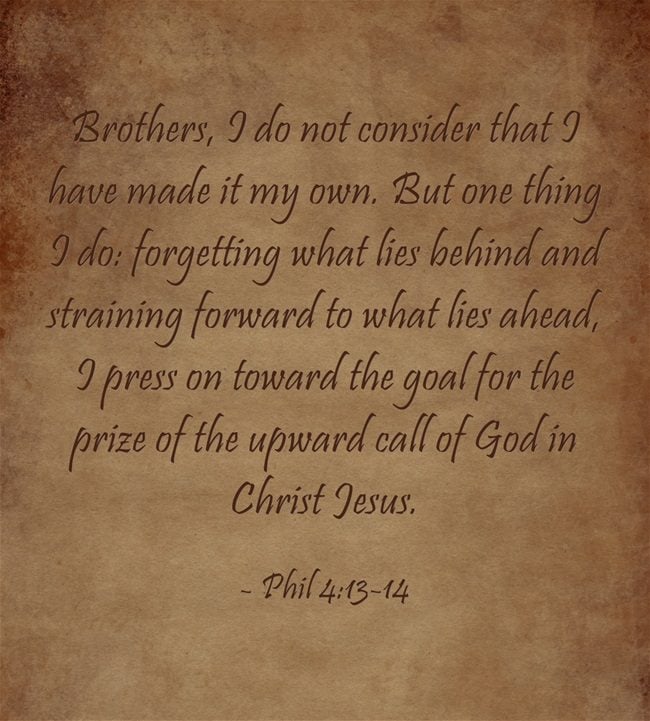 First Corinthians 9:24 "Do you not know that in a race all the runners run, but only one gets the prize? Run in such a way as to get the prize."
I used to run track in high school and I got in the bad habit of looking back at those behind me. I usually started fast but then started to fade out near the finish line. If I had persisted in looking back, I'd either be eliminated for running off the track or stumble because I'm not looking where I'm going. In the race "to get the prize" and that is the kingdom of heaven, we must "Run in such a way as to" win that prize. Of course, our security is assured (John 6:37, 39; 10:28-29) but if we continually look back, we're not really putting our past behind us…we're still too interested to let it go, again like Lot's wife.
Hebrews 6:1 "Therefore let us move beyond the elementary teachings about Christ and be taken forward to maturity, not laying again the foundation of repentance from acts that lead to death, and of faith in God."
Imagine if you were in a Sunday school class in your youth and you were held back year after year and even as an adult, you were still in the 4th grade Sunday school class. The "the elementary teachings about Christ" that we first learned after being saved, needs to "be taken forward to maturity" and move beyond the foundation of our original repentance and "faith in God." You will not grow until you are challenged and Peter admonishes us to "grow in the grace and knowledge of our Lord and Savior Jesus Christ" (2nd Pet 3:18). If a plant doesn't grow, it dies. If a believer doesn't grow, their understanding remains at the elementary level.
Genesis 19:26 "But Lot's wife, behind him, looked back, and she became a pillar of salt."
Here is a reminder for all of us. Once we come out of the world, like our so-called exodus from sin, we must put the past behind us and press ahead and not look back. When Lot's wife looked back, she didn't do it out of curiosity or just to see the destruction of Sodom. She looked back longingly, desirously, and coveting what she had left back in Sodom. She looked back because she wanted to go back. Much like the Christian who comes out of the world but still has to live in the world we look back on the world. This is why Jesus told His listeners "Remember Lot's wife!" (Luke 17:32).
Hebrews 10:38-39 "but my righteous one shall live by faith, and if he shrinks back, my soul has no pleasure in him. But we are not of those who shrink back and are destroyed, but of those who have faith and preserve their souls."
God doesn't want us to shrink back from the faith once we've declared faith in Christ. God doesn't take any pleasure in those who profess faith in Christ but then fall away and are destroyed. They fell away because they were never genuinely saved or as the Apostle John writes, "They went out from us, but they were not of us; for if they had been of us, they would have continued with us. But they went out, that it might become plain that they all are not of us" (1st John 2:2-19). The author of Hebrews wasn't saying that God would forsake them if they shrunk back for a season because he wrote "But we are not of those who shrink back and are destroyed, but of those who have faith and preserve their souls" (Heb 10:39). All believers are going to fall into sin (1st John 1:8, 10) but the difference is we don't dive in and swim around in it.
Conclusion
We all have to put the past behind us but once a person is saved and their destination is the kingdom of heaven, there is no place to check your baggage. You must leaven it all behind. We must all put it behind us and look forward to the coming day when there'll be no more pain, sorrow, suffering, pain, and even death (Rev 21:4). Then the past will be so far back as to seem invisible.
Article by Jack Wellman
Jack Wellman is Pastor of the Mulvane Brethren church in Mulvane Kansas. Jack is also the Senior Writer at What Christians Want To Know whose mission is to equip, encourage, and energize Christians and to address questions about the believer's daily walk with God and the Bible. You can follow Jack on Google Plus or check out his book Teaching Children the Gospel available on Amazon.