Here are my top seven Bible verses about grace with commentary that follows.
Ephesians 2:8-9 "For by grace you have been saved through faith. And this is not your own doing; it is the gift of God, not a result of works, so that no one may boast."
This is the theme of the entire Bible. We are saved, not by anything we do (thankfully), but by God's goodness; His free gift of grace and eternal life. If it depended upon works, not one of us would make it since we must be perfect to enter heaven as it says, "nothing unclean will ever enter it, nor anyone who does what is detestable or false, but only those who are written in the Lamb's book of life" (Rev 21:27).
Zechariah 12:10 "And I will pour out on the house of David and the inhabitants of Jerusalem a spirit of grace and pleas for mercy, so that, when they look on me, on him whom they have pierced, they shall mourn for him, as one mourns for an only child, and weep bitterly over him, as one weeps over a firstborn."
On the day that these "pleas for mercy" are heard, it will come too late for those who have refused to humble themselves by repenting and trusting in Christ and even those who pierced Christ on the cross at Calvary will "mourn for him" and "weep bitterly over him" since they have "killed the Author of life, whom God raised from the dead. To this we are witnesses" (Acts 3:15). Tragically, for most, it appears they will acknowledge Jesus is Lord and God but at a time when it is too late (Rev 21:8). Today is the day of salvation (2 Cor 6:2) because if you wait, tomorrow you may also "mourn for him" and "weep bitterly over him" and have "pleas of mercy" but to no avail.
Romans 6:1 "What shall we say then? Are we to continue in sin that grace may abound?"
The concept of "carnal Christians" might seem to allow for living in sin and not forsaking or repenting of those besetting sins but this is contrary to biblical doctrine. If someone says "I am saved by grace so doing this doesn't concern me" then they are presuming on the good grace of God. They might want to read 1st John chapter three.  They are close to trampling the blood of Christ on the ground. The author of Hebrews gives us a very serious statement about presumptuousness against God "How much worse punishment, do you think, will be deserved by the one who has trampled underfoot the Son of God, and has profaned the blood of the covenant by which he was sanctified, and has outraged the Spirit of grace" (Heb 10:29)?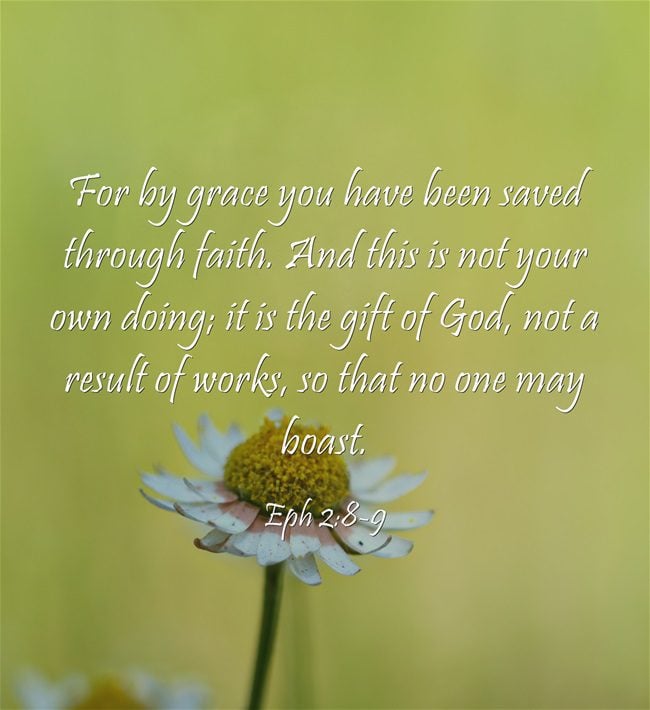 John 1:14 "And the Word became flesh and dwelt among us, and we have seen his glory, glory as of the only Son from the Father, full of grace and truth."
The Apostle John is writing about the incarnation of God into Man through being born into the flesh and this flesh was Jesus Who is both God and Man. John saw His glory but He also observed that Jesus is "full of grace and truth" and both are necessary. Grace without truth is hypocrisy, truth without grace is brutality. Jesus was both the Truth, the Life, and the Way (John 14:6) but He was ever graceful to those who needed grace.
Acts 20:24 "But I do not account my life of any value nor as precious to myself, if only I may finish my course and the ministry that I received from the Lord Jesus, to testify to the gospel of the grace of God."
This chapter is one of the most touching chapters in the entire Bible. It is where Paul is saying goodbye to the Ephesian elders and he says "You yourselves know how I lived among you the whole time from the first day that I set foot in Asia, serving the Lord with all humility and with tears and with trials that happened to me through the plots of the Jews"(Acts 20:18-19) and "how I did not shrink from declaring to you anything that was profitable, and teaching you in public and from house to house, testifying both to Jews and to Greeks of repentance toward God and of faith in our Lord Jesus Christ" (Acts 20:20-21). Paul was "constrained by the Spirit" (Acts 20:22) to go to Jerusalem knowing full well "that imprisonment and afflictions await me" (Acts 20:23). For Paul, his physical life was of no value or precious to him but only the course God set for him and the Lord's ministry. In parting "there was much weeping on the part of all; they embraced Paul and kissed him, being sorrowful most of all because of the word he had spoken, that they would not see his face again. And they accompanied him to the ship" (Acts 20:37-38).
Romans 5:17 "For if, because of one man's trespass, death reigned through that one man, much more will those who receive the abundance of grace and the free gift of righteousness reign in life through the one man Jesus Christ."
It was through Adam that sin was introduced into the world and death has reigned since then. It took another Man, the God Man, for us to be able to "receive the abundance of grace and the free gift of righteousness reign in life" and clearly it was "the one man Jesus Christ" and so "in Adam all die, so also in Christ shall all be made alive" (1st Cor 15:22). Let "the free gift of righteousness reign [our] life."
Second Corinthians 12:9 "But he said to me, "My grace is sufficient for you, for my power is made perfect in weakness." Therefore I will boast all the more gladly of my weaknesses, so that the power of Christ may rest upon me."
Paul had a "thorn in the flesh" and whatever it was, we know it caused him a great deal of suffering but even that works out according to God's purposes (Rom 8:28) because it made Paul depend more on God for His grace to sustain him in his weakness. If the grace sustains us then "the power of Christ may rest upon" us.
Conclusion
The psalmist knew the pricelessness of grace and prayed "Give ear, O Lord, to my prayer; listen to my plea for grace" (Psalm 86:6) and God will hear your cry for mercy if you humble yourself today. God gives anyone the free gift of grace through faith in Christ if they chose to repent and trust in Him, "For by grace you have been saved through faith. And this is not your own doing; it is the gift of God, not a result of works, so that no one may boast" (Eph 2:8-9).
Article by Jack Wellman
Jack Wellman is Pastor of the Mulvane Brethren church in Mulvane Kansas. Jack is also the Senior Writer at What Christians Want To Know whose mission is to equip, encourage, and energize Christians and to address questions about the believer's daily walk with God and the Bible. You can follow Jack on Google Plus or check out his book Teaching Children the Gospel available on Amazon.