Here are my top seven Bible verses about time management that I hope will help you.
John 9:4 "We must work the works of him who sent me while it is day; night is coming, when no one can work."
Jesus is saying that while we still have time we are to do the work of God for the night is coming when no one can work anymore. For the believer, we have only a certain number of breaths in our life and we must learn to redeem it well and use time for God's glory. He expects us to be good stewards of our money and our talent but also of our time.
Psalm 104:19 "He made the moon to mark the seasons; the sun knows it's time for setting."
God set the stars, sun, and moon for His glory but also for our practical use and that was to set the times and seasons by use of the heavens. Sailors used these for navigation purposes and since the "sun knows it's time for setting" "Let us then with confidence draw near to the throne of grace, that we may receive mercy and find grace to help in time of need" (Heb 14:16). God is saying that in the times and seasons where we need His grace and mercy, He will be there for that "time of need."
Ephesians 5:15-16 "Look carefully then how you walk, not as unwise but as wise, making the best use of the time, because the days are evil."
How can we make the best use of our time? Perhaps a day planner would help. We must be wise stewards of our time or as Jesus says, "Who then is the faithful and wise manager, whom his master will set over his household, to give them their portion of food at the proper time" (Luke 12:42). A wise manager is someone one is managing time well because time management is critical when you have a household to watch over.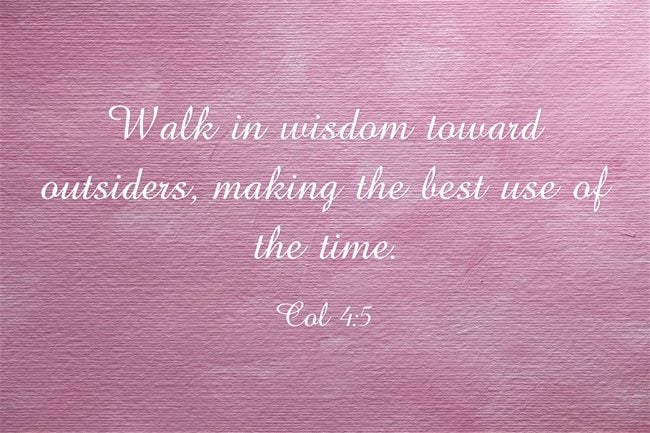 Second Corinthians 9:8 "And God is able to make all grace abound to you, so that having all sufficiency in all things at all times, you may abound in every good work."
Paul understood that God can work in time and space where we cannot. The psalmist knew that we should "Trust in him at all times, O people; pour out your heart before him; God is a refuge for us. Selah" (Psalm 62:8). The author of Hebrews knew that they were not making the best use of their time, writing "by this time you ought to be teachers, you need someone to teach you again the basic principles of the oracles of God. You need milk, not solid food" (Heb 5:12). Since they weren't being wise stewards of their time, they hadn't grown in the grace and knowledge of God, which we are all commanded to do (2nd Pet 3:18).
John 11:9-10 "Jesus answered, "Are there not twelve hours in the day? If anyone walks in the day, he does not stumble, because he sees the light of this world. But if anyone walks in the night, he stumbles, because the light is not in him."
Jesus was just speaking with the disciples who warned Him about going back to Judea since "the Jews were just now seeking to stone you" (John 11:8) so Jesus reminded them that they must work and work as long as there's light. The night is coming and that night may mean the judgment of God, whether at the Great White Throne Judgment (Rev 20:12-15) or after death (Heb 9:27) so by Jesus asking "Are there not twelve hours in a day" He is saying, we must work the works of God while there is yet time.
Colossians 4:5 "Walk in wisdom toward outsiders, making the best use of the time."
This is perhaps the best verse of all of these seven verses because it is precisely about time management. Paul admonishes the church at Colossae to make the very "best use of the time" that they've been given for none of us know what comes tomorrow or whether tomorrow will even come since we "do not know what a day may bring" (Prov 27:1) because we "do not even know what will happen tomorrow. What is your life? You are a mist that appears for a little while and then vanishes" (James 4:14).
Psalm 89:4 "Remember how short my time is! For what vanity you have created all the children of man!"
This reminds me of James 4:14 and Proverbs 27:1 since we don't have a clue as to how long we'll be on this earth. There are no guarantees about tomorrow. We all should "remember how short [our] time is" since we cannot see past the moment and should use every opportunity we can for the glory of God and doing things that are pleasing to Him.
Conclusion
We don't know how much time we have on this earth so Paul would advise us that "as we have opportunity, let us do good to all people, especially to those who belong to the family of believers" (Gal 6:10) because "No one knows about that day or hour, not even the angels in heaven, nor the Son, but only the Father" (Matt 24:36) and really, it is not our business to try and guess when Jesus will return as "It is not for you to know times or seasons that the Father has fixed by his own authority" (Acts 1:7). All we know for sure is that everyone's got an appointment with death and then the judgment (Heb 9:27) so don't waste time; decide today to repent and believe and you will be saved or live with the regret for not redeeming the time for the Redeemer, for time without end (Rev 20:12-15).
Article by Jack Wellman
Jack Wellman is Pastor of the Mulvane Brethren church in Mulvane Kansas. Jack is also the Senior Writer at What Christians Want To Know whose mission is to equip, encourage, and energize Christians and to address questions about the believer's daily walk with God and the Bible. You can follow Jack on Google Plus or check out his book Teaching Children the Gospel available on Amazon.