Here are my top six Bible verses about thinking in a positive way.
Philippians 4:8 "Finally, brothers, whatever is true, whatever is honorable, whatever is just, whatever is pure, whatever is lovely, whatever is commendable, if there is any excellence, if there is anything worthy of praise, think about these things."
Have you ever heard the phrase "You're not what you think you are…what you think, you are"? That seems to be true. Whatever we think about, dwell upon, and contemplate tends to be our mindset. We are what we think and that is a choice we can make. We cannot control circumstances but we can control how we think about them. If we think on excellent things, we'll tend to respond to life excellently.
Proverbs 17:22 "A joyful heart is good medicine, but a crushed spirit dries up the bones."
There is no doubt about the fact that laughter or joyfulness is good for the human body. A joyful heart is a healthier heart and that person typically has a longer lifespan, a reduced risk of cancer and disease, less stress, and is a person that people love to be around. And, joy seems to be contagious too so spread that around by having a joyful or joy-filled heart.
Hebrews 13:5 "So we can confidently say, "The Lord is my helper; I will not fear; what can man do to me?"
Fear is the opposite of courage but it can also show a lack of trust, particularly in God. What can any man do to us since we are firm in the grasp of Jesus and God the Father (John 10:28-29)? We know that Jesus will turn no one away that comes to Him as He says "All that the Father gives me will come to me, and whoever comes to me I will never cast out" (John 6:37) because it is the Father's will "that I should lose nothing of all that he has given me, but raise it up on the last day" (John 6:39). Knowing that should give you confidence and squelch any fears you might have.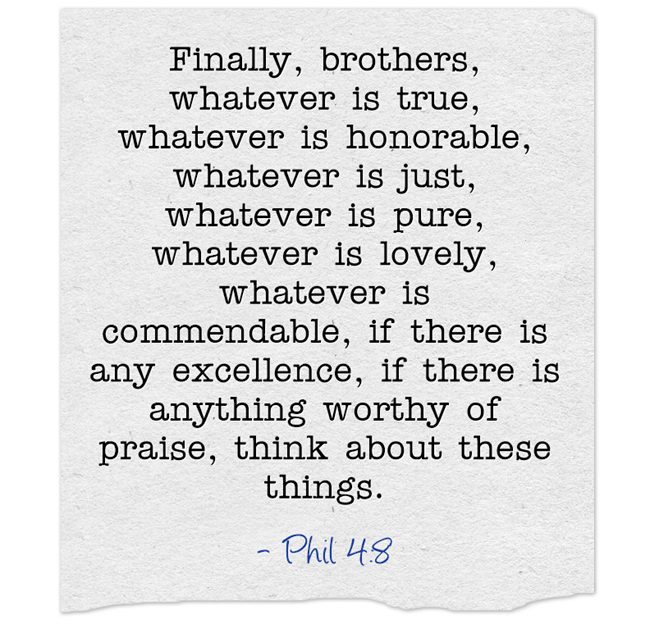 Romans 8:28 "And we know that for those who love God all things work together for good, for those who are called according to his purpose."
This verse is among the favorites of those going through dark nights of the soul where they or someone they love is going through a debilitating disease or facing financial ruin. All things are according to His purpose and God assures us that "all things work together for good." This isn't saying that all things are good or that nothing bad will happen. It only says that whatever happens is for our best because it is according to the purposes of God and that is always good.
Phil 4:6 "Do not be anxious about anything, but in everything by prayer and supplication with thanksgiving let your requests be made known to God."
Anxiety is bad for the body just as joy is good for it. If we know that everything is going to work out for our ultimate best (Rom 8:29) then whatever happens (anything) can be brought to God in prayer but we should be bringing with these supplications our thanksgiving to God. Our anxiety can be brought to God and those things that brought the anxiety can be placed in His hands. We can rest in the fact that when we come with a thankful heart and make our requests to God, our anxiety about life's issues will seem to lesson because of "he has granted to us his precious and very great promises, so that through them you may become partakers of the divine nature, having escaped from the corruption that is in the world because of sinful desire" (2nd Pet 1:4).
Philippians 4:13 "I can do all things through him who strengthens me."
The Book of Philippians has been called the "Epistle of Joy" by many because of all the references to joy. This seems to be the only church that Paul never had any major issues with; therefore this might have been his favorite church. How can Paul be so positive? In the first place, the only way that Paul can do anything at all is because of Christ (John 15:5) but he also had to learn how to be content with what he had or whatever circumstances he was in and said "In any and every circumstance, I have learned the secret of facing plenty and hunger, abundance and need" (Phil 4:12). This allowed Paul to not be anxious about anything but thankful (Phil 4:6) but he said "I have learned in whatever situation I am to be content" (Phil 4:11) so it was a learning process. Paul writes "the peace of God, which surpasses all understanding, will guard your hearts and your minds in Christ Jesus" (Phil 4:7) and that should give you the confidence that you can do all things, according to God's will, because He Himself will strengthen you.
Conclusion
The believer in Christ can "Rejoice in hope, be patient in tribulation, be constant in prayer"(Rom 12:12) and this should make them "not repay evil for evil or reviling for reviling, but on the contrary, bless, for to this you were called, that you may obtain a blessing" (1st Pet 3:9). We will be what we think for the most part and if that's negative, there'll be continual bouts of anxiety and worry but if it's a positive mindset, then you can rejoice in all things (1st Thess 5:16) and give thanks for all things (1st Thess 5:18) and you'll probably draw a crowd. The best way to enhance positive thinking is from abiding in the Word of God because then, the Word of God will be abiding in you (John 15:5, 7).
Article by Jack Wellman
Jack Wellman is Pastor of the Mulvane Brethren church in Mulvane Kansas. Jack is also the Senior Writer at What Christians Want To Know whose mission is to equip, encourage, and energize Christians and to address questions about the believer's daily walk with God and the Bible. You can follow Jack on Google Plus or check out his book Teaching Children the Gospel available on Amazon.