How should Christians treat illegal aliens?
We are Strangers
The word "strangers" and "aliens" are almost one in the same. They are often used interchangeably. Some translations have "strangers" while others use the word "aliens" but Israel was no stranger to aliens at all as in once census, "Solomon counted all the resident aliens who were in the land of Israel, after the census of them that David his father had taken, and there were found 153,600" (2nd Chron 2:17). Many of the aliens in Israel may have come during the Exodus where Egyptian's were intermingled among the Israelites when they left Egypt, so Israel began as a nation with strangers or aliens already living within them. This explains the many laws about how they were to treat aliens or strangers as found in Leviticus 19:34 which says "You shall treat the stranger who sojourns with you as the native among you, and you shall love him as yourself, for you were strangers in the land of Egypt: I am the Lord your God" (Lev 19:34) and in fact, when God gave His laws, they were often addressed to the Israelites and to the strangers or aliens (Lev 17:8-13).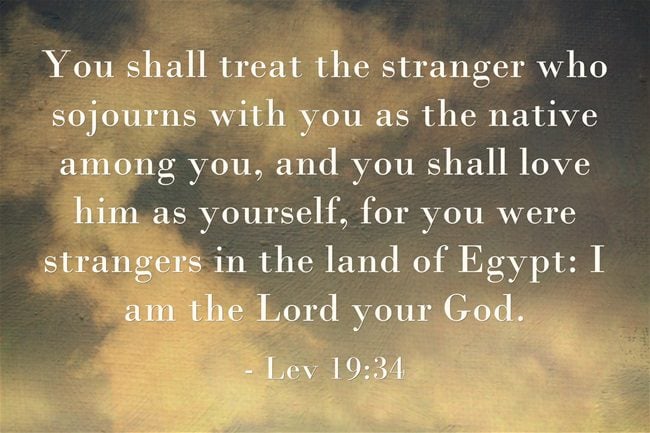 Christians as Aliens
God wants the Christian to look back at their life and "remember that you were at that time separated from Christ, alienated from the commonwealth of Israel and strangers to the covenants of promise, having no hope and without God in the world" (Eph 2:12) but now "you are no longer strangers and aliens, but you are fellow citizens with the saints and members of the household of God" (Eph 2:19). Peter would have us to know that "Once you were not a people, but now you are God's people; once you had not received mercy, but now you have received mercy. Beloved, I urge you as sojourners and exiles to abstain from the passions of the flesh, which wage war against your soul. Keep your conduct among the Gentiles honorable, so that when they speak against you as evildoers, they may see your good deeds and glorify God on the day of visitation" (1st Pet 2:10-12).
Illegal Aliens
The author of Hebrews urges caution in how we treat anyone but especially strangers saying, "Do not neglect to show hospitality to strangers, for thereby some have entertained angels unawares" (Heb 13:2). The point is we cannot tell who is and who is not an illegal alien. We don't know if a stranger we've met is an angel sent by God to see if we'll be hospitable or not. There is a big enough of a problem already with legal residents doing illegal things than to focus on someone who you might think is an illegal alien just because of the way they look or speak. God reminded Samuel "Do not look on his appearance or on the height of his stature, because I have rejected him. For the Lord sees not as man sees: man looks on the outward appearance, but the Lord looks on the heart" (1st Sam 16:7). We can't look at a book and judge it by the cover any more than we can judge a fellow human being just by looking at him or her. Whether they are an illegal alien or not should not matter because they were also created in the image of God (Gen 1:27) and deserve to be treated as we would anyone else.
Conclusion
How would you treat someone you thought was an illegal alien? Should you and I examine our hearts to make sure we don't judge someone by appearances? Is the fact that someone speaks a different language and dresses differently than you and I do should detract from the way we treat them? We are commanded to be salt and light and since Jesus did not come into the world to condemn the world but save it (John 3:17) then neither should we. Trust God and those who He has sovereignly placed in authority to do what needs to be done for they wield the sword for God (Rom 13:4); we don't.
Article by Jack Wellman
Jack Wellman is Pastor of the Mulvane Brethren church in Mulvane Kansas. Jack is also the Senior Writer at What Christians Want To Know whose mission is to equip, encourage, and energize Christians and to address questions about the believer's daily walk with God and the Bible. You can follow Jack on Google Plus or check out his book Teaching Children the Gospel available on Amazon.