Why did Paul write the Book of Colossians? What is it about this book that can help believers?
The Author
The Book of Colossians was sent to the church at Colossae which is near Laodicea and was likely written about around A.D. 58-62. Paul obviously wrote the Book of Colossians or the letter as he opens it by writing "Paul, an apostle of Christ Jesus by the will of God, and Timothy our brother, To the saints and faithful brothers in Christ at Colossae" (Col 1:1-2). He writes this while in prison and is one of four prison epistles in the New Testament (along with Ephesians, Philippians, and Philemon).
The Preeminence of Christ
As for the study of Christ, this might be the best section on Christology there is in the Bible. Paul shows the divinity of Christ, the sufficiency of Christ, and the supremacy of Christ in the Book of Colossians. Paul writes of Jesus as being "the image of the invisible God" and it is "by him all things were created, in heaven and on earth, visible and invisible, whether thrones or dominions or rulers or authorities—all things were created through him and for him. And he is before all things, and in him all things hold together" (Col 1:15-17). Jesus is declared to be the Creator of all things and it was done through Him and for Him and before all these things existed, He was (John 1:1).  It is by the Word of His power that "all things hold together" so that divine power is still operating in all matter in all places in the universe at this moment.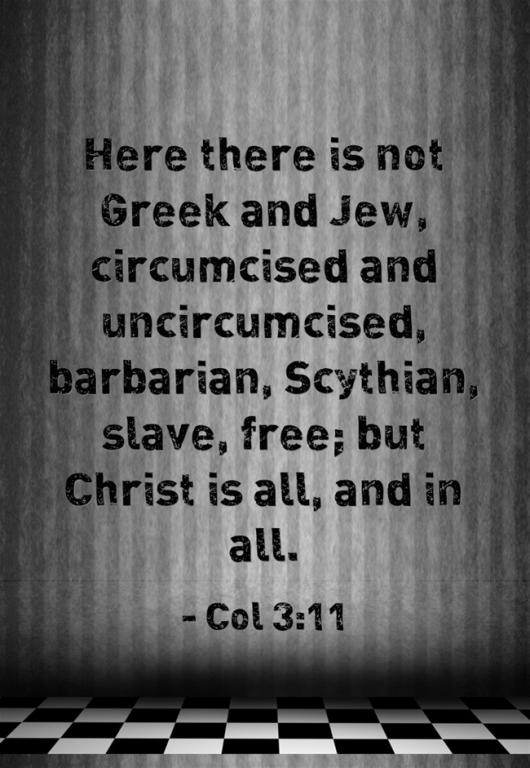 The Purpose of Colossians
The Book of Colossian's purpose, besides showing the supremacy, sufficiency, and divinity of Christ, is how Christians are to live in the world and before God (Col 3). When we became new creatures in Christ, we "Put to death therefore what is earthly in you: sexual immorality, impurity, passion, evil desire, and covetousness, which is idolatry. On account of these the wrath of God is coming" (Col 3:5-6). Those are the things we used to do (Col 3:7) but now we are to "put on the new self, which is being renewed in knowledge after the image of its creator" (Col 3:10) and it doesn't matter who you are (Col 3:11). In our old nature, we gossiped, fought, and strove against others but now we are to have "compassionate hearts, kindness, humility, meekness, and patience, bearing with one another and, if one has a complaint against another, forgiving each other; as the Lord has forgiven you, so you also must forgive" (Col 3:12-13). Jesus says "You will recognize them by their fruits" (Matt 7:16a) and if there's no real fruit then there's no real root.
Warnings of Legalism
Jesus once rebuked the religious establishment by telling them "This people honors me with their lips, but their heart is far from me; in vain do they worship me, teaching as doctrines the commandments of men" (Matt 15:8-9). In light of this real threat Paul warns the Colossians to beware of "philosophy and empty deceit, according to human tradition, according to the elemental spirits of the world, and not according to Christ" (Col 2:8). That type of belief is totally useless because "the record of debt that stood against us with its legal demands [was] set aside, nailing it to the cross" (Col 2:14). What can be added to Christ's work on the cross? Nothing, "Therefore let no one pass judgment on you in questions of food and drink, or with regard to a festival or a new moon or a Sabbath. These are a shadow of the things to come, but the substance belongs to Christ" (Col 2:16-17). If your church starts to be about "Do not handle, Do not taste, Do not touch" (Col 2:21) then do not stop on your way out the door.
Conclusion
The Book of Colossians is rich in the study of Jesus Christ and His divine attributes and position of utter supremacy and He is coming back to judge the world in righteousness but if you've not been declared righteous by God through Christ (2nd Cor 5:21) then all you have to expect in time is the judgment of God (Rev 20:12-15). You have rejected the only message of hope (Acts 4:12), you have hardened your heart toward God, you have refused to humble yourself and repent, and so it is "On account of these the wrath of God is coming" (Col 3:6). Please my dear reader, consider today, your day of salvation (2nd Cor 6:2).
Article by Jack Wellman
Jack Wellman is Pastor of the Mulvane Brethren Church in Mulvane Kansas. Jack is also the Senior Writer at What Christians Want To Know whose mission is to equip, encourage, and energize Christians and to address questions about the believer's daily walk with God and the Bible. You can follow Jack on Google Plus or check out his book Teaching Children the Gospel available on Amazon.