Is it normal for someone to doubt their salvation? What does the Bible say about doubt?
The Power of the Word
I'm not sure how it works but it seems that staying in sin keeps you out of the Word but staying in the Word keeps you out of sin. That surely doesn't mean we'll be sinless but staying in the Word consistently will help us to sin less! I also know that the more a Christian sins, the less assurance they'll have about their salvation. Maybe it's because they know that "No one who abides in him keeps on sinning; no one who keeps on sinning has either seen him or known him" (1st John 3:6) since "No one born of God makes a practice of sinning, for God's seed abides in him, and he cannot keep on sinning because he has been born of God" (1st John 3:9). The Apostle Peter tells us to "be all the more diligent to confirm your calling and election, for if you practice these qualities you will never fall" (2nd Peter 1:10). What qualities was Peter writing about? It consisted of goodness; self-control; perseverance; and godliness. If you are practicing these things and not practicing sins, then you can make confirm that your calling and election is sure.
The Spirit or the Enemy?
Sometimes, the enemy or his lying demons will try to whisper in the ear of the believer, "You're not really a Christian. Just look at you! You are a hypocrite and hopelessly condemned." That is not from the Spirit of God but from the father of lies. The way to know if it's the Spirit or the enemy is this; the Spirit convicts us of certain sins and we are convicted enough to repent of them and confess them to God but the enemy isn't specific about sins but in general sends feelings of condemnation and hopelessness, thereby robbing us of our joy and our Christian testimony and witnessing for Christ and we don't even try to overcome our sins nor confess them to God. The Spirit motivates with a godly fear, the enemy paralyzes with deadly fear.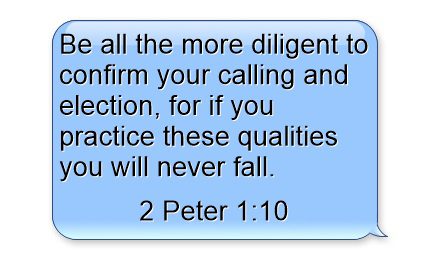 God is Faithful
I think most Christians have experienced doubt at times. Maybe the young Timothy, whom Paul was mentoring, had doubts even about his own salvation so Paul writes that even "if we are faithless, he remains faithful for he cannot deny himself" (2 Tim2:13) and Jesus reminds us that "All that the Father gives me will come to me, and whoever comes to me I will never cast out" (John 6:37) and all means more than 99 out of a hundred but more than that, Jesus said "I give them eternal life, and they will never perish, and no one will snatch them out of my hand. My Father, who has given them to me, is greater than all, and no one is able to snatch them out of the Father's hand" (John 10:28-29). Jesus gives eternal life to everyone who comes to Him after they repent and trust in Him. He's not in the business of taking back what He gives. God only has children and He's never had a child of His that's been born again that was stillborn child. Death can't keep you from God, just as Jesus told Martha, "I am the resurrection and the life. Whoever believes in me, though he die, yet shall he live" (John 11:25).
Seasons of Doubt
If you have professed to be a Christian and yet are living in sin, then you have no assurance of your salvation. If you say you haven't sinned, then you are basically calling God a liar (1st John 1:8, 10). Either ditch is dangerous to drive in. The Apostle John wanted his readers to not have such doubts so he wrote "I write these things to you who believe in the name of the Son of God that you may know that you have eternal life" (1st John 5:13). Jude also wrote as if writing to a group of people who had one extreme or the other. They either lived in fear over doubt in their salvation or they were living in sin and needed to hear a mixed message of hope and fear so he wrote "have mercy on those who doubt; save others by snatching them out of the fire; to others show mercy with fear, hating even the garment stained by the flesh" (Jude 1:22-23) but even in Jude's closing doxology (praise) he writes "to him who is able to keep you from stumbling and to present you blameless before the presence of his glory with great joy" (Jude 1:24) and that "Him" who is able to keep us from stumbling, in order to present us blameless before God, is God Himself.
Conclusion
Is it normal to doubt your salvation? Yes, for a time but it is not normal to stay there. If you doubt your salvation, that doesn't necessarily mean you are not saved. Examine why you feel that way. Understand that human emotions are the shallowest pool of truth in the human mind. Our feelings are highly questionable as sources of truth but God's Word is as sure as anything possibly can be. Our feelings are subjective, thereby subject to error; God's Word is objective and is always true and is without error. Here's an example of having assurance in our salvation from God-breathed Scripture; "Who shall bring any charge against God's elect? It is God who justifies" (Rom 8:33) because Paul was so sure about our secure position before God he wrote "I am sure that neither death nor life, nor angels nor rulers, nor things present nor things to come, nor powers, nor height nor depth, nor anything else in all creation, will be able to separate us from the love of God in Christ Jesus our Lord" (Rom 8:38-39). If you're not saved, then I don't know how you can pillow your head at night knowing that after death you've got the judgment of God awaiting you.
Article by Jack Wellman
Jack Wellman is Pastor of the Mulvane Brethren Church in Mulvane Kansas. Jack is also the Senior Writer at What Christians Want To Know whose mission is to equip, encourage, and energize Christians and to address questions about the believer's daily walk with God and the Bible. You can follow Jack on Google Plus or check out his book Teaching Children the Gospel available on Amazon.