Here's a Sunday school lesson or Bible study on pride.
God's View on Pride
Isaiah 2:11 "The haughty looks of man shall be brought low, and the lofty pride of men shall be humbled, and the Lord alone will be exalted in that day."
God has seen plenty of pride in this world but promises to "punish the world for its evil, and the wicked for their iniquity; I will put an end to the pomp of the arrogant, and lay low the pompous pride of the ruthless" (Isaiah 13:11). God is against or opposed to the proud (James 4:6) and again Isaiah writes that "the haughtiness of man shall be humbled, and the lofty pride of men shall be brought low, and the Lord alone will be exalted in that day" (Isaiah 2:17) including anyone "in pride and in arrogance of heart" (Isaiah 9:9) and "the Lord will lay low his pompous pride together with the skill of his hands" (Isaiah 25:11). What do we have to be proud about anyway (Rom3:10-12)?
Why is God so opposed to the proud?
What is arrogance?
Why should only God be exalted?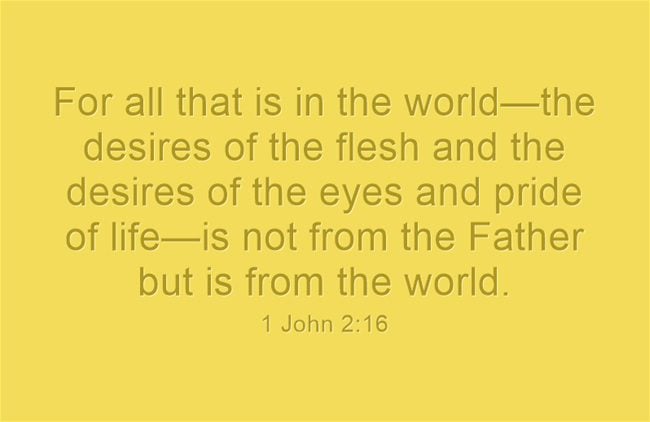 Jesus' View on Pride
Mark 7:21-23 "For from within, out of the heart of man, come evil thoughts, sexual immorality, theft, murder, adultery, coveting, wickedness, deceit, sensuality, envy, slander, pride, foolishness. All these evil things come from within, and they defile a person."
In Mark 7, Jesus was telling us about where the evil comes from and it is from the human heart saying "There is nothing outside a person that by going into him can defile him, but the things that come out of a person are what defile him" (Mark 7:15). It's like you've got a well and you lower the bucked into a well and bring out all of the evil, vile, wickedness of the human heart as the heart is deceitful above all things (Jer 17:9) so "everyone who exalts himself will be humbled, and he who humbles himself will be exalted" (Luke 14:11) so "Humble yourselves before the Lord, and he will exalt you" (James 4:10). You can exalt yourself but God will humble you but if you humble yourself, then God will exalt you.
How can God humble the proud?
Why does Jesus say the evil comes from within the heart?
How many of these traits (in Mark 7:21-23) so you see in others? Or in yourself?
The Apostle's View on Pride
First John 2:16 "For all that is in the world—the desires of the flesh and the desires of the eyes and pride of life—is not from the Father but is from the world."
These three are what Satan used against Jesus unsuccessfully but it worked against Adam and Eve as they wanted to become like God and take for themselves the knowledge of God and evil (Gen 3:5) so "when the woman saw that the tree was good for food, and that it was a delight to the eyes, and that the tree was to be desired to make one wise, she took of its fruit and ate, and she also gave some to her husband who was with her, and he ate" (Gen 3:6) and the fall of mankind was sealed. Just as Satan twisted Scripture in the Garden (Gen 3:2-3), there are preachers today who are twisting Scripture to fit their own lusts (2nd Pet 2:1-4).
Why do people try to take Scriptures out of context?
What method did Satan use to deceive Eve?
Do humans have the tendency to sit on the throne of God?
Solomon's View on Pride
Proverbs 16:18 "Pride goes before destruction, and a haughty spirit before a fall."
That's because "When pride comes, then comes disgrace, but with the humble is wisdom" (Prov 11:2). Contrary to the way the world thinks and operates, "One's pride will bring him low, but he who is lowly in spirit will obtain honor" (Prov 29:23). "'Scoffer' is the name of the arrogant, haughty man who acts with arrogant pride" (Prov 21:24). James wrote that "God opposes the proud, but gives grace to the humble" (James 4:6). Pride blocks the access to grace but humility opens the door wide for God to extend His grace. Why shouldn't we crush our pride since "The Lord is near to the brokenhearted and saves the crushed in spirit" (Psalm 34:18).
Shouldn't we have good self-esteem (Rom 3:10-12, 23; Phil 2:3)?
Why does destruction or ruin follow pride?
What does "crushed in spirit" and "contrite mean?"
Conclusion
I urge you in your study to look at all of the Bible verses and read them aloud in the class so that you can get the most out of this lesson on pride of which God abhors as Obadiah writes, "The pride of your heart has deceived you, you who live in the clefts of the rock, in your lofty dwelling, who say in your heart, "Who will bring me down to the ground" (Obad 1:3). My view on pride is that I have too much of it. Pride is the only thing we never run out of that we need to get rid of. My heart, just like your heart, can deceive us (Jer 17:9) so the lesson for us is like that in Psalm 10:4 which says, "In the pride of his face the wicked does not seek him; all his thoughts are, "There is no God" so the psalmist advice is to "Love the Lord, all you his saints! The Lord preserves the faithful but abundantly repays the one who acts in pride" (Psalm 31:23) and if "pride is their necklace; violence covers them as a garment" (Psalm 73:6).
Article by Jack Wellman
Jack Wellman is Pastor of the Mulvane Brethren Church in Mulvane Kansas. Jack is also the Senior Writer at What Christians Want To Know whose mission is to equip, encourage, and energize Christians and to address questions about the believer's daily walk with God and the Bible. You can follow Jack on Google Plus or check out his book Teaching Children the Gospel available on Amazon.