Here is a Sunday school lesson or Bible study on serving others.
Serving Employers
Philippians 2:22 "But you know Timothy's proven worth, how as a son with a father he has served with me in the gospel."
Timothy, like Titus, served Paul in proclaiming the gospel but the Apostle Paul reminds us that "Those who have believing masters must not be disrespectful on the ground that they are brothers; rather they must serve all the better since those who benefit by their good service are believers and beloved" (1st Timothy 6:2). This could just as easily apply to those of us who work for an employer. Paul sees our work as not really being done for an employer but for God as he writes "Whatever you do, work heartily, as for the Lord and not for men, knowing that from the Lord you will receive the inheritance as your reward. You are serving the Lord Christ" (Col 3:23-24).
Have you served someone in proclaiming the gospel?
How can we serve God at our employer?
Who do we ultimately work for?
Serving others with our Gifts
First Peter 4:10 "As each has received a gift, use it to serve one another, as good stewards of God's varied grace."
God has given each member of the Body of Christ, the church, gifts to serve one another in the church as Paul writes "God arranged the members in the body, each one of them, as he chose" (1st Cor 12:18) and "Having gifts that differ according to the grace given to us, let us use them: if prophecy, in proportion to our faith" (Rom 12:6). No Christian can ever say that they have no gifts of the Spirit since "each has his own gift from God, one of one kind and one of another" (1st Cor 7:7) and these gifts are not for us but for the church to build up one another in the faith.
What gift of the Spirit do you believe you have?
Have you ever taken a spiritual inventory of your gifts?
What is the purpose of our gifts?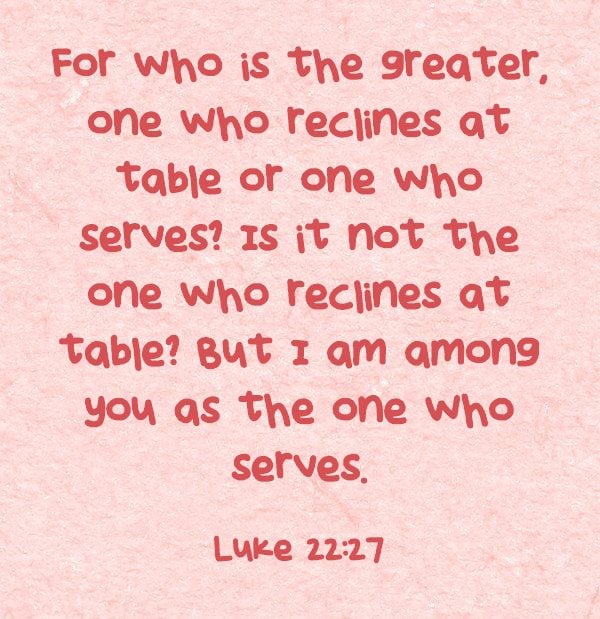 The Greatest is the Servant
Luke 22:27 "For who is the greater, one who reclines at table or one who serves? Is it not the one who reclines at table? But I am among you as the one who serves."
When Jesus washed the disciple's feet, He was sending them a very important message and "asked them. "You call me 'Teacher' and 'Lord,' and rightly so, for that is what I am. Now that I, your Lord and Teacher, have washed your feet, you also should wash one another's feet. I have set you an example that you should do as I have done for you" (John 13:12c-15). Jesus' point was that "no servant is greater than his master, nor is a messenger greater than the one who sent him" (John 13:16) and so the greater is the one who serves, not the one being served. Greatness in the kingdom is not determined by how many serve us but by how many we serve.
How have you "washed the saint's feet" in a figurative sense?
Did Jesus' washing the disciple's feet have significance for us today?
What example do we show others in the church? What about outside of the church?
Why did Jesus wash His betrayer, Judas' feet?
Called to Serve
Mark 10:45 "For even the Son of Man came not to be served but to serve, and to give his life as a ransom for many."
Even though Jesus is God, He came to serve by giving His life as a ransom for many so how can we not serve. As the Apostle Paul writes in Galatians 5:13 "you were called to freedom, brothers. Only do not use your freedom as an opportunity for the flesh, but through love serve one another" for as Paul wrote "though I am free from all, I have made myself a servant to all, that I might win more of them" (1st Cor 6:19) so that should be our goal too. The love of God for us should compel us to be "submitting to one another out of reverence for Christ" (Eph 5:21).
How do we submit to one another in the church?
What does "being called to freedom" mean?
Do you give your life as a ransom for others?
Conclusion
I urge you in your study to look at all of the Bible verses and read them aloud in the class so that you can get the most out of this lesson on serving others. Jesus tells us we must serve one another but we are to "worship the Lord your God and him only shall you serve" (Matt 4:10) and as Jesus says, "If anyone serves me, he must follow me; and where I am, there will my servant be also. If anyone serves me, the Father will honor him" (John 12:26). If a person follows Christ, they are to follow what He did while on the earth and that is not easy. Our natural flesh craves the idea of others serving us and serving others is contrary to our own nature. That's the paradoxical life of the believer; to do just the opposite of what the world does who know not Christ and to do what God commands us to do; to serve one another, to love one another, and to esteem others better than ourselves (Phil 2:3).
How hard is it to serve others who we feel don't deserve it?
Did we deserve Jesus' washing our own filthy feet?
What does Jesus' washing Judas' feet symbolize?
What has changed in your understanding of serving others in this study?
Article by Jack Wellman
Jack Wellman is Pastor of the Mulvane Brethren Church in Mulvane Kansas. Jack is also the Senior Writer at What Christians Want To Know whose mission is to equip, encourage, and energize Christians and to address questions about the believer's daily walk with God and the Bible. You can follow Jack on Google Plus or check out his book Teaching Children the Gospel available on Amazon.