Here are seven Bible verses that you can give to a friend.
John 15:12-13 "This is my commandment, that you love one another as I have loved you. Greater love has no one than this, that someone lay down his life for his friends."
Is there any greater love than a love willing to lay down a life for their friends? Now, think of this; "God shows his love for us in that while we were still sinners, Christ died for us" (Rom 5:8) and "while we were enemies we were reconciled to God by the death of his Son" (Rom 5:10). That is a radical kind of love; not only willing to die for a friend but for an enemy of God too, which was all of us before we were saved. Wow!
First Samuel 18:1 "As soon as he had finished speaking to Saul, the soul of Jonathan was knit to the soul of David, and Jonathan loved him as his own soul."
What a tender verse showing just how close David and Jonathan were; their souls were described as being knit or interwoven together as one. Jonathan's love for David was like a love for his own soul and this was shown by his risking his life for David more than once as even his own father, King Saul, would have fits of anger about David. Saul even attempted to kill his own son Jonathan because of this anger; in public (1st Sam 20:32-34)!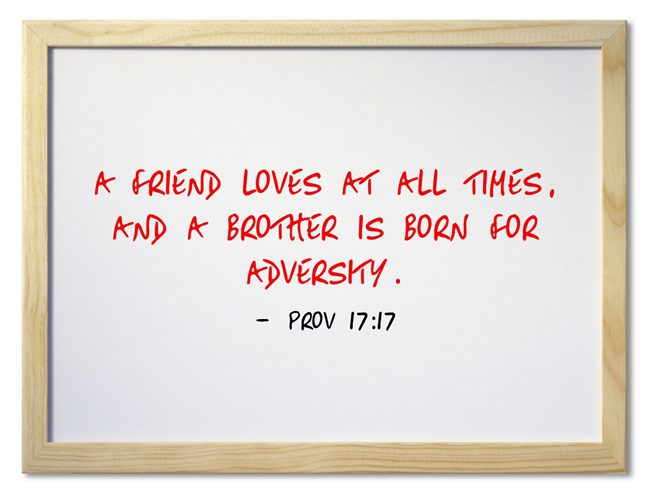 Proverbs 17:17 "A friend loves at all times, and a brother is born for adversity."
How true it is that a friend is born for adversity; ours! Do you have a close friend that you can tell anything with the knowledge that they won't share it with anyone? I have a mentor that I tell things that I tell to no one else. He is more than a friend; he is a brother for the times of adversity in my life just as I am mentoring a young man. So it is with a friend; God sovereignly directs people in our life so that we can encourage one another and love one another and they are often closer than our own blood brothers and sisters.
John 15:15 "No longer do I call you servants, for the servant does not know what his master is doing; but I have called you friends, for all that I have heard from my Father I have made known to you."
Just prior to Jesus' going to the cross, He told His disciples that He now calls them friends and no longer servants and here's what godly friends do; they communicate their feelings to them, even at the risk of angering them. That's what friends do. A friend will help a friend by speaking the truth and sometimes the truth hurts.
First Samuel 20:17 "And Jonathan made David swear again by his love for him, for he loved him as he loved his own soul."
Were there any closer friends in the Bible than David and Jonathan? These two men were the supreme example of having godly friends who love their friends more than themselves. Jesus told the disciples that there is no "Greater love has no one than this, that someone lay down his life for his friends" (John 15:13) and Jonathan laid down his own life, his own interests, and his own safety for that of his friend, David. A friend is willing to take a risk for another friend when they love them "as [they] love [their] own soul."
Proverbs 17:17 "Iron sharpens iron, and one man sharpens another."
I know this proverb is true because during our Wednesday night Bible study, we learn so much from one another since there is "an abundance of counselors there is safety" (Prov 11:14). What one person sees, the others may not, so it is with biblical knowledge. What one person knows can be shared with the others so we can all grow together and one sharpens another in the Scriptures.
Job 2:11 "Now when Job's three friends heard of all this evil that had come upon him, they came each from his own place, Eliphaz the Temanite, Bildad the Shuhite, and Zophar the Naamathite. They made an appointment together to come to show him sympathy and comfort him."
Job's friends first came to him to console him and comfort him and for the first few days, they said nothing. Sometimes when someone is going through great suffering or loss, there is nothing that we can really say and so we can just sit with them in their grief and that's what Job's friends did but even Job's friends later turned on him and he was left alone in defending himself. For a time, they showed him sympathy and they comforted him but when they couldn't explain the problem of Job's suffering, sadly, they blamed Job.
Conclusion
I hope you have a godly friend that you can share your sorrows with, that you can counsel with, or that you can help. We all need friends and no more so than a godly brother or sister in Christ. We need one another and as a brother or sister, they are born for adversity but so are we for them. Need a friend? Show yourself friendly. Have a friend? Love them like you love yourself because we'll need friends in this life. The older I get, the more value I see in friends.
Article by Jack Wellman
Jack Wellman is Pastor of the Mulvane Brethren Church in Mulvane Kansas. Jack is also the Senior Writer at What Christians Want To Know whose mission is to equip, encourage, and energize Christians and to address questions about the believer's daily walk with God and the Bible. You can follow Jack on Google Plus or check out his book Teaching Children the Gospel available on Amazon.