Here are seven Bible verses referring specifically to Noah.
Genesis 6:9 "These are the generations of Noah. Noah was a righteous man, blameless in his generation. Noah walked with God."
This verse shows just why God saved Noah and his family. He saw Noah as "a righteous man" and in his own generation, "blameless." Even more, Noah walked with God, and that term, "walked with God," is always associated with a deep, close, personal relationship. That's why Enoch never tasted death and God took him (Gen 5:24). God didn't say Noah was perfect, for none of us are, and in fact, far from it (Rom 3:10). Everyone, Noah included, falls short of God's glory but God's grace is great and He saves those who are humble of spirit. Noah was such a man.
Hebrews 11:7 "By faith Noah, being warned by God concerning events as yet unseen, in reverent fear constructed an ark for the saving of his household. By this he condemned the world and became an heir of the righteousness that comes by faith."
Noah was warned by God and Noah took the warning seriously. Today we have warnings through biblical writers who write about the necessity for repentance and faith (Mark 1:15). Some have created their own God and after their own likeness (or likes) and only see God as a God of love, and that's it. People won't even be warned by their false god. Jesus spoke twice as much about hell as He did heaven because He was warning them of the wrath to come that will be revealed someday (Rom 2:4-5). Yes, God is love but that's not the whole picture of God. That is one small slice of His holiness. That's why the Word of God is printed, spoken, and preached. It is to reveal the wrath of God and make them see their sin and flee to the cross. Faith comes by hearing (Rom 10:17).
Genesis 6: 8 "But Noah found favor in the eyes of the Lord."
Noah walked with God, was righteous in His sight, and was blameless before God so it's no wonder that "Noah found favor in the eyes of the Lord." So too will all others who repent and believe in the Son of God. That will find you having favor in the eyes of the Lord too. Jesus said as much in John 3:36, where He said it's a double-sided coin; "Whoever believes in the Son has eternal life; whoever does not obey the Son shall not see life, but the wrath of God remains on him."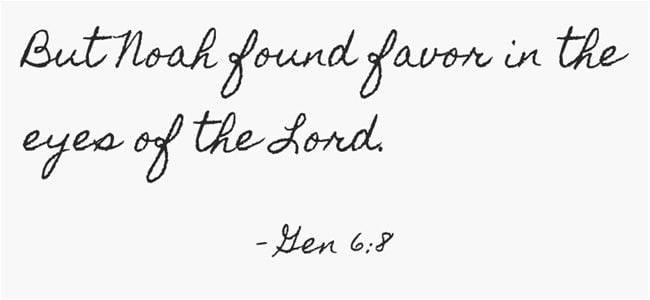 First Peter 3:20 "because they formerly did not obey, when God's patience waited in the days of Noah, while the ark was being prepared, in which a few, that is, eight persons, were brought safely through water."
When the Apostle Peter was writing this, he was trying to emphasize to the scattered Jews (1 Pet 1:1) that God is patient, just like in the days of Noah, waiting patiently for the wicked to come to repentance. God will avenge their enemies, even though we know that God doesn't desire that anyone perish, as Peter writes elsewhere: "The Lord is not slow to fulfill his promise as some count slowness, but is patient toward you, not wishing that any should perish, but that all should reach repentance" (2nd Pet 3:9), which explains why "Christ also suffered once for sins, the righteous for the unrighteous" (1st Pet 3:18).
Genesis 7:1 "Then the Lord said to Noah, "Go into the ark, you and all your household, for I have seen that you are righteous before me in this generation."
This is the third time that God declared about Noah that he was righteous before Him. Even though we are all unworthy, God is gracious and merciful to those who see their need for the Savior. Noah walked with God and so he must have known the holiness of God and what was pleasing in His sight. For Noah's sake, all his family was spared. Only eight out of all who lived, but instead of thinking it's so amazing that only a few were saved, it's more amazing that any of us are saved!
Genesis 7:5 "And Noah did all that the Lord had commanded him."
The reason that Noah was righteous and blameless was because Noah did all that the Lord commanded him. Our obedience proves our love for God and it is just as Jesus said, "If you love me, you will keep my commandments" (John 14:15) so it is "by this we know that we have come to know him, if we keep his commandments" (1st John 2:3). John gives a great definition of love in writing "For this is the love of God, that we keep his commandments" (1st John 5:3a).
Genesis 5:28-29 "When Lamech had lived 182 years, he fathered a son and called his name Noah, saying, "Out of the ground that the Lord has cursed, this one shall bring us relief from our work and from the painful toil of our hands."
Lamech seems to be prophesying about Noah, as if he sees some coming judgment of God. Lamech was not that far removed from Adam and so it was common knowledge that God has cursed the earth on account of Adam and Eve's sin, so Lamech says of Noah that he "shall bring us relief," possibly referring to the ark he would build. The Hebrew word for "relief" is better rendered "rest" because that fits the context better after the flood waters receded, because only Noah and his family were left alive. The evil of mankind, at least for the moment, had been silenced.
Conclusion
Noah was a righteous man because he obeyed God. When we love someone, we naturally want to do things that are pleasing for them and living a life of holiness (as much as possible in this life, e.g. Romans 7), allows us to receive the blessings of God, but resistance to God results in curses far worse than a flood (Rev 20:12-15).
Article by Jack Wellman
Jack Wellman is Pastor of the Mulvane Brethren Church in Mulvane Kansas. Jack is also the Senior Writer at What Christians Want To Know whose mission is to equip, encourage, and energize Christians and to address questions about the believer's daily walk with God and the Bible. You can follow Jack on Google Plus or check out his book Teaching Children the Gospel available on Amazon.