Here are seven Bible verses relating to talking to God.
Exodus 33:11 "Thus the LORD used to speak to Moses face to face, as a man speaks to his friend. When Moses turned again into the camp, his assistant Joshua the son of Nun, a young man, would not depart from the tent."
Even the religious leaders of Jesus day knew "that God spoke to Moses, but we do not know where this man is from" (John 9:29), meaning of course, Jesus Christ. They had right in front of them God of very God in Jesus Christ, and yet they refused to acknowledge Him as God. They would have loved to speak with God directly but didn't realize that they had already been doing so. How hard their hearts were.
Second Chronicles 7:14 "If my people who are called by my name humble themselves, and pray and seek my face and turn from their wicked ways, then I will hear from heaven and will forgive their sin and heal their land."
God will hear us when we are repentant and confess our sins before Him. Such was the prayer of Solomon when he took over as king after King David's death. Solomon understood that God will resist those who are proud and pour out His grace only on the humble (James 4:6) so we must confess our sins and humble ourselves and seek God's face and turn from our wicked ways as a person, a people, and as a nation. Only then will God "hear from heaven and forgive [our] sin and heal [our] land" but not before such a time.
Hebrews 1:1-2 "Long ago, at many times and in many ways, God spoke to our fathers by the prophets, but in these last days he has spoken to us by his Son, whom he appointed the heir of all things, through whom also he created the world."
When I hear people proclaim that "God spoke to me and you are supposed to do this or that" I question their authenticity because God already does speak to us directly, but it's by His written Word, the Bible. Why would God use a third party to try to tell me something that is already revealed in Scripture? This would be like me calling my friend and then telling him to give my other friend a message. Why wouldn't I just speak with my friend directly instead of using someone else? God has spoken to us through the prophets and authors of the Bible. It is all we need.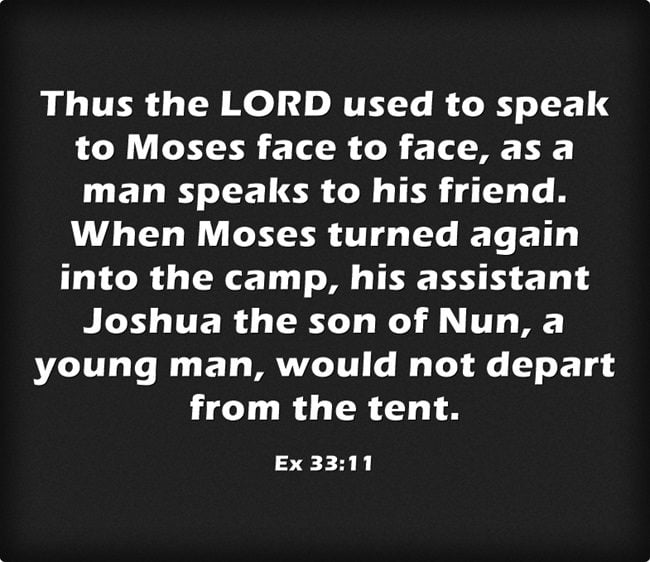 Hebrews 4:16 "Let us then with confidence draw near to the throne of grace, that we may receive mercy and find grace to help in time of need."
When we come to God for prayer, we don't have any reason to fear. In fact, we can come to the Father at the "throne of grace' with complete confidence knowing that we can find mercy there "and find grace in to help in time of need." If we understood the fact that God is eager to hear our prayers, we might come more often and do so with complete confidence. That's what the author of Hebrews is trying to tell us.
John 15:15 "No longer do I call you servants, for the servant does not know what his master is doing; but I have called you friends, for all that I have heard from my Father I have made known to you."
Many people would love to hear the voice of God but we already have God's voice recorded in the Holy Bible. Jesus' words are the words of God since He is God (John 1:1-2). There is no mystery to it or any special things we need to do. Just let God speak to you as you read Scripture and read Jesus' words. He is your friend if you do what He says as He puts it; "You are my friends if you do what I command you" (John 15:14).
Amos 3:7 "For the Lord GOD does nothing without revealing his secret to his servants the prophets."
Amos the Prophet tells us what I just wrote about. Why would God use a man or a woman to communicate through some self-proclaimed prophecy when God has promised to do nothing without first revealing them to "his servants the prophet?" This gives no hint that God will speak through other prophets in the latter days because He has already revealed once and for all everything we need to know (Heb 1:1), unfortunately, as in Jude's day, so also today there are "certain people have crept in unnoticed who long ago were designated for this condemnation, ungodly people, who pervert the grace of our God into sensuality and deny our only Master and Lord, Jesus Christ" (Jude 1:4) but I notice them. Do you?
Numbers 12:8 "With him I speak mouth to mouth, clearly, and not in riddles, and he beholds the form of the LORD. Why then were you not afraid to speak against my servant Moses?"
When we grumble against our spiritual leaders, God sees it as grumbling against Him and it is. Why weren't they afraid when they spoke badly about Moses? Didn't they realize that they were committing cosmic treason by rejecting God's messenger in Moses? It's like someone harms the postal carrier. That means you've got the whole United States Postal Service against you now.
Conclusion
God speaks to us in a whisper in our life but is clearer when we are suffering. He is near the broken hearted and contrite (or crushed) in spirit (Psalm 34:18) so if you really need to talk to God, fall to your knees, confess your sins, and pour out your heart to Him. He is near those who are humble and listens to the cries of His children. I have confidence in that. I hope you do as well.
Article by Jack Wellman
Jack Wellman is Pastor of the Mulvane Brethren Church in Mulvane Kansas. Jack is also the Senior Writer at What Christians Want To Know whose mission is to equip, encourage, and energize Christians and to address questions about the believer's daily walk with God and the Bible. You can follow Jack on Google Plus or check out his book Teaching Children the Gospel available on Amazon.