Here are seven Bible verses about young love.
Ephesians 5:28 "In the same way husbands should love their wives as their own bodies. He who loves his wife loves himself."
The command for husbands to love their wives isn't just a suggestion, but it's given as an imperative command that husbands should love their wives but to love them much more than just words. They are to love their wives as they love their own bodies, meaning that they take good care of themselves and make sure all their needs are met, so in a similar way, husbands must love their own wives by action-oriented ways like serving, giving, helping, and doing things for his wife. Love is a verb.
Genesis 2:24 "Therefore a man shall leave his father and his mother and hold fast to his wife, and they shall become one flesh."
Undoubtedly, in this first marriage ceremony where God brought Eve to Adam, He told Adam that he must "leave his father and mother and hold fast to his wife," or another way to look at it is that the man (and really the woman) should leave their family to create a new family and their old family should not be involved to the point that they interfere with the two becoming "one flesh." Many marriages have been wrecked due to in-law interference where the man and woman didn't really leave their father and mother, but brought them into the new marriage.
Ephesians 5:25-26 "Husbands, love your wives, as Christ loved the church and gave himself up for her, that he might sanctify her, having cleansed her by the washing of water with the word."
Here is a broader definition of the way a husband should love his wife. He should be willing to give himself up for her as Christ gave up His life for His bride, the church. No one can love more than being willing to give up their own self-interests to focus on their spouses' interests. It's dying to one's own self in order to live for their spouse. This might mean that instead of always doing what he wants to do, he considers his spouse's interests over his own.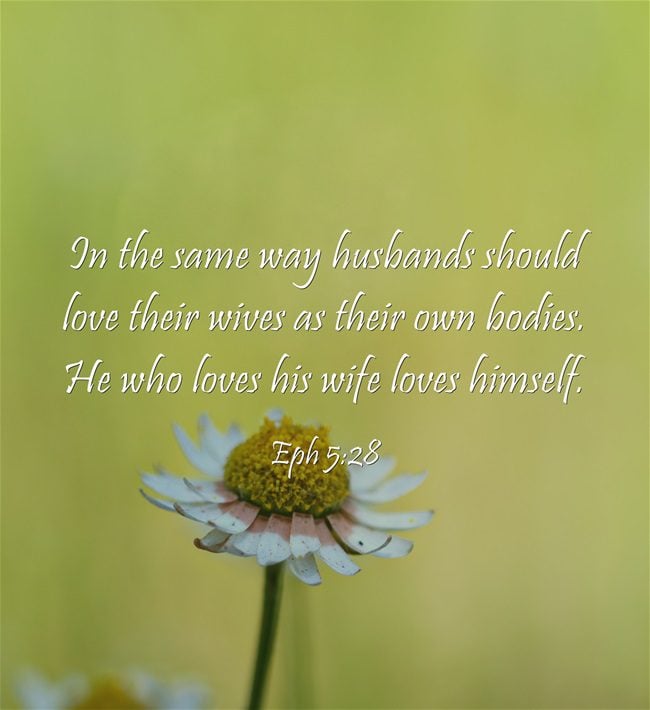 First Corinthians 13:4-5 "Love is patient and kind; love does not envy or boast; it is not arrogant or rude. It does not insist on its own way; it is not irritable or resentful."
You can say you love someone and even make a vow to do so, but love is what we do more than what we say. We can say, "I love you" but when we neglect the needs of our spouse, are we really loving them more than themselves or do they love themselves more than their spouse? Love is not just speaking words but love is kind, patient, doesn't boast, isn't irritable, resentful, isn't arrogant, rude, and doesn't insist on having "its own way." There is love in those things, but only a love for one self.
John 15:13 "Greater love has no one than this, that someone lay down his life for his friends."
If you have been young and in love, there is no greater feeling, but next to the love of God Who showed His love for us by laying down His own life, there is no comparison. God's love is the greatest of all as He loves sacrificially (agape love) and died for the ungodly, the wicked, and those who were natural enemies of God (Rom 5:6-10), and this is the gold standard of love.
Ephesians 5:31-32 "Therefore a man shall leave his father and mother and hold fast to his wife, and the two shall become one flesh." This mystery is profound, and I am saying that it refers to Christ and the church."
Here, the Apostle Paul quotes from the Book of Genesis where it says, "a man shall leave his father and his mother and hold fast to his wife, and they shall become one flesh" (Gen 2:24). When the two become one, they are no longer individuals who have different agendas and goals, but they have one unified purpose and that is to hold fast to one another and not allow outside interference to wreak havoc in their relationship or marriage. The relationship between husband and wife and Christ and the church is a perfect example of the self-sacrificial love that God intends for us to have with our spouse, but also one that He desires for Himself and His church.
First Corinthians 13:13 "So now faith, hope, and love abide, these three; but the greatest of these is love."
The 13th chapter of 1st Corinthians gives us tangible things that tell us what love really is. Saying "I love you" but then not displaying it by action, is useless. We know that "prophecies, they will pass away; as for tongues, they will cease; as for knowledge, it will pass away" (1st Cor 13:8b), but "love never ends" (1st Cor 13:8a). Paul goes on to say that even "If I give away all I have, and if I deliver up my body to be burned, but have not love, I gain nothing" (1st Cor 13:3).
Conclusion
There are so many places in the Bible that tell us what love really is (i.e. Rom 12) and what we find is that love is what we do and not just what we say. In fact, we show love by our actions more than words. We only need to look at the cross to see what love really is as the Apostle John writes down Jesus' own words; "For God so loved the world, that he gave his only Son, that whoever believes in him should not perish but have eternal life" (John 3:16).
Article by Jack Wellman
Jack Wellman is Pastor of the Mulvane Brethren Church in Mulvane Kansas. Jack is also the Senior Writer at What Christians Want To Know whose mission is to equip, encourage, and energize Christians and to address questions about the believer's daily walk with God and the Bible. You can follow Jack on Google Plus or check out his book Teaching Children the Gospel available on Amazon.