How did the Apostle Paul influence Christianity?
Through Persecution
Ironically, the more the Jews tried to stamp out Christianity, they more they managed to spread it. It's very much like someone trying to put out a grass fire but by stomping on it, it only manages to spread it, and so it was with Christianity. In fact, persecution helped spread the Word of God throughout the Roman Empire. Shortly after Saul (later, Paul) approved of Stephen the Deacon's stoning and death, "there arose on that day a great persecution against the church in Jerusalem, and they were all scattered throughout the regions of Judea and Samaria, except the apostles" (Acts 8:2), so what about those Christians who escaped and were scattered about? "Those who were scattered went about preaching the word" (Acts 8:4). The very thing that the Jewish religious leaders were trying to eliminate by persecuting them, and even murdering them, caused the church to spread far and wide, and so Paul, prior to conversion, was actually helping the gospel spread by his trying to destroy it, but you can't destroy what Jesus said the gates of hell or death would not prevail against (Matt 16:18). Even today, by murdering and persecuting Christians around the world, they are spreading it, even against their own will.
Through His Missions
When God called Saul, and later renamed him Paul, he was commissioned to take the gospel to the Gentiles, but he usually ended up in the Jewish synagogues too, so wherever Paul went he took the gospel with him and used every opportunity to bring the message of Christ to those he came in contact with. God told Ananias to go and seek Saul (later Paul), "for he is a chosen instrument of mine to carry my name before the Gentiles and kings and the children of Israel" (Acts 9:15), so this was Paul's mission. The Apostle Paul said, "I make it my ambition to preach the gospel, not where Christ has already been named" (Rom 15:20), but that "Those who have never been told of him will see, and those who have never heard will understand" (Rom 15:21). It's not as if Paul had a choice in the matter, because he said "For necessity is laid upon me. Woe to me if I do not preach the gospel" (1st Cor 9:16b), so it was like the early church and the apostles said, "for we cannot but speak of what we have seen and heard" (Acts 4:20). The Apostle Paul said that God commanded him to "Go, for I will send you far away to the Gentiles" (Acts 22:21), so for Paul, there was no Plan B.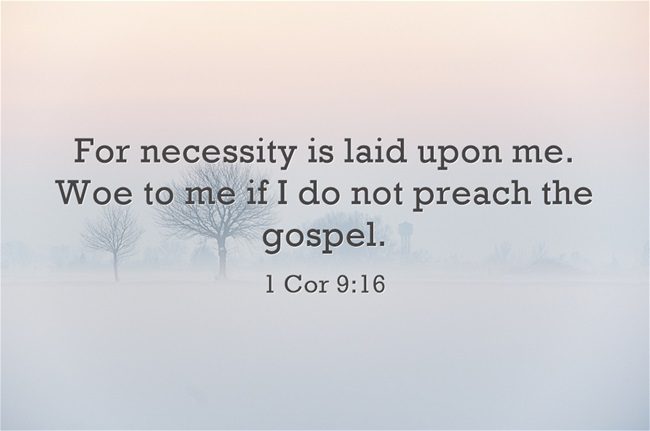 Through the Written Word
The other way that the Apostle Paul spread Christianity was through his letters which later became canonized and part of Holy Scripture, specifically, part of the New Testament, but the main point is, "All Scripture is breathed out by God and profitable for teaching, for reproof, for correction, and for training in righteousness" (2nd Tim 3:16), and the Apostle Peter later added "that no prophecy of Scripture comes from someone's own interpretation. For no prophecy was ever produced by the will of man, but men spoke from God as they were carried along by the Holy Spirit" (2nd Pet 1:20-21). It wasn't a product of man but of God Himself. When Paul spoke the Word of God, He often quoted Old Testament Scripture because that was all they had at the time, but to say that the Bible was a product of man is like saying this article is the product of my keyboard. Yes, I had to use the keyboard to type it, but the keyboard had to be moved along by my mind telling my fingers what to type, and so it's foolish to believe this article is a product of my keyboard, because I am the inspiration behind it, not my keyboard.
By God's Spirit
The Book of Romans is probably the best work of Paul, and this book has reached millions over the last 2,000 years, so Paul helped to influence the spread of Christianity like no other person ever did (besides Jesus Christ Himself). God used Paul to influence the culture, and later the world, but the many books he has written in the New Testament, sent as letters, later called books, and all written under the inspiration of the Holy Spirit. Paul could have done nothing without Christ and His Spirit (John 15:5), so unless the Spirit of God moved the people of God to understand the Word of God, there would be no children of God. The Apostle knew that the Word of God had power as he wrote, "I am not ashamed of the gospel, for it is the power of God for salvation to everyone who believes, to the Jew first and also to the Greek" (Rom 1:16), "For the word of the cross is folly to those who are perishing, but to us who are being saved it is the power of God" (1st Cor 1:18), and so what Paul wrote is similar to what Isaiah wrote, "so shall my word be that goes out from my mouth; it shall not return to me empty, but it shall accomplish that which I purpose, and shall succeed in the thing for which I sent it" (Isaiah 55:11).
Conclusion
God spreads the gospel by means of those who live a godly life, but also by those who let their light shine before others so that they might glorify God and see the Light of the World, Jesus Christ. Paul influenced Christianity in a huge way, perhaps more than any other human being that has lived. Only Christ, Who is the Word Himself, and Who is also the Head of the Church, has done more for Christianity because He is the author and finisher of our faith (Heb 12:2). What Ananias told Saul before his name was Paul, said "The God of our fathers appointed you to know his will, to see the Righteous One and to hear a voice from his mouth; for you will be a witness for him to everyone of what you have seen and heard" (Acts 22:14-15), and so Paul influenced Christianity through his church planting, through his missionary work, through his written word (epistles or letters), and even today he is still reaching thousands and thousands for Christ by what he left behind in the New Testament books he wrote.
Article by Jack Wellman
Jack Wellman is Pastor of the Mulvane Brethren Church in Mulvane Kansas. Jack is also the Senior Writer at What Christians Want To Know whose mission is to equip, encourage, and energize Christians and to address questions about the believer's daily walk with God and the Bible. You can follow Jack on Google Plus or check out his book Teaching Children the Gospel available on Amazon.