Here are three great examples of conflict resolution in the Bible.
Jew and Gentile Christians
There was a great divide within the church between the Jewish Christians and the Gentile Christians. This was perfect timing for such men as Paul and Barnabas, who often played the role of peacemaker. After the church had grown, "some men came down from Judea and were teaching the brothers, "Unless you are circumcised according to the custom of Moses, you cannot be saved" (Acts 15:1), so there were already seeds of contention. When Paul and Barnabas "came to Jerusalem, they were welcomed by the church and the apostles and the elders, and they declared all that God had done with them. But some believers who belonged to the party of the Pharisees rose up and said, "It is necessary to circumcise them and to order them to keep the law of Moses" (Acts 15:4-5), so the apostles and disciples met together to discuss it and came to the conclusion that God "made no distinction between us and them, having cleansed their hearts by faith. Now, therefore, why are you putting God to the test by placing a yoke on the neck of the disciples that neither our fathers nor we have been able to bear" (Acts 15:9-10)? James, one of the leaders of the church at Jerusalem, resolved this conflict. After listening to both sides, he concluded "that we should not trouble those of the Gentiles who turn to God, but should write to them to abstain from the things polluted by idols, and from sexual immorality, and from what has been strangled, and from blood" (Acts 15:19-20), and "it seemed good to the apostles and the elders, with the whole church, to choose men from among them and send them to Antioch with Paul and Barnabas. They sent Judas called Barsabbas, and Silas, leading men among the brothers" (Acts 15:22). Conflict solved.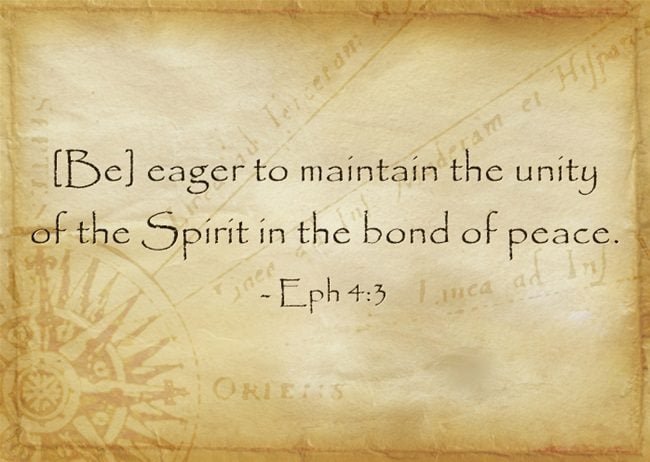 Jacob and Esau
Esau must have felt twice cheated because Jacob, his younger brother, stole both the blessing and the birthright (Gen 25:29-34), and many believe has sparked a war between two peoples or groups of nations that have been in conflict from the very beginning. The Arabic people are descendants of Abraham, just as the Jews are, but that's where the divide comes. The Arabic nations are descended from Abraham, Ishmael, and Esau while the Israelites are descended from Abraham, Isaac, and Jacob, so the tension between Jacob and Esau already had generation roots that were began between Isaac and Ishmael. North Arabian inscriptions from 9th to 6th century B.C. mention a king Qedar who was king of the Arabs and King of the Ishmaelites.1  When Esau heard that it was time for Isaac to give his spiritual blessings upon them both, Esau quickly went out to find the best wild game he could catch, but Jacob fooled his father Isaac into believing it was Esau and not Jacob, and so he stole the blessing from Esau, which he deserved, being the first born (Gen 27). This is why "Esau hated Jacob because of the blessing with which his father had blessed him, and Esau said to himself, "The days of mourning for my father are approaching; then I will kill my brother Jacob" (Gen 27:41). When Rebekah heard about this, "she sent and called Jacob her younger son and said to him, "Behold, your brother Esau comforts himself about you by planning to kill you. Now therefore, my son, obey my voice. Arise, flee to Laban my brother in Haran and stay with him a while, until your brother's fury turns away" (Gen 27:-42-44). Rebekah resolved the conflict and later, Jacob and Esau would meet again, much later, but with no hostility at all (Gen 32).
God and Man
It's not that God has to reconcile Himself back to us. No, it is we that are the problem, because we're in desperate need of being reconciled back to God but God must act first (John 3:3-7). God does not need us but our need for Him is of supreme importance. When Jesus returns, He will solve every conflict there is because every problem will be resolved. There will finally be world peace. Mankind has never been able to achieve that…at least for more than a few days. History is "his' story about violence, even from the beginning (Gen 3-6), but the immediate and most alarming issue is the separation between us and God; a separation that has come as a result of our sins. Our sins have cut us off from God (Isaiah 59:2), so we need to be reconciled back to God; back to a proper relationship like that of Adam and Eve with God in the beginning, before the fall. Since nothing unclean can enter heaven (Rev 21:27), we're all in great need, because all of us fall far short of His glory (Rom 3:23), and there isn't even one of us that are good (Rom 3:10). We need the same righteousness as Jesus has, but that's where the free gift of eternal life comes in (Rom 6:23b). All we can do is repent of our sins and put our trust in Christ, but that's enough, because Jesus says, "Whoever believes in me, though he die, yet shall he live, and everyone who lives and believes in me shall never die" (John 11:25-26). The wages that we have coming to us and is made payable to "Death," have been paid in full, because it was "For our sake he made him to be sin who knew no sin, so that in him we might become the righteousness of God" (2nd Cor 5:21). That resolves the cosmic conflict between us and God. It is the God-Man, Jesus Christ, Who was born into the flesh (John 1:1-14) and lived a sinless life, and suffered and died on the cross, but rose again on the third day. God is the only One Who can resolve this conflict of ours, and He has in Jesus Christ; but only for those who have trusted in Him.
Conclusion
If you have conflict in your life, welcome to the club. To be alive is to experience conflict. It can be in the home, at work, in your family, in your community, in your church, or in any number of other things. Take every bit of this heavy load and bring it to Jesus as He says, "Come to me, all who labor and are heavy laden, and I will give you rest. Take my yoke upon you, and learn from me, for I am gentle and lowly in heart, and you will find rest for your souls. For my yoke is easy, and my burden is light" (Matt 11:28-30). Now, after you've unloaded your burdens, seek to be a peacemaker in resolving conflicts. Even our Lord, Jesus Christ said, "Blessed are the peacemakers, for they shall be called sons (and daughters) of God" (Matt 5:9).
Article by Jack Wellman
Jack Wellman is Pastor of the Mulvane Brethren Church in Mulvane Kansas. Jack is also the Senior Writer at What Christians Want To Know whose mission is to equip, encourage, and energize Christians and to address questions about the believer's daily walk with God and the Bible. You can follow Jack on Google Plus or check out his book Teaching Children the Gospel available on Amazon.
1. Friedrich Delitzsche (1912). Assyriesche Lesestuche. Leipzig. OCLC 2008786.