Here is a Bible study and commentary on First Peter chapter three.
First Peter 3:1-2 "Likewise, wives, be subject to your own husbands, so that even if some do not obey the word, they may be won without a word by the conduct of their wives, when they see your respectful and pure conduct."
If submission is so bad, then why did Jesus Himself submit to the Father? They too were co-equal as God, so submission to someone doesn't mean they are inferior to them. God sees no difference between men, women, Jew or Greek. Even so, there is a line of God-given authority in the family, just as there is in society. The Apostle Peter says that godly conduct may be able to bring others to Christ, even if it's her husband. Pure or godly conduct speaks louder than words.
Why is submission so despised in society?
How does a person's conduct persuade someone about Christ?
First Peter 3:3-4 "Do not let your adorning be external—the braiding of hair and the putting on of gold jewelry, or the clothing you wear—but let your adorning be the hidden person of the heart with the imperishable beauty of a gentle and quiet spirit, which in God's sight is very precious."
The way that God looks at people is the way He desires that we look at people, and that is not from what we see with our eyes. God looks at the heart (1st Sam 16:7) and not at the outward appearances, because appearances can be deceiving. A "gentle and quite spirit" is very precious in God's sight. That is true beauty to God.
Does this say that wearing braided hair or gold is wrong?
What is the "hidden person of the heart?"
First Peter 3:5-6 "For this is how the holy women who hoped in God used to adorn themselves, by submitting to their own husbands, as Sarah obeyed Abraham, calling him lord. And you are her children, if you do good and do not fear anything that is frightening."
Notice that Peter is describing how holy women acted in the days of old. They adorned themselves, not by things outside or on the body but by submission to their husbands. This is just what Sarah did and she gives us a model or pattern for how we are to be submitting to God and those who are in authority over us, and since we are her children, figuratively, we too should submit and not "fear anything that is frightening."
What is it that should frighten us?
How is submission seen as being godly?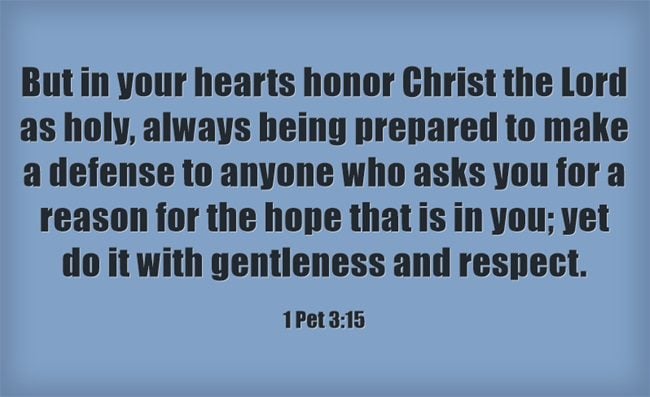 First Peter 3:8-9 "Finally, all of you, have unity of mind, sympathy, brotherly love, a tender heart, and a humble mind. Do not repay evil for evil or reviling for reviling, but on the contrary, bless, for to this you were called, that you may obtain a blessing."
This has long since been the goal of the church; to be in "unity of mind," having brother love and a tender heart, but also a humble mind. Those who rely on God's judgment won't repay evil for evil but rather leave vengeance to God (Rom 12:19). In fact, they respond just the opposite of the way the world reacts because we are called to bless them that hate us so that we might obtain a blessing from God (Matt 5:43-45).
Why is having "unity of mind" important for the church?
What blessing may we attain by having humility and a tender heart?
First Peter 3:15-17 "But in your hearts honor Christ the Lord as holy, always being prepared to make a defense to anyone who asks you for a reason for the hope that is in you; yet do it with gentleness and respect, having a good conscience, so that, when you are slandered, those who revile your good behavior in Christ may be put to shame. For it is better to suffer for doing good, if that should be God's will, than for doing evil."
There is a lot to be said about how some Christians witness to the lost. Many strive to debate the issue of God's existence and try to "brow beat" others into believing, but no one that I know of has ever been debated into heaven. We can win an argument but lose a chance to witness. We must be ready to give an answer for the hope that we have, but we must do so "with gentleness and respect," as Jesus did. Jesus never tried to coerce anyone into the kingdom. In fact, He said that others will know we are His disciples by the love we show to one another (John 13:35), not by who has the best argument.
What does "the hope that is in you" mean? What is this hope?
Why does Peter say it is good to suffer for good?
First Peter 3:18-19 "For Christ also suffered once for sins, the righteous for the unrighteous, that he might bring us to God, being put to death in the flesh but made alive in the spirit, in which he went and proclaimed to the spirits in prison."
Jesus Christ came to give His life as a ransom for many (Mark 10:45), but not all, because it says that Jesus "suffered once for sins" as "the righteous for the unrighteous" in order that He might bring us to God through Christ (John 6:44). Jesus body was killed, but not His Spirit, since He is God and God cannot die. After this, He is said to have preached to the "spirits in prison," perhaps meaning those who had not yet heard the gospel finally heard it. This may refer to Noah's preaching the gospel prior to the flood or perhaps Christ announced His victory to those wicked ones who perished in Noah's day. The main point though is that Jesus was vindicated by God as Christians will be.
What do you think Peter meant by Jesus' proclaiming "to the spirits in prison."
Who are these "spirits?"
Conclusion
The third chapter of 1st Peter is just as relevant today as it was in the day in which it was written. God's Word never changes because God never changes. It is we who need to change and it begins with repentance and faith, for no one who trusts in Christ shall ever be ashamed, unlike those who reject Jesus and will forever regret that decision.
Article by Jack Wellman
Jack Wellman is Pastor of the Mulvane Brethren Church in Mulvane Kansas. Jack is also the Senior Writer at What Christians Want To Know whose mission is to equip, encourage, and energize Christians and to address questions about the believer's daily walk with God and the Bible. You can follow Jack on Google Plus or check out his book Teaching Children the Gospel available on Amazon.