Here is a Bible study and commentary on 1st Peter chapter two.
First Peter 2:1-3 "So put away all malice and all deceit and hypocrisy and envy and all slander. Like newborn infants, long for the pure spiritual milk, that by it you may grow up into salvation— if indeed you have tasted that
the Lord is good."
When the Apostle Peter was writing to the Jews, most of whom had been displaced from their homes, he wanted them to focus on growing in grace and feeding on "the pure spiritual milk" of the Word, so that they would "grow up into salvation" and this should help them to put away all malice, deceit, hypocrisy, envy, and slander. Why is this so? Because the Word of God has power to change lives and when the Spirit of God works with the Word of God the children of God are changed.
Why does the Apostle Peter call them to "long for the pure spiritual milk?"
What is this milk?
First Peter 2:4-5 "As you come to him, a living stone rejected by men but in the sight of God chosen and precious, you yourselves like living stones are being built up as a spiritual house, to be a holy priesthood, to offer spiritual sacrifices acceptable to God through Jesus Christ."
The "living stone" the Apostle Peter is writing about is clearly Jesus Christ and He was a major stumbling block to the Jews but this same "living stone" that was rejected by mankind (and still is today) was the stone that the church was built on, Jesus Himself being the Chief Cornerstone (Eph 2:20), and the "living stones" of the members of Jesus' church are placed upon this solid rock of a foundation that shall never be destroyed.
What is the "spiritual house" called today?
Why are believer's called "living stones?"
First Peter 2:6-8 "For it stands in Scripture: 'Behold, I am laying in Zion a stone, a cornerstone chosen and precious, and whoever believes in him will not be put to shame. So the honor is for you who believe, but for those who do not believe, The stone that the builders rejected has become the cornerstone,' and 'A stone of stumbling, and a rock of offense.' They stumble because they disobey the word, as they were destined to do."
As the Old Testament prophets had prophesied, they rejected the "living stone," or Jesus Christ, but for those who put their trust in Him, they "will not be put to shame" on the day of judgment, however for those who reject the "living stone," this same stone will be a cause or "rock of offense" and that is why "They stumble because they disobey the word" just "as they were destined to do."
How does this "living stone" cause people to stumble?
Why did the builders reject the Chief Cornerstone?
First Peter 2:9-10 "But you are a chosen race, a royal priesthood, a holy nation, a people for his own possession, that you may proclaim the excellencies of him who called you out of darkness into his marvelous light. Once you were not a people, but now you are God's people; once you had not received mercy, but now you have received mercy."
Peter says that we are a royal priesthood and a holy nation that God has chosen as a possession for Himself, but first He had to call us out of darkness to bring us into the Light of the World (John 8:12). At one time, we too were not a people of God, but now, we have "received mercy" but only because God has chosen us, not that we ever chose Him (John 6:70, 15:16).
What does it mean we are "his own possession?"
Why were we once "not a people" of God?"
What changed?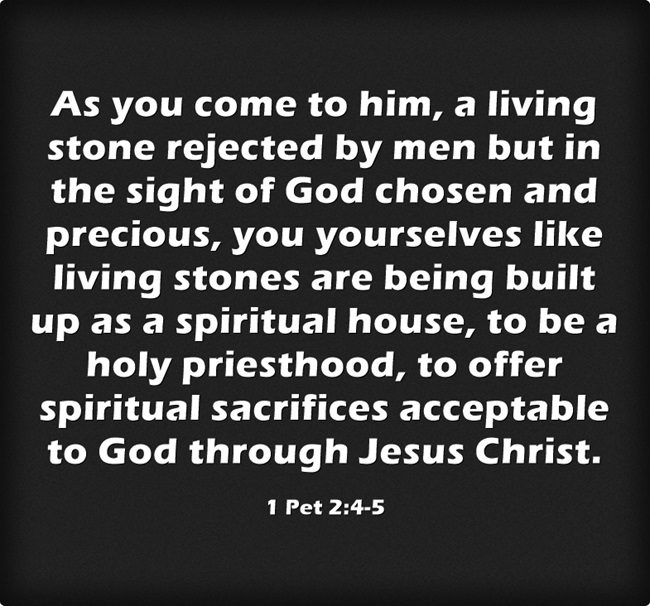 First Peter 2:11-12 "Beloved, I urge you as sojourners and exiles to abstain from the passions of the flesh, which wage war against your soul. Keep your conduct among the Gentiles honorable, so that when they speak against you as evildoers, they may see your good deeds and glorify God on the day of visitation."
As Billy Graham once said, "this is not our home, we are only passing through" and this fits nicely with Scripture because we are called sojourners and are not of this world. We are only passing through and seeking a better kingdom, and one without end. If we live lives above reproach, as citizens of this new kingdom, we should have our conduct honorable before those who don't believe, perhaps as a way to witness as Jesus said we are called to be lights of the world (Matt 5:14).
Why are we often called "sojourners" or "pilgrims?"
What does our conduct today have to do with "the day of visitation?"
First Peter 2:13-16 "Be subject for the Lord's sake to every human institution, whether it be to the emperor as supreme, or to governors as sent by him to punish those who do evil and to praise those who do good. For this is the will of God, that by doing good you should put to silence the ignorance of foolish people. Live as people who are free, not using your freedom as a cover-up for evil, but living as servants of God."
These verses are similar to what the Apostle Paul said where he wrote, "Let every person be subject to the governing authorities. For there is no authority except from God, and those that exist have been instituted by God. Therefore whoever resists the authorities resists what God has appointed, and those who resist will incur judgment" (Rom13:1-2). Peter adds that this freedom we have in Christ should not be used as a cover for sinning. All authority comes from God and it's never to be used for evil.
How can believers "put to silence the ignorance of foolish people" who reject the gospel?
How can we use our "freedom as a cover-up for evil?"
First Peter 2:20-21 "For what credit is it if, when you sin and are beaten for it, you endure? But if when you do good and suffer for it you endure, this is a gracious thing in the sight of God. For to this you have been called, because Christ also suffered for you, leaving you an example, so that you might follow in his steps."
It's not pleasing in God's sight to suffer for things that are our own fault and that we cause, but if we suffer for doing good, "this is a gracious thing in the sight of God" because Jesus' suffered, and He was without sin. We are actually called to suffer "because Christ also suffered for you" and me, and has left us an example "so that [we] might follow in his steps."
How can we suffer from doing good?
Why is it pleasing to God to suffer for doing good?
First Peter 2:22-25 "He committed no sin, neither was deceit found in his mouth. When he was reviled, he did not revile in return; when he suffered, he did not threaten, but continued entrusting himself to him who judges justly. He himself bore our sins in his body on the tree, that we might die to sin and live to righteousness. By his wounds you have been healed. For you were straying like sheep, but have now returned to the Shepherd and Overseer of your souls."
Again, this is very similar to what Paul wrote in Romans 12 where he says we should "Repay no one evil for evil, but give thought to do what is honorable in the sight of all" (Rom 12:17), and "never avenge yourselves, but leave it to the wrath of God, for it is written, "Vengeance is mine, I will repay, says the Lord" (Rom 12:19). Instead of responding with evil to those who hate us, "if your enemy is hungry, feed him; if he is thirsty, give him something to drink; for by so doing you will heap burning coals on his head." Do not be overcome by evil, but overcome evil with good" (Rom 12:20-21). We love our enemies, do good to them that do bad things to us, and pray for those who persecute us. That is our calling.
What does it mean Jesus "did not revile in return" when He was reviled?
How can we die to sin?
How can we live to righteousness?
Conclusion
First Peter is full of admonitions and admonishment for the believer and it is still just as relevant today as it was in the day it was written, because "All Scripture is breathed out by God and profitable for teaching, for reproof, for correction, and for training in righteousness" (2nd Tim 3:16), and since God doesn't change (Mal 3:6), His Word doesn't change. It doesn't need to.
Article by Jack Wellman
Jack Wellman is Pastor of the Mulvane Brethren Church in Mulvane Kansas. Jack is also the Senior Writer at What Christians Want To Know whose mission is to equip, encourage, and energize Christians and to address questions about the believer's daily walk with God and the Bible. You can follow Jack on Google Plus or check out his book Teaching Children the Gospel available on Amazon.