Here is a look at six of Jesus' parables with commentary.
Luke 10:25-37
In the Parable of the Good Samaritan, Jesus tells of a priest who when he saw a man lying on the way who had been beaten and robbed, went out of his way to avoid the man. Maybe he didn't want to get involved, or maybe he was afraid he'd be next. Then came a Levite, sure he would help, wouldn't he? Nope. He goes the same route the priest did, so neither one wanted to help and even went out of their way to stay out of it. It was only a Samaritan who helped, and Samaritans were called half-breeds by the Jews, since they were half Jewish and half Samaritan, so the one they would least expect to help, was the only one that did, and even took care of the man's expenses. That's who are neighbor is; the person lying on the path who's been hurt and needs our help.
Is it hard to love some neighbors more than others?
Are we (am I!) a hard-to-love neighbor?
Are we like the priest or Levite at times?
Who's been a Good Samaritan to you?
Have you been a Good Samaritan to anyone?
Luke 12:13-21
In the Parable of the Rich Fool, Jesus was responding to someone who was wanting Him to intercede on behalf of the family inheritance, so Jesus gives a parable about a rich man who had such a good year for crops, he needed bigger storage facility for them, so he torn down his old one and built a bigger one. Then he said to himself, "Soul, you have ample goods laid up for many years; relax, eat, drink, be merry" (Luke 12:19), but "God said to him, 'Fool! This night your soul is required of you, and the things you have prepared, whose will they be" (Luke 12:20), so Jesus was warning this man who was worried about his family inheritance by saying, "So is the one who lays up treasure for himself and is not rich toward God" (Luke 12:21). Jesus isn't saying that we shouldn't set aside some money for savings like for emergencies or a children's college fund, but that setting your sights on riches and a life of ease are not laying up treasures in heaven, but in things you can't take with you. You can't take it with you but you can forward it ahead to heaven.
Do you know of someone who got into a family squabble over their inheritance?
Did they try to drag you into it by telling you about it?
What would you say to them?
Right after this parable, did Jesus change the subject or was the parable leading up to this teaching (Luke 12:22-31)?
Luke 15:8-10
In the Parable of the Lost Coin, a woman started with 10 silver coins, which in the day were worth a lot of money, but she loses one of them, so she puts out a great effort in sweeping and cleaning the house to find that one silver coin. Why was she worried about one coin when she still had 9? Because, as this parable is teaching us, every single soul is important to God, and we must make every effort to bring others into the kingdom. I am not saying that we save anyone because God alone saves (John 6:44; Acts 4:12), but God can use us as a means to save some, so no wonder Jesus ends the parable by saying, "I tell you, there is joy before the angels of God over one sinner who repents" (Luke 15:10), so clearly this parable is about soul-winning, and just like the Good Shepherd leaves the 99 sheep in His fold to seek out and to save that one that is lost, we too must seek out those who are lost, because every single soul is of infinite value to God. Is it to us?
Does this change your view of being a witness for Jesus Christ?
Why does she call her friends and neighbors when she finds it (Luke 15:10)?
What does sweeping the house and searching it carefully mean in this parable?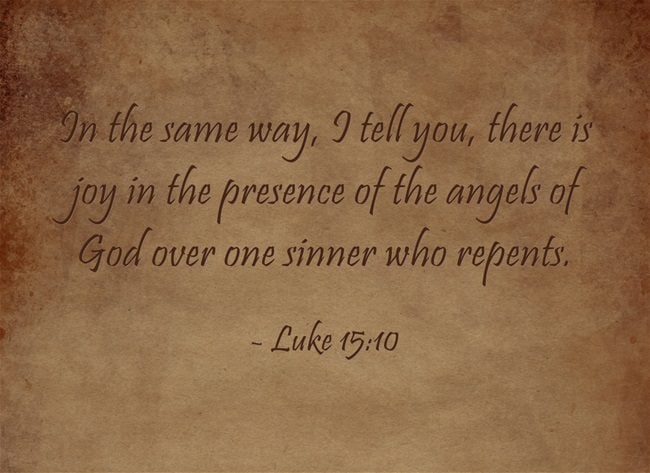 Luke 18:1-8
In the Parable of the Persistent Widow, I think Jesus is telling us what this parable is all about before He even begins it, as it says, "he told them a parable to the effect that they ought always to pray and not lose heart" (Luke 18:1). This is the only parable I could find which had the explanation coming at the beginning and not the end. This parable seems to be telling us that if an unjust judge finally does answer a request, after repeated attempts to see him, the Lord God is a just judge, so why wouldn't He expedite justice since He is altogether holy, just, and good? God will not "keep putting them off" those who cry out day and night (Luke 18:7), indicating that God not only hears our cries, He responds to them.
Why did Jesus give the purpose for this parable in the beginning instead of at the end?
Why was this woman finally successful in getting the judge to hear her case?
Since God will judge everything, does a delay in the sentence being carried out matter?
Luke 18:9-13
In the Parable of the Pharisee and Tax Collector, these two could not have been more polar opposites. In their culture, the Pharisees were considered closer to God and holier than anyone (so they thought), but the tax collector was usually a Jew who they considered a traitor because he was not taking money from his own people to give to a nation that ruled them with an iron fist. The tax collector may have been the lowest of the low to the Jews, so it's interesting that Jesus flips the table, so to speak, on their conventional thinking. It is the tax collector who goes home justified because he has admitted that he is a sinner and desperately seeks God's forgiveness. The Pharisee doesn't even think he's a sinner. He only sees others as sinners, like the tax collector, and he even thanks God that he's not like him, but in an ironic way, he's even worse because he doesn't believe he has any sins that need to be forgiven, which is certainly contrary to Scripture (Psalm 51; Rom 3:10-12,23).
Do you know any that are like the Pharisee? Or the tax collector?
Have you (or I) ever acted like a Pharisee among tax collectors?
Does this parable compliment the Parable of the Persistent Widow?
Luke 20:9-19
In the Parable of the Tenants, Jesus, once again, angered the Jewish leaders (Luke 20:19), the vineyard seems to represent Israel and the workers, the religious leaders, so when Jesus tells how they treated the servants that the vineyard owner sent, they knew Jesus was speaking about Israel's history of rejecting the prophets He had sent to warn them. And, just like Jesus, they killed the prophets of the owner of the vineyard, which is God Himself. By the owner sending his own son (Jesus) and by killing Him, the owner will throw out those keepers of the vineyard and give it to others (those who believe in the Son of God). They rejected the very Cornerstone which to them, became a stumbling block of offense, but for those of us who are the "living stones," (1st Pet 2:5) as the Apostle Peter describes them, we rest upon that rock-solid foundation, and that Rock is Christ (1st Cor 10:4).
Why are the tenants so angry?
In what ways do people still stumble over the Chief Cornerstone?
Does this parable have anything to do with the previous verses about Jesus' authority? If so, in what way?
What is the response of the Jewish leaders (Luke 20:19)? Why do they respond like that?
Article by Jack Wellman
Jack Wellman is Pastor of the Mulvane Brethren Church in Mulvane Kansas. Jack is also host of Spiritual Fitness and Senior Writer at What Christians Want To Know whose mission is to equip, encourage, and energize Christians and to address questions about the believer's daily walk with God and the Bible. You can follow Jack on Google Plus or check out his book Teaching Children the Gospel available on Amazon.