Psalm 103 is a special psalm about the relationship between God and His children.
Psalm 103:3-4
Psalm 103 is among my favorites and it may be one of yours too but why is it? It is because it is the Lord God "who forgives all your iniquity, who heals all your diseases" (Psalm 103:3) and through Jesus Christ, He "redeems your life from the pit, who crowns you with steadfast love and mercy" (Psalm 103:4). The word "iniquity" is simply another word for sin and points out our inequality before a holy God (Rm3:23). Not only does He forgive our iniquities (1st John 1:9), He redeems our life from the pit….and I would think, "the pit of hell" and after all that, he crows us with love and mercy, where we get what we do not deserve.
Have you ever felt like you couldn't be forgiven?
What does "iniquity" mean to you?
Does this verse give a blanket promise that God will heal all of our diseases?
What does "the pit" mean to you?
Psalm 103:5-6
As tired as I get I love what D.L. Moody said when asked if he was tired as he came home late one night and he said, "I'm not tired of the work…I'm tired in the work" so that's a huge difference isn't it, but God says through David that it is God "who satisfies you with good so that your youth is renewed like the eagle's" (Psalm 103:5), and more than that, "The LORD works righteousness and justice for all who are oppressed" (Psalm 103:6).
In what ways does God renew our strength?
Why is the eagle used as an example?
Does God's serving justice someday help you today?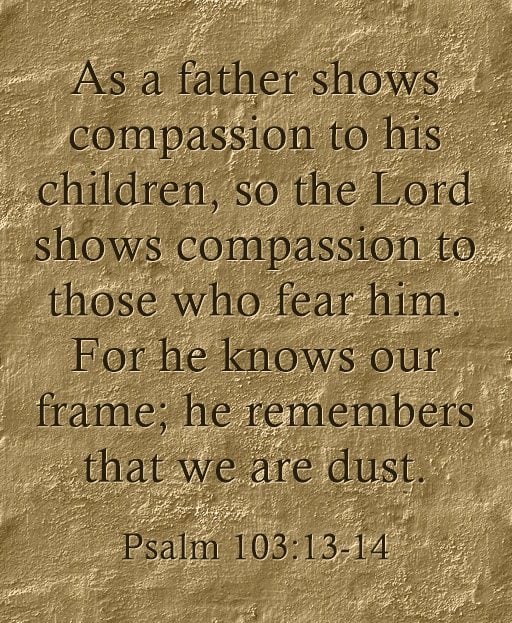 Psalm 103:8-9
What a precious verse where David writes, "The LORD is merciful and gracious, slow to anger and abounding in steadfast love" (Psalm 103:8). I wished I was more merciful, gracious, and slow to anger, but even more, the promise is "He will not always chide, nor will he keep his anger forever" (Psalm 103:9). It does say that the Lord does grow angry but not forever, so who does this apply too? How precious these promises are.
Can we keep our anger until it passes?
How can we do that?
What does the word "chide" mean?
Psalm 103:10-11
What a beautiful, merciful God we have Who declares through David, that God "does not deal with us according to our sins, nor repay us according to our iniquities" (Psalm 103:10). If God dealt with us according to our sins, none of us could stand before God, but how awesome is our God Who says, "For as high as the heavens are above the earth, so great is his steadfast love toward those who fear him" (Psalm 103:11). How far is the heaven above the earth? More than we could really know. That's immeasurable in reality. The gap between a holy God and us is infinite but Jesus bridged that gap with the cross.
Do we deal with others according to their sins against us?
Do we naturally want to replay others according to their iniquities against us?
Why did David use the distance between the heavens and earth to speak about His steadfast love?
Psalm 103:12
When people believe that they've sinned to much, I often refer them to this verse which says "as far as the east is from the west, so far does he remove our transgressions from us" (Psalm 103:12) but the interesting point is that east and west never meet! The go into different directions infinitely but north and south do meet…at the equator, so God is telling us that our sins are removed so far as to appear invisible or being gone forever! That's powerful my friend. It is the tip of the iceberg of God's love for us…dying for us while still ungodly and wicked sinners who were once enemies of God (Rom 5:6-10).
Why does David say "our transgressions" instead of "our sins?"
What's the difference?
How did God remove our transgressions?
Why did David use east-west as an example?
Psalm 103:13-14
These two verses are so precious to me that I often find comfort in them. Just read how special it is by God's telling us "As a father shows compassion to his children, so the Lord shows compassion to those who fear him. For he knows our frame; he remembers that we are dust" (Psalm 103:13-14). God uses the earthly analogy of a father who (should) show compassion for his little children. Why? He knows they're frame and they're fragile ("dust") but this is about us and not small children. God sees our fragility and knows were simply dust in the wind if not for His Spirit. If God remembers we're dust then He realizes we not very strong…but not as an insult but as a tenderhearted Father who understands our frame.
Why does David use "our frame" in reference to us being but dust?
In what ways does an earthly father show compassion on his children?
Do you think you are but "dust" compared to God? Why?
Article by Jack Wellman
Jack Wellman is Pastor of the Mulvane Brethren Church in Mulvane Kansas. Jack is also host of Spiritual Fitness and Senior Writer at What Christians Want To Know whose mission is to equip, encourage, and energize Christians and to address questions about the believer's daily walk with God and the Bible. You can follow Jack on Google Plus or check out his book Teaching Children the Gospel available on Amazon.