Have you heard of the NAR or the New Apostolic Reformation? If so, here's what you need to know about it.
New Apostles?
The New Apostolic Reformation claims that there is a new wave of apostles and prophets today, but what does the Bible tell us who can and who can't be an apostle? And hasn't the foundation already been laid 2,000 years ago. A foundation that's build on top of the Chief Cornerstone (Jesus) and the foundation of the apostles and prophets that were laid thousands of years ago are shaky at best and I wouldn't want to live in such a structure. How can we have two foundations by claiming to have another foundation after 2,000 years? The Bible doesn't teach this, so I am already leery of this New Apostolic Reformation. Two years ago a self-proclaimed prophet told me, "You're not a pastor…but God has called you to be a prophet," so I asked, "If God wanted to speak to me (and He already does in His Word), why would He use a third party (that man) to tell me something, and to tell me something that is not found in God's Word?" The qualifications for an apostle are such that no man could be one today. When Judas was being replaced as an apostle, the apostles said, "Let another take his office" (Acts 1:20c) with these being the qualifications: "So one of the men who have accompanied us during all the time that the Lord Jesus went in and out among us, beginning from the baptism of John until the day when he was taken up from us—one of these men must become with us a witness to his resurrection" (Acts 1:21-22), so to be an apostle, one must have been with the Lord all of the time during His ministry, beginning from the baptism of John, but they must have also been a witness of Jesus' resurrection, like all of the apostles were, so that would clearly disqualify anyone from being an apostle today. They can't be that old! Anyone living today couldn't have been with Jesus from the beginning to His resurrection, and they couldn't have been an eye-witness to His resurrection. Sorry self-anointed apostles; it's not that you don't qualify as an apostle; it's just that it's not possible you can be one…unless you've been around since the time of Christ, and impossible.
New Prophets?
What about prophets? Is God still raising up prophets today? We know that the apostles and prophets are the foundation, one that was laid thousands of years ago. The author of Hebrews wrote, "Long ago, at many times and in many ways, God spoke to our fathers by the prophets, but in these last days he has spoken to us by his Son, whom he appointed the heir of all things, through whom also he created the world" (Heb 1:1-2), so it was long ago that the prophets spoke and in the last days, God has spoken through His Son (the gospels), so any one who claims to be a prophet must still be living today, all the way form "Long ago." The man who told me he was a prophet and believed I was too, didn't understand that "when a prophet speaks in the name of the LORD, if the word does not come to pass or come true, that is a word that the LORD has not spoken; the prophet has spoken it presumptuously. You need not be afraid of him" (Deut 18:22). That means you don't need to listen to him. This man's prophecy was wrong. He had one chance to prove it and didn't, so by definition, this man was not a prophet sent from God. All he is doing is deceiving himself and deceiving others. Over two years ago this man prophesied over me that I'd be going from church to church and speaking as a prophet, but this man was wrong…and ironically, this man is going from church to church, but not to be a prophet, but doing it for prophet. He told me I could make good money traveling with him, so I finally saw the man's motivation; not truth from God but fleecing God's flock.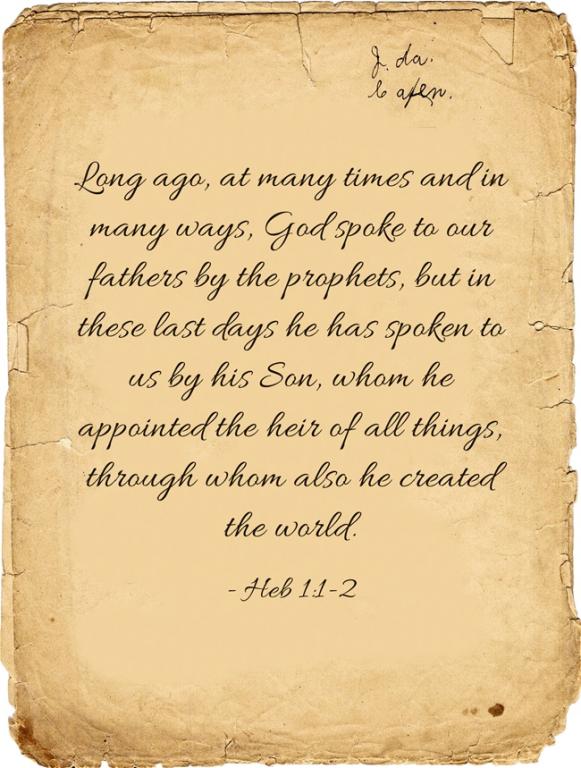 New Revelation?
Does God still give new revelation today? If we believe that, we're saying, "Thanks for your Word God, but it's not enough…we need more," when the fact is, we already have all we need revealed in Scripture. There is no "PS" to Scripture, especially from some man claiming that God spoke to him about some new revelation. Besides, we're warned about adding to or taking away from God's Word and the serious consequences of such actions (Deut 4:2; Prov 30:6; Rev 22:18-19). My concern is, maybe God spoke to him, but maybe was the god of this world or his own imagination? Those who are teaching these things are deceiving others and are themselves, deceived, and "In their case the god of this world has blinded the minds of the unbelievers, to keep them from seeing the light of the gospel of the glory of Christ, who is the image of God" (2nd Cor 4:4).
Manmade Theology
When we drift outside of Scripture and begin to develop our own theology, it is no longer theology (a study of God) but me-ology (a study of what I think,) and that ends badly because people who speak outside of Scripture will be assumed to be speaking for God, when in fact, God hasn't spoken through them at all, and why should He? He has already spoken to us all through the prophets, the apostles, and of course, through His Son (Heb 1:1-2) in the Word of God, so to add to or take away from what's in the Bible, we are setting ourselves up for falling into error. God has already spoken to us (Heb 1:1-1), and this is put in the past tense, so the faith has already been delivered and not still being delivered. God has spoken to us through His written Word, so why listen to what others tell you what He has allegedly said?
Conclusion
Who determines that this is the New Apostolic Reformation? Who said this was fact? We know it's not found in Scripture and we know we can't trust human sources, because only the Word of God is without error; humans, not so much. They are offering a new doctrines and new teachings, while ignoring the current doctrines and teachings of the Bible. They offer nothing but promises, but their promises aren't delivered. The miracle healer that I spoke with 2 years ago still refuses to come to our children's cancer ward in our nearby city to put to work his "miraculous healing powers." He claimed to have miraculous healing powers, but when it came to proving this, he made excuses for not coming. Don't misunderstand me; God can and does still heal people, but it is His decision and not ours. We can pray for healing for someone, but God's will is above and beyond the human scope of understanding, so let's stick with what we know and rest upon the foundation that was laid 2,000 years ago by Christ, the apostle, and the prophets, and not upon a recent, manmade movement that rests not upon the sure foundation of God and His Word, but instead, rests on sinking sand. For these false teachers, it is "Thus says man" and not "Thus says the Lord." If it's new, it's not from God; if it's from God, it's not new.
Article by Jack Wellman
Jack Wellman is Pastor of the Mulvane Brethren Church in Mulvane Kansas. Jack is host of Spiritual Fitness and also the Senior Writer at What Christians Want To Know whose mission is to equip, encourage, and energize Christians and to address questions about the believer's daily walk with God and the Bible. You can follow Jack on Google Plus or check out his book Teaching Children the Gospel available on Amazon.