The Bible says when the fear of God is missing, sin increases and there is no godly wisdom. Why is this so?
Judgment, Slow but Sure
Wise King Solomon wrote that it is "Because the sentence against an evil deed is not executed speedily, the heart of the children of man is fully set to do evil" (Eccl 8:11). For lawbreakers, it's as if there is no immediate judgment coming, so they are not inhibited at all from breaking more of God's law, but the time will come when we shall all stand before God and give an account for everything we've ever done and even every idle or careless word we've ever spoken, and that should put a little fear in all of us. For the believer, it's not a fear of being cast into hell, but hearing a rebuke from the Master on the day of His visitation, so we must never "Repay no one evil for evil, but give thought to do what is honorable in the sight of all. If possible, so far as it depends on you, live peaceably with all" (Rom 12:17-18), and "never avenge yourselves, but leave it to the wrath of God, for it is written, "Vengeance is mine, I will repay, says the Lord" (Rom 12:19). God is not a Cosmic Grandfather, saying "boys-will-be-boys thinking," so His long wait on judging sinners is absolutely not God's condoning approval or winking at sin. All sin will be judged. Either you yourself will receive the wrath of God by rejecting Jesus Christ, or you can trust in Christ and have God's wrath placed on Him on your behalf, but surely, "on the Day of Judgment people will give account for every careless word they speak, for by your words you will be justified, and by your words you will be condemned" (Matt 12:36-37).
No Fear of God
To this and any nation or person who has no fear of God, the Lord God says through Jeremiah, "Your evil will chastise you, and your apostasy will reprove you. Know and see that it is evil and bitter for you to forsake the Lord your God; the fear of me is not in you, declares the Lord God of hosts" (Jer 2:19). Sin increases when there is no fear of God, just as the psalmist says in Psalm 36:1, writing, "Transgression speaks to the wicked deep in his heart; there is no fear of God before his eyes," so it is by the fear of the Lord, that we persuade others, because it is "By steadfast love and faithfulness iniquity is atoned for, and by the fear of the LORD one turns away from evil" (Prov 16:6). Abraham understood that when there is no fear of God in the land, sin abounds, which is why "Abraham said, "Because I thought, surely there is no fear of God in this place, and they will kill me because of my wife" (Gen 20:11). The Bible is clear that a fear of God suppresses evil, but what is the fear of God? it's a holy, reverential, deep, and abiding respect and regard for the Holy, Holy, Holy Lord God Almighty, Who is altogether holy and in a perpetual state of perfection in every way….just the opposite of who and what we are (Rom 3:10-12, 23), so a fear of God (and yes, fearing the wrath of God) is a healthy, godly means of avoiding sin.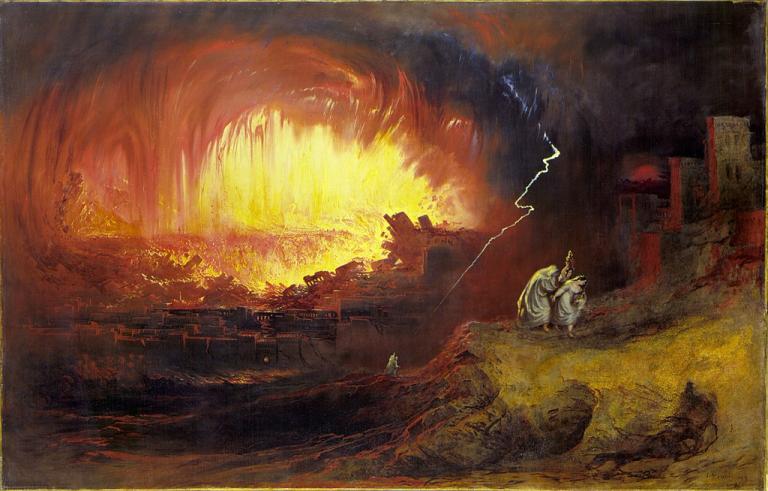 Who is Good?
Who among us is good enough to stand in God's presence without Christ? That number is zero, just as the Apostle Paul wrote in Romans 3:10-19: "None is righteous, no, not one; no one understands; no one seeks for God. All have turned aside; together they have become worthless; no one does good, not even one. Their throat is an open grave; they use their tongues to deceive. The venom of asps is under their lips. Their mouth is full of curses and bitterness. Their feet are swift to shed blood; in their paths are ruin and misery, and the way of peace they have not known. There is no fear of God before their eyes. Now we know that whatever the law says it speaks to those who are under the law, so that every mouth may be stopped, and the whole world may be held accountable to God." When the wrath of God is never mentioned, the mercy of God is irrelevant to the people, so God's wrath makes God's mercy worth pursuing. A fear of God (and yes, fearing the wrath of God) is a healthy, godly means of avoiding sin. For the lost, it is fear of God's impending judgment, but for the saved, it is like God taking the believer behind the proverbial spiritual woodshed, because God disciplines every child of His (Prov 3:12; Heb 12:4-12), but it motivated by love, not anger, just as you would not allow your child to play in the street, and if they did, you'd take them out of the street and put them in timeout. It's not that you're angry at your child, but you don't want to see your child get hurt, or worse, killed.  Believers are not trying to make fearful converts, but tearful converts.
Evangelism and Fear
The Apostle Paul understood the fear of the Lord is in our best interests and should motivate the sinner to flee to the cross, because, "we must all appear before the judgment seat of Christ, so that each one may receive what is due for what he has done in the body, whether good or evil. Therefore, knowing the fear of the Lord, we persuade others" (2nd Cor 5:11-12). Jude also connects evangelism with the fear of God, telling us to "have mercy on those who doubt; save others by snatching them out of the fire; to others show mercy with fear, hating even the garment stained by the flesh" (Jude 1"22-23). In these passages, God shows that we are to use the fear of God to rescue the perishing, which is a fear of God's judgment, but for others, showing others mercy with the fear of God. Paul wrote that it was by "the fear of the Lord [that] we persuade others." It's not that we wish unbelievers harm, but we are to tell them that they need the same righteousness that Jesus Christ has to stand before God (2nd Cor 5:21).
Conclusion
With no fear of God there is no godly wisdom, with no godly wisdom, there will be no wise choices, and the wisest choice you or anyone could ever make is to repent and put your trust in Christ. That's when the wrath of God is lifted off the believer, and the wrath they deserved is placed on Jesus Christ on their (and our) behalf. Matthew Henry wisely wrote, "Where no fear of God is, no good is to be expected," and that's just what the Scriptures teach. Jesus leaves you and me with only one of two choices: "Whoever believes in the Son has eternal life; whoever does not obey the Son shall not see life, but the wrath of God remains on him" (John 3:36). Complaining about the wrath of God is like complaining that the ship is sinking while ignoring the lifeboats. Just be glad there are lifeboats (John 3:16).
Article by Jack Wellman
Jack Wellman is Pastor of the Mulvane Brethren Church in Mulvane Kansas. Jack is a writer at Christian Quotes and also the Senior Writer at What Christians Want To Know whose mission is to equip, encourage, and energize Christians and to address questions about the believer's daily walk with God and the Bible. You can follow Jack on Google Plus or check out his book Teaching Children the Gospel available on Amazon.