There is not only the power to forgive sins (through Jesus' blood) but it's a life saver for many children and adults.
Blessed Givers
The Apostle Paul said to the Ephesian elders, "In all things I have shown you that by working hard in this way we must help the weak and remember the words of the Lord Jesus, how he himself said, 'It is more blessed to give than to receive'" (Acts 20:35), and who gave more than Jesus Christ, giving His life as a ransom for many who would trust in Him (Mark 10:45), but you can give life too. First of all, you can allow God to use you to share the eternal-life-giving message of the gospel which is of the first importance. He can use anyone as a means to save, but there's another way we can save lives too, and that's by giving blood. During the holidays, there is usually a decline in blood supplies as people who normally would donate are traveling for the holidays or might be hosting family and friends. Whatever the case, the American Red Cross can use your blood. Why would anyone want to donate blood? Of course, giving blood saves lives, but there's more to it than that. Giving blood gives back. Or, if you give your blood, it's paying it forward in a big way, but it also comes back to you, and I'll show you how that happens.
One Day from Disaster
The present one day supply of blood, worldwide, is about one disaster away from being spent. Global and U.S. donations have plummeted in recent years. Besides there being a world-wide shortage of blood, and even in the U.S., we can run out blood from one short event like a fire, flood, hurricane, tornado, or other natural disaster. Blood is needed for obvious reasons, including transfusions, so emergency blood supplies may be a life or death life situation for some, including for a young baby, infant, or a young child…or, your grandma, or maybe even you and me someday. Much of the blood donated goes directly towards cancer patients, and in particular, to children battling life-threatening diseases or illnesses, so it should be something that we all think about; at least those who are able to give blood, because not everyone can, but there are huge benefits for blood donors that are more than just having a good feeling. There are tangible things that donating blood does, like:
Lowers your blood pressure
Raises their good cholesterol levels (HDL)
While lowering the bad cholesterol levels (LDL)
Reduces dangerous platelets
Lessons the chance for stroke-causing blood clots
Purifies the blood by forcing the body to produce new blood
Stimulates the production of red (iron rich) blood cells
Lowers the risk for heart attacks
Lowers the risk of heart disease and strokes, and there may be some correlation between the occurrence of Dementia and Alzheimer's and donating blood. [1]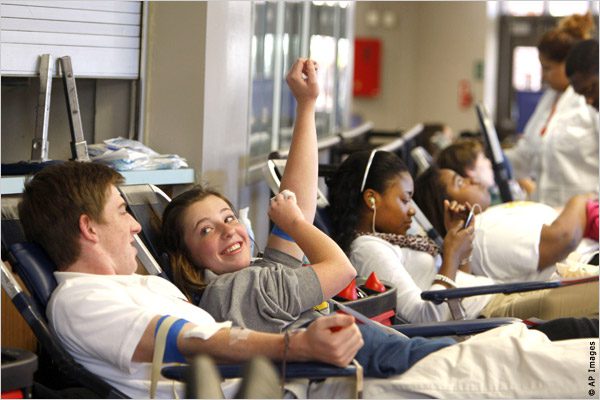 Free Check Up
Clearly, another great benefit is like getting a mini physical exam, but also a free check up on your blood. That's because all blood is tested for diseases, including STDs, and if there is a positive test, the donor will be notified and their blood discarded. The tests used today are high-sensitivity screening tests, and even though no actual diagnosis is made, certain warning signs can show up in these tests. The Red Cross does discourage individuals from using blood donations as a way to check their blood. In other words, depending on the Red Cross for a "checkup" is not a good idea because it cannot replace a regular checkup at your doctor where they may do more extensive blood works tests, however it's still beneficial to donate blood because your blood will be tested for additional infectious diseases such as West Nile Virus. Donated blood is tested by many methods, and a typical screening panel includes most of the tests below:
Antibody to Hepatitis B core "anti-HBc," Hepatitis B Surface Antigen "HBsAg" , Nucleic acid testing by Transcription Mediated Amplification (TMA) or Polymerase Chain Reaction (PCR) for Hepatitis B "HBV-NAT," Antibody to Hepatitis C "anti-HCV,", Nucleic acid testing for HCV "HCV-NAT" , Alanine Transaminase "ALT" (this test is used to check for liver problems which may be a sign of hepatitis and has been phased out as tests for hepatitis have improved) , Antibody to HIV types 1 and 2 "Anti-HIV1/2," Nucleic acid for HIV "HIV-NAT," Antibody to HIV p24 antigen (this test has been mostly replaced by HIV NAT) , Antibody to Human T-Lymphotrophic Virus I/II "anti-HTLV," Nucleic acid testing for West Nile Virus "WNV-NAT" , Antibody to Chagas Disease ,Serologic test for syphilis "RPR" or "STS,"Antibody to Cytomegalovirus "anti-CMV," Atypical red cell antigen screening ,and blood typing.
Of course, this is not as an exhaustive test that your doctor might do during lab tests, but it can be a lifesaver for some by alerting them to a serious health issue.
Schedule an Appointment
Most metropolitan areas have a local blood bank, but sometimes the Red Cross uses a modified bus or recreational vehicle that can travel to small towns in outlying areas. If you've ever heard the old hymn, "There is Power in the Blood of Jesus," then you know it means, "Sin-stains are lost in its life-giving flow," but there is also life in your blood. Not eternal life that only Jesus can bring (Acts 4:12), but there is the real, effectual power to save lives. You can make an appointment with just a short wait, or you can walk in. You can even schedule an appointment over the Internet (redcrossblood.org/give/drive).   I think it surprises people to hear that there are just enough blood supplies for about one day if there's a natural disaster. That is, we're only about one bad day away from our blood supplies being exhausted. This is why donating blood is vital. A blood shortage is a bad thing for everyone. Please give life…it's for your own good as well as the good of others. Jesus said, "Greater love has no one than this, that he lay down his life for his friends" (John 15:13). Donating blood is not exactly laying down your life for someone, but it is sacrificing an hour, or so and a little bit of pain, to save the lives of others.
Conclusion
The Canadian Blood Services also accepts donations, and several countries around the world do too, so you probably don't have to go very far (in most cases) to find a place where you can donate your blood. Blood donations help children and adults who are fighting cancer, helps accident victims, and areas where disaster has struck. There are so many reasons to give blood, including the health benefits and the regular examination of your blood, but most importantly, lives are saved every day because someone donated blood. Why not give blood and pay it forward…in the biggest of ways.
Article by Jack Wellman
Jack Wellman is Pastor of the Mulvane Brethren Church in Mulvane Kansas. Jack is a writer at Christian Quotes and also the Senior Writer at What Christians Want To Know whose mission is to equip, encourage, and energize Christians and to address questions about the believer's daily walk with God and the Bible. You can follow Jack on Google Plus or check out his book Teaching Children the Gospel available on Amazon.
1. Getting the iron out: Phlebotomy for Alzheimer's disease?   Barney E. Dwyer, Leo R. Zacharski, Dominic J. Balestra, Alan J. Lerner, George Perry, Xiongwei Zhu, Mark A. Smith. https://www.ncbi.nlm.nih.gov/pmc/articles/PMC2732125/ Health and Human Services Public Access. Med Hypotheses. Author manuscript; available in PMC 2009 Aug 26. Published in final edited form as: Med Hypotheses. 2009 May; 72(5): 504–509. Published online 2009 Feb 4. doi: 10.1016/j.mehy.2008.12.029 (Accessed Dec 1, 2017).