God has many names, and they are descriptive of His attributes, so here are five of the most powerful names of God.
JEHOVAH-JIREH or Yahweh Yireh
Genesis 22:14 "So Abraham called the name of that place, "The Lord will provide"; as it is said to this day, "On the mount of the Lord it shall be provided."
Abraham and Isaac were going to make a sacrifice unto the Lord, only Isaac didn't know he was the intended sacrifice, so when the wood and fire were gather, Isaac asked, "Behold, the fire and the wood, but where is the lamb for a burnt offering," (Gen 22:7), and Abraham told Isaac, "God will provide for himself the lamb for a burnt offering, my son" (Gen 22:8), and God did provide for a sacrifice when the ram caught in the thickets was provided by God. When God was about to sacrifice his son of promise, the angel of the Lord stayed his hand (Gen 22:11) and saw that Abraham's believed God and it was accounted to him as righteousness, knowing that He could raise Isaac up from the dead if it came to that (Heb 11:19), so that's why "Abraham called the name of that place, "The Lord will provide"; as it is said to this day, "On the mount of the Lord it shall be provided" (Gen 22:14). And near that same spot several thousands of years later, God would provide for a sacrifice for all who would believe in Him (John 3:16-17), because in the last part of Genesis 22:14, where it says, "On the mount of the Lord it shall be provided," in the Hebrew is, "he will be seen," and seen He was on Calvary's hill. And yes, on that mount, a supreme sacrifice was provided.
YAHWEH-ROHI – The Lord Our Shepherd
Psalm 23:1 "The Lord is my shepherd; I shall not want."
The Lord Jesus Christ is called the Good Shepherd, so compared to Christ, I am simply an under-shepherd of the Good Shepherd. The Hebrew word used here for shepherd is "ra`ah" which means to pasture (from which we get the word "pastor"), but it means to "tend, graze, feed," or be "ruler," or "teacher" of. That is exactly what God does in Jesus Christ, Who is the Head of the Church. If not led to green pastures, sheep will eat until they destroy the roots, so the Good Shepherd ensures that His flock is regularly fed, and that diet consists of the Word of God, the Bible, then the sheep of the Good Shepherd "shall not want."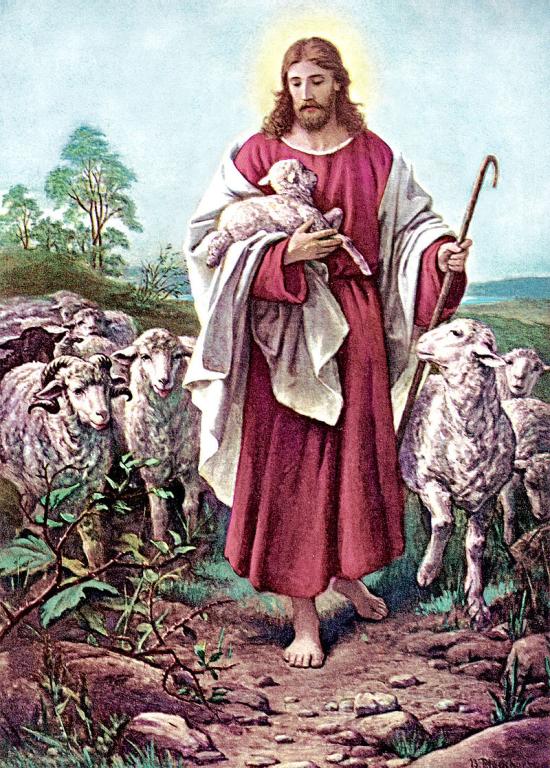 El SHADDIA – The Mighty God
Genesis 17:1 "When Abram was ninety-nine years old the Lord appeared to Abram and said to him, "I am God Almighty; walk before me, and be blameless."
The name God uses for Himself in this passage is the name EL Shaddia, which is Hebrew for "almighty, most powerful," and of course that fits God perfectly because God is omnipotent. When you pray, think about one of His names, like El Shaddia. That should give you confidence because you pray to a God Who can move heaven and earth to make sure one sinner is saved. When God used this name for Himself, Abraham "fell on his face" (Gen 17:3), knowing He is all-powerful. To Abraham, this is the most reverential, respectful, and humble position for him to be in when praying to God. We pray to a God that is Almighty and All-Powerful, so why not fall before Him, in physically possible?
YHWH / YAHWEH or HAYAH – I AM THAT I AM
Exodus 3:14 "God said to Moses, "I am who I am." And he said, "Say this to the people of Israel, 'I am has sent me to you."
When God spoke to Moses out of the burning bush, he told him He was about to bring Israel out of Egypt and deliver them from their bondage in slavery, but Moses asked God, what "if they ask me, 'What is his name?' what shall I say to them" (Ex 3:13)? God answered, "Say this to the people of Israel, 'I am has sent me to you" (Ex 3:14b). In other words, God told Moses to say that "I AM THAT I AM" sent me, or in the Hebrew "Yahweh" which means "to be, to exist" or the "Self-Existent One." "I am, and there is none beside me" (Isaiah 45:6). This means that God has no cause and has always been. The verb "to be" means that He has no need of anything outside of Himself to keep existing; an existence different from all other existence. He has always been, is now, and will always be. It means that God is uncaused and there is nothing else that has always existed without a cause except for Yahweh or the Great I AM.
ELOHIM – The Creator, Mighty, Strong God
Genesis 17:7 "And I will establish my covenant between me and you and your offspring after you throughout their generations for an everlasting covenant, to be God to you and to your offspring after you."
It is very interesting that God revealed to Abraham two of His attributes in one conversation. First God says that He is "God Almighty" (Gen 17:1), and later He says that He "will establish [His] covenant" with Abraham, but what does God mean by saying, I will "be God to you?" It means, He will literally be the "Creator, Mighty, Strong God" that spoke the universe and the worlds into existence to Abraham. This name for God is plural and reflects the Trinity and the Plurality of God but also the different workings of each Person of the Trinity. The God Who created all things, how will He not give us all things (Rom 8:32)? Is anything too hard or impossible for the One Who created everything?
Conclusion
If you don't know all these names of God, it doesn't matter, but it does matter if you know the One Name that is above all other names, and that is Jesus Christ. He said "No one can come to me unless the Father who sent me draws him. And I will raise him up on the last day" (John 6:44), but "there is salvation in no one else, for there is no other name under heaven given among men by which we must be saved" (Acts 4:12). Jesus as the Good Shepherd is the way, the truth and the life (John 14:6), and not "a way" or one of many ways. He is the One and Only Way into the Kingdom and the only name by which you can be saved. If you reject Him as Savior, then He will be your Judge (Rev 20:11-15; John 3:18).
Article by Jack Wellman
Jack Wellman is Pastor of the Mulvane Brethren Church in Mulvane Kansas. Jack is a writer at Christian Quotes and also the Senior Writer at What Christians Want To Know whose mission is to equip, encourage, and energize Christians and to address questions about the believer's daily walk with God and the Bible. You can follow Jack on Google Plus or check out his book Teaching Children the Gospel available on Amazon.