The meaning of the resurrection and the consequences of it, have changed millions of people's eternity forever.
Redeemed by the Lamb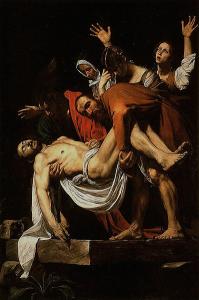 There is no sacrifice that could have satisfied the wrath of God except the life of the Holy Son of God, Jesus Christ. His perfect, sinless life was the only way that we could be reconciled back to God. Jesus came to give His own life as a ransom for those who would trust in Him (Mark 10:45). Near the end of Jesus' earthly ministry, He began to speak of His suffering, death, and resurrection, but the apostles were afraid to ask Him about it (Mark 9:32), even though Jesus plainly said, "The Son of Man is going to be delivered into the hands of men, and they will kill him. And when he is killed, after three days he will rise" (Mark 9:31). How clear that is, but they didn't expect the Messiah to finally come to save Israel and then have to suffer and die, but "From that time Jesus began to show his disciples that he must go to Jerusalem and suffer many things from the elders and chief priests and scribes, and be killed, and on the third day be raised" (Matt 16:21). The Apostle Paul reminds us that we are not saved by works (Eph 2:8-9), while the Apostle Peter says we aren't redeemed by material possessions, but only "with the precious blood of Christ, like that of a lamb without blemish or spot" (1 Pet 1:19). At the time, the disciples didn't realize that crucifying the sinless Son of God was their (and our) only hope. Only later did they understand (Acts 2:14-47). At least Jesus gave the disciples hope, telling them, "Yet a little while and the world will see me no more, but you will see me. Because I live, you also will live" (John 14:19).
We'll Be Raised
Since Jesus has been raised from the dead, so shall we be. If Jesus had not been raised from the dead, we'd die and remain in our sins, "But in fact Christ has been raised from the dead, the firstfruits of those who have fallen asleep. For as by a man came death, by a man has come also the resurrection of the dead" (1 Cor 15:20-21). After Lazarus had been dead for four days, Jesus told Martha, "I am the resurrection and the life. Whoever believes in me, though he die, yet shall he live, and everyone who lives and believes in me shall never die. Do you believe this" (John 11:25-26)? God has resurrection power in His Word, as "God raised the Lord and will also raise us up by his power" (1 Cor 16:14). The gospel of Jesus Christ must contain all three essentials; the sinless life, suffering and death on the cross, and the resurrection of Jesus Christ. The Apostle Paul wrote, "For I delivered to you as of first importance what I also received: that Christ died for our sins in accordance with the Scriptures, that he was buried, that he was raised on the third day in accordance with the Scriptures" (1 Cor 15:3-4). And it wasn't just to the Apostle Peter that He appeared to, but "he appeared to more than five hundred brothers at one time, most of whom are still alive, though some have fallen asleep. Then he appeared to James, then to all the apostles. Last of all, as to one untimely born, he appeared also to me" (1 Cor 15:6-8). Scriptures foretold His sinless life, His suffering and death on the cross, and His resurrection after the third day. It was all in accordance to Scripture, and all in accordance to God's sovereign redemptive plan. Jesus was not a victim of circumstances, but as He said, "No one takes it from me, but I lay it down of my own accord. I have authority to lay it down, and I have authority to take it up again. This charge I have received from my Father" (John 10:18).
He's Not Here!
One of the greatest verses in the Bible, and one which brings the greatest of news, is found in Matthew 28:6 where the angel told the women, "He is not here, for he has risen, as he said. Come, see the place where he lay." After the women had looked into the empty tomb, "they departed quickly from the tomb with fear and great joy, and ran to tell his disciples" (Matt 28:8). Mark records the event as the angel saying to them, "Do not be alarmed. You seek Jesus of Nazareth, who was crucified. He has risen; he is not here. See the place where they laid him" (Mark 16:6). Even Luke the Physician wrote, "He is not here, but has risen. Remember how he told you, while he was still in Galilee, that the Son of Man must be delivered into the hands of sinful men and be crucified and on the third day rise" (Luke 24:6-7), so Luke even throws in a little teaching about Jesus' dying for sinners.  The Scriptures and Christ Himself declared, "that the Christ should suffer and on the third day rise from the dead" (Luke 24:46), and that's exactly what happened.
Conclusion
The wages of sin is death (Rom 6:23), but since Jesus never sinned, the grave couldn't hold Him. The Scriptures say "God raised him up, having loosed the pangs of death, because it was not possible for him to be held by it" (Acts 2:24). The Roman soldiers "came to Jesus and saw that he was already dead, they did not break his legs. But one of the soldiers pierced his side with a spear, and at once there came out blood and water" (John 19:33-4), so Jesus was officially declared dead by the Roman soldiers. The greatest travesty of justice that has ever occurred in human history occurred at the cross. Not only had Pontius Pilate declared Jesus innocent, even the thief on the cross knew that Christ "has done nothing wrong" (Luke 23:41b), however the religious leaders thought they had put an end to Jesus and His ministry, but it had just the opposite effect. His sinless life, death, and resurrection changed human the world and it changed history, into His-story. Many of those who were formerly the sons and daughters of disobedience were born again and became the children of God. Maybe we don't have to think that far back in time to remember when we "once walked according to the course of this world, according to the prince of the power of the air, the spirit who now works in the children of disobedience" (Eph 2:2), however, "God, being rich in mercy, because of the great love with which he loved us, even when we were dead in our trespasses, made us alive together with Christ—by grace you have been saved" (Eph 2:4-5).
Article by Jack Wellman
Jack Wellman is a Pastor and Prison Minister in the State of Kansas. Jack is also a writer at Christian Quotes and Senior Writer at What Christians Want To Know whose mission is to equip, encourage, and energize Christians and to address questions about the believer's daily walk with God and the Bible. You can follow Jack on Google Plus or check out his book Teaching Children the Gospel available on Amazon.