How can believers remain patient when everything around them is going wrong, when people are treating you unfairly, and when you're about to run out of patience?
Patience
The dictionary defines patience as the ability or capacity to remain patient, the state of endurance under difficult circumstances, persevering in the face delay or provocation without acting upon it. Someone who is patient remains steadfast even when they are being treated unfairly, including being insulted for the cause of Christ. Jesus said, "Do not resist the one who is evil. But if anyone slaps you on the right cheek, turn to him the other also" (Matt 5:39). Contrary to what people think, this is does not mean that we shouldn't defend ourselves, lock our doors at night or become someone's punching bag. We are to turn the other cheek in the sense of not retaliating when we are insulted for Jesus' sake. That is the context of verses 38-48. We have read the world's definition of patience, but what is the biblical definition of patience? Is it far different from the way the world defines it, so how can we be more patient when we're faced with trying circumstances?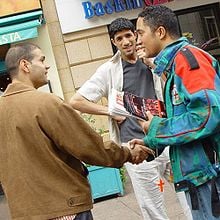 Vengeance
We make a poor judge and jury when we try to avenge ourselves for being persecuted for Christ. In the 12th chapter of Romans, Paul says, "never avenge yourselves, but leave it to the wrath of God, for it is written, "Vengeance is mine, I will repay, says the Lord" (Rom12:19). If we try to get revenge for being wronged, then we are placing ourselves in the judgment seat of God, and by the way, it's a one-seater! By trying to seek revenge, we show God that we don't trust Him to judge everything righteously. If anything, we can only make things worse by trying to get even. God says "I choose the appointed time; it is I who judge uprightly" (Psalm 75:2), so if we repay evil for evil, we are not leaving judgment up to God. We're told to "not be overcome by evil, but overcome evil with good" (Rom 12:21). You don't overcome evil with more evil, so "Repay no one evil for evil, but give thought to do what is honorable in the sight of all" (Rom 12:17). Remember it is God Who "will render to each one according to his works: to those who by patience in well-doing seek for glory and honor and immortality, he will give eternal life" (Rom 2:6-7).
Biblical Patience
Patience is a powerful thing in this often-chaotic world. It is "With patience a ruler may be persuaded, and a soft tongue will break a bone" (Prov 25:15). The problem is that we're not very patient, even though Scripture tells us to "encourage the fainthearted, help the weak, be patient with them all" (1 Thess 5:14). The Apostle Paul's desire was that "the God of endurance and encouragement grant you to live in such harmony with one another, in accord with Christ Jesus, that together you may with one voice glorify the God and Father of our Lord Jesus Christ. Therefore welcome one another as Christ has welcomed you, for the glory of God." (Rom 5:5-7). Be part of the solution to an impatient world by your patience in well doing (Rom 2:7).
Patience of the Saints
One thing about love is that love gives people the benefit of the doubt. It believes the best in people, and doesn't always assume the worst. Paul writes that "Love bears all things, believes all things, hopes all things, endures all things" (1 Cor 13:7). When he says that love "believes all things," I believe that he is saying that love doesn't jump to conclusions, and usually the worst ones. I don't know how many times I've assumed that someone did something wrong or was intentionally late, only to find out later that this was not the case, hence the need to "be patient. Establish your hearts, for the coming of the Lord is at hand. Do not grumble against one another, brothers, so that you may not be judged; behold, the Judge is standing at the door. As an example of suffering and patience, brothers, take the prophets who spoke in the name of the Lord. Behold, we consider those blessed who remained steadfast. You have heard of the steadfastness of Job, and you have seen the purpose of the Lord, how the Lord is compassionate and merciful" (James 5:8-11). Those characters are great studies in patience; Job and Paul having PhD in it.
Fruit of the Spirit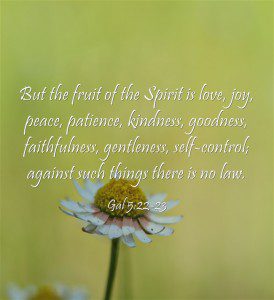 Patience is not a gift of the Sprit but a fruit of the Holy Spirit. Paul writes that "the fruit of the Spirit is love, joy, peace, patience, kindness, goodness, faithfulness" (Gal 5:22). We have these fruits in us if we've trusted in Christ, but exercising those gifts is another story. A person that is patient will exhibit more of the fruits of the Spirit like love, joy, peace, kindness, goodness, faithfulness, gentleness, and self-control (Gal 5:22-23). A patient person will live in peace with others, they will display goodness to those in the world and in the church, they will be faithful in their walk with Christ, they will live in a gentle way among all men and women, and they will display self-control. Jesus said that "every healthy tree bears good fruit, but the diseased tree bears bad fruit. A healthy tree cannot bear bad fruit, nor can a diseased tree bear good fruit. Every tree that does not bear good fruit is cut down and thrown into the fire. Thus you will recognize them by their fruits" (Matt 7:17-20), and the fruit of patience is easily recognizable in this world!
Conclusion
Are you finding yourself running a little short of patience? Welcome to the club because we all run short of patience from time to time, but if you're impatient with a non-believer, remember, they cannot produce the fruit of patience because they don't have access to the Holy Spirit. Don't expect a diseased tree to produce good fruit because it's impossible. We must have patience with all people and remember that in former times, we too were just like the world. Paul wants us to reflect on our own past, writing that "such were some of you. But you were washed, you were sanctified, you were justified in the name of the Lord Jesus Christ and by the Spirit of our God" (1 Cor 6:11). Pray that those who are not justified might repent and come to saving faith in Jesus Christ our Lord, and be patient. Trust the Holy Spirit's timing. In the meantime, be patient with them as the Lord was patient with us…and still is!
Article by Jack Wellman
Jack Wellman is a Pastor and Prison Minister in the State of Kansas. Jack is also a writer at Christian Quotes and Senior Writer at What Christians Want To Know whose mission is to equip, encourage, and energize Christians and to address questions about the believer's daily walk with God and the Bible. You can follow Jack on Google Plus or check out his book Teaching Children the Gospel available on Amazon.