Jesus said we are to enter by the narrow gate, so why it is so narrow and why are so few are finding it?
I AM the Door
Jesus referred to Himself as the Good Shepherd (John 10:11), and the door by which all the sheep must go in and come out (John 10:9). He says, "I am the door of the sheep" (John 10:7b), so it is only "To him the gatekeeper opens. The sheep hear his voice, and he calls his own sheep by name and leads them out" (John 10:3). Notice that His "sheep hear his voice, and he calls his own sheep by name," so He knows them by name…but the sheep know Him by His voice or His word, and so "he goes before them, and the sheep follow him, for they know his voice" (John 10:4). The critical thing is not that you know Him, but does He know you (Matt 7:21-23). Jesus also says, "I am the door. If anyone enters by me, he will be saved and will go in and out and find pasture" (John 10:9). The thieves and robbers try to enter by other means (John 10:8), but they have not understood that the only way to receive eternal life is through Jesus Christ, and Him alone. The Apostle Peter narrows it down by saying that "there is salvation in no one else, for there is no other name under heaven given among men by which we must be saved" (Acts 4:12). That only name given under heaven by which we can be saved is Jesus Christ. He is the door…the only means by which the sheep may enter. There is no other way.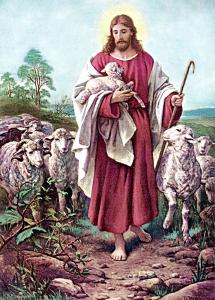 The Narrow Gate
In what some call the "Golden Rule," Jesus said that "whatever you wish that others would do to you, do also to them, for this is the Law and the Prophets" (Matt 7:12). This is loving your neighbor as yourself, but then Jesus warns them (and all who would read), "Enter by the narrow gate. For the gate is wide and the way is easy that leads to destruction, and those who enter by it are many" (Matt 7:13). The only way we can enter is through the narrow gate, but why is it so narrow? Perhaps its single file since God has no grandchildren. Each person individually must be brought to repentance and faith in Christ. No one gets in on someone's coattails or, "I was baptized when I was nine," or "I was raised in a Christian home." Perhaps the road is narrow because so few find it. Jesus said, "For the gate is narrow and the way is hard that leads to life, and those who find it are few" (Matt 7:14). People are not willing to deal with their sins and so they simply head down the easy path of destruction. The broad gate is broad because so many are going that way. It's like an 8-lane expressway, but it's going in the wrong direction. They, like I, needed to turn and go the other way (repent) and head down the narrow path, difficult as it is. Even though the narrow gate is difficult to take, at least there is "a" way. It's better than no way at all. We should be thankful that God made a way through Christ. He had no reason for this, other than His love (Rom 5:6-10).
Many, Not Few
In this same chapter, and in the same context of God's judgment, Jesus again places the many verses the few, saying, "Not everyone who says to me, 'Lord, Lord,' will enter the kingdom of heaven, but the one who does the will of my Father who is in heaven" (Matt 7:21) . Some of those things that are the will of the Father are things we do (Matt 25:35-36) as unto Christ Himself (Matt 25:40), but to many He will say, "Depart from me, you cursed, into the eternal fire prepared for the devil and his angels. For I was hungry and you gave me no food, I was thirsty and you gave me no drink, I was a stranger and you did not welcome me, naked and you did not clothe me, sick and in prison and you did not visit me'" (Matt 25:41-43). By saying that many will say to Him, and not a few, He means most. Jesus says, "On that day many will say to me, 'Lord, Lord, did we not prophesy in your name, and cast out demons in your name, and do many mighty works in your name'" (Matt 7:22)? This is the point when Jesus separates the wheat from the weeds, and He will "declare to them, 'I never knew you; depart from me, you workers of lawlessness'" (Matt 7:23). It's not that He doesn't know about them, since He is God and God is omniscient, but in the sense of having a personal, saving relationship which came through repentance and faith. Remember the sheep hear His voice, but He knows His sheep by name (John 10:3)! It is not enough to say, "I know Jesus," but the most important question is, "Does He know you!"
Conclusion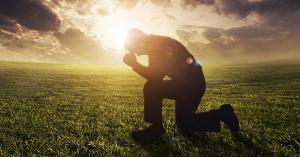 If God has brought you to repentance (Acts 5:31, 11:18, 16:14; 1 Tim 2:24-26) and faith in Jesus Christ, then you are on the right path. You have chosen to trust in the Door, or the Good Shepherd Who gave His life as a ransom for His sheep (Mark 10:45). Jesus made it clear that "No one takes it from me, but I lay it down of my own accord. I have authority to lay it down, and I have authority to take it up again. This charge I have received from my Father" (John 10:18). In fact, He says "For this reason the Father loves me, because I lay down my life that I may take it up again" (John 10:17). Jesus says to those who don't believe in Him, it is "because you are not among my sheep" (John 10:26), but to those who know Him, "My sheep hear my voice, and I know them, and they follow me. I give them eternal life, and they will never perish, and no one will snatch them out of my hand" (John 10:27-28). Only the Spirit of God and the Word of God can reveal the Son of God. I hope He has revealed Himself to you. If not, today is the best of days to trust in Christ, because there are no guarantees that tomorrow will even come (Prov 27:1; Luke 12:19-20; James 4:13-14).
Article by Jack Wellman
Jack Wellman is a Pastor and Prison Minister in the State of Kansas. Jack is also a writer at Christian Quotes and Senior Writer at What Christians Want To Know whose mission is to equip, encourage, and energize Christians and to address questions about the believer's daily walk with God and the Bible. You can follow Jack on Google Plus or check out his book Teaching Children the Gospel available on Amazon.