When you watch a movie on the Hallmark Channel, especially a romantic comedy, the important thing isn't the destination but the journey. In other words, you know the film will likely have a happy ending and the couple who doesn't like each other at the beginning will fall in love by the end. Therefore it's the execution of the story that matters most. Are the characters entertaining? Are the actors convincing? Does the dialogue have some sparkle?
Being a sucker for all things Christmas, I admit I've watched a good share of Hallmark Channel holiday-themed movies through the years. They range from 'poor' to 'above average.' One of their newest, "Love at the Thanksgiving Day Parade" scores an "A" from me, with extra credit going to its star Autumn Reeser whose wit, charm and spunk as Emily Jones carries the story throughout.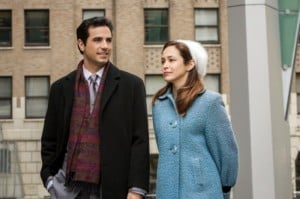 Emily coordinates Chicago's Thanksgiving Day parade every year, and is filled with all the youthful idealism you'd want someone in that position to have. She fondly remembers watching the parade as a child, and wants to give today's families the same kinds of special memories. Enter Henry Williams (Antonio Cupo), a development consultant hired by the parade's director to see if there are ways to save money on the parade and even make a profit. This doesn't sit well with Emily who believes in preserving the purity of this annual tradition, not redesigning it for profitable ends.
At this point, I was a little worried that the movie would turn into a polemic against corporate greed with the hard-hearted Henry needing to have his grinchy heart grow three sizes through falling in love with Emily. To screenwriter Nancey Silvers' credit, she doesn't go the obvious route of turning the movie into a sermon. She simply tells a funny and engaging story with likable characters. And while Henry does need to grow and change in some ways over the course of the story, so does Emily who has been long-distance dating a non-committal marine biologist for five years.
One thing that threw me at first was Emily's fashion sense. Though the story takes place in modern times, Emily dresses like a character from the 1960's-era show "Mad Men" – and everybody just seems to accept it. It's definitely a unique character quirk that kept me wondering, but the eventual explanation makes perfect emotional sense in the context of the character.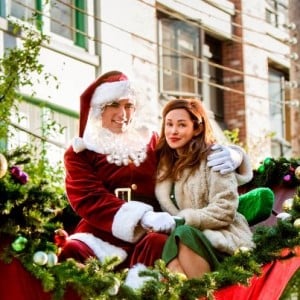 Again, I have to give credit to Reeser for pulling it off. She's currently starring in the much more dramatic role of Kylie Sinclair on the ABC series "Last Resort," though I first became familiar with her through her role as lovable uber-geek Katie Andrews on "No Ordinary Family" a couple of years ago. But in "Love at the Thanksgiving Day Parade," she shows she's a natural at romantic comedy, combining the fashion of Elisabeth Moss in "Mad Men," the charm of Doris Day during her 1960's heyday, and the snappy dialogue delivery of Rosalind Russell in the classic "His Girl Friday."
For that matter, the whole movie feels retro with an innocence you don't see a lot of in stories nowadays. To me at least, it didn't seem like the overly simplistic type of innocence which can cause you to roll your eyes at the screen. It just seems to be grounded in the values of a bygone era, and coupled with comedy and heart.
If you're looking for a family-friendly TV movie this November that serves up a healthy serving of laughs, entertainment, and good old-fashioned storytelling, put "Love at the Thanksgiving Day Parade" on your viewing menu.
("Love at the Thanksgiving Day Parade" airs on the Hallmark Channel on Wednesday Nov. 14 at 8:00pm Eastern; Nov. 17 at 10:00pm Eastern; Nov. 18 at Noon Eastern; Nov. 22 at 6:00pm Eastern; and Nov. 23 at Noon Eastern. Check local listings outside Eastern time zone.)