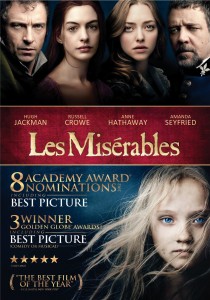 ("Les Miserables" comes out on DVD March 22.)
I generally roll my eyes at grand generalizations about movies, like "So-and-so is the greatest actor of his generation!" Those kinds of sentiments are a matter of subjective opinion, especially when they apply to actors who are barely in their twenties.
Yet today, I'm going to make that kind of grand generalization myself by declaring the ending of Tom Hooper's Christopher Award-winning film "Les Miserables" the greatest ending in movie history. Why? Because it's the story-ending to which we all aspire.
Jean Valjean endured great hardship in his life and was on a dead-end road before a Christ-like bishop provided him with mercy and a second chance. He came to accept responsibility not just for his own life, but the lives of those he grew to love: primarily, his adoptive daughter, Cosette. Valjean was indirectly responsible for her mother, Fantine's, death and took in her little girl as a penance of sorts. But that penance quickly became a type of love that Valjean had never experienced before. It was self-sacrificial and, in its own way, Christ-like.
When the movie ends and Valjean dies, his passing isn't sad and depressing; it's celebratory and glorious! He is led into heaven by the bishop who showed him mercy – and by Fantine to whom he showed compassion. The lyrics sung during this scene state, "Take my hand / And lead me to salvation / Take my love / For love is everlasting / And remember the truth that once was spoken: / To love another person is to see the face of God."
I've never seen a better, more emotionally-satisfying depiction of heaven and the communion of saints on the big screen. And considering all the sniffles and snot-cries I heard in the theater when I saw the movie, a lot of other people had that reaction too.
The reason is that Valjean's ending is the ending we all want for ourselves, the ending that's actually a new beginning in communion with all the people we've ever loved a lot or a little, the ending made possible by Jesus' resurrection which we'll soon be celebrating.
This inherent longing we all feel for love that never ends is a fundamental truth of Christianity that was also beautifully expressed by "Love and Salt" authors Amy Andrews and Jessica Mesman Griffith, who I wrote about earlier this week. Just as with Valjean, Amy and Jessica came to experience love, God and faith in entirely new ways after having children. It helped them to firmly believe the "absolute truth that love is eternal."
That concept was a great comfort to Jessica, who lost her mother when she was young. She said, "I needed a way to feel that this story was not over with my mother and the other people we had lost – that we were going to be able to have some connection with them."
Amy, who had endured the death of her baby daughter, agreed, saying, "The communion of saints has given me so much comfort. One of the things I love the most in the Church is the litany of saints. It gives me this sense of continuum between the friends and community we have here, and the community beyond the grave – that this community is going to somehow become that community…There is this invisible barrier between us, but we're all standing there facing each other and knowing that it's only a matter of time before we will come to the banquet together."
"Les Miserables" is the perfect image of that banquet that never ends, of the reunion that will happen if we lead our lives in the right way – loving God with all our heart, mind, soul and strength, and loving our neighbors as ourselves.
Love, the film assures us, is eternal. Who could ask for a better ending?
(CONGRATULATIONS TO MARY MONASTESSE, CLARE KRISHAN AND DENISE WHO WON THE "LES MISERABLES" DVDS IN OUR CONTEST! )