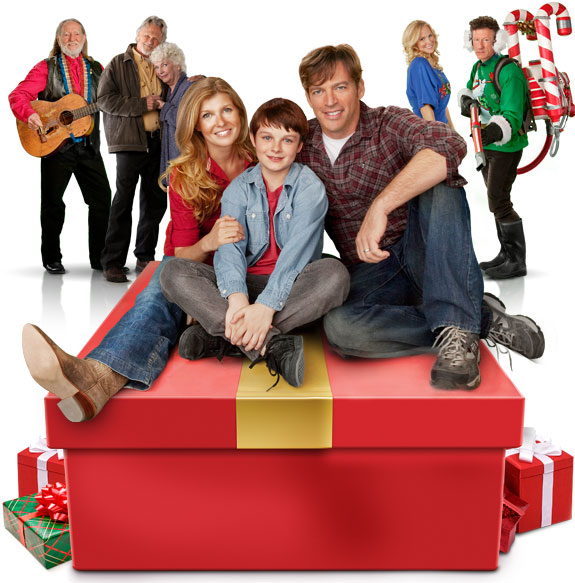 With a cast like Harry Connick Jr., Lyle Lovett, Willie Nelson, Kris Kristofferson and Connie Britton (who's proved her singing chops on two seasons of "Nashville), you might expect the movie "Angels Sing" (newly available on DVD and Video On Demand) to be some kind of concert film. But while there is music sprinkled throughout, it's actually a family-oriented story about moving beyond the guilt and sorrows of the past to find joy in Christmas.
Connick plays Austin, Texas resident Michael Walker, a husband and father who has refused to celebrate Christmas or put up decorations ever since his youth when his brother David died after falling through the ice while skating on a local pond. Michael blames himself for this tragedy because David flung him out of the way so he wouldn't be the one to hit the soft ice patch. In essence, David sacrificed himself so Michael could live.
Michael's wife Susan (Connie Britton) and son David (Chandler Canterbury) try to nudge him toward celebrating the season, but rarely get very far. The pressure for Michael to lighten up about Christmas grows even stronger when he buys a new house from a mysterious stranger named Nick (Willie Nelson) on Live Oak Lane, a street renowned for extravagant light and decoration displays.
The neighbors, whose desperate attempts to get Michael to decorate are led by Lyle Lovett, are unsuccessful, though comical. Michael's resistance to this well-intentioned but zany crew gets him dubbed the local Scrooge by the media who cover the street's "Trail of Lights" every year.
When Michael's family is beset by another tragedy, it might seem that his dislike of Christmas would grow even stronger – and initially, that's the case. But through a gift from his father (Kris Kristofferson) and some wisdom from his family and Nick, Michael discovers that staying mired in guilt from the past is a dead end that prevents you from appreciating life's beautiful memories and relationships.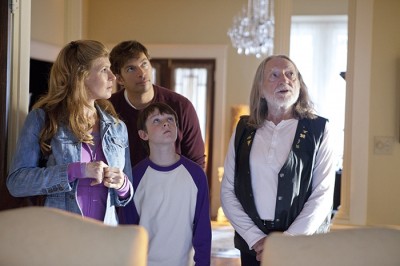 The best thing about "Angels Sing" is its cast, who are fully invested in telling this story. While you might expect stars of Connick and Britton's caliber to phone it in for a small movie which has had a very limited theatrical release before going to video, they actually give it their all.
Connick alternately plays comical, heartfelt, and sullen in a believable manner, while Britton is like a bright light whose enthusiasm enhances every scene she's in. Their chemistry and playful banter sell them as a couple. My favorite funny moment in the whole film occurs when Connick, as he's in the kitchen telling Britton that he bought a new house without her seeing it, declares, "I'm gonna get between you and the knives."
Willie Nelson gives Nick a homespun charm. Kris Kristofferson brings both hope and world-weariness to his role as Connick's dad. And Lyle Lovett's natural quirkiness as Griffin usually produces smiles whenever he's onscreen.
Plus, all these great singers – and a few lesser-known-though-no-less-talented ones – produce brief moments of musicality that keep the Christmas spirit alive and move the story forward. Kristofferson leads a family sing-along to "Pretty Paper," Nelson adds a spiritual dimension with "Silent Night" and "Amazing Grace," and Lovett duets with Kat Edmonson on "Christmastime is Here" (originally sung in "A Charlie Brown Christmas").
Though the movie may sound like it's focused on the secular celebration of Christmas because of the decorating element of the story, it's also honest enough to include several references to Jesus being the reason for the season. It's not done in a heavy-handed way, but integrated nicely by screenwriter Lou Berney and director Tim McCanlies.
"Angels Sing's" switching between broad comedy and melancholy can make it seem a little uneven at times. But overall, this is an entertaining and meaningful film that families can watch together because it's about the importance of family. And you might even get some new ideas for family singalongs or lighting up your house next Christmas.