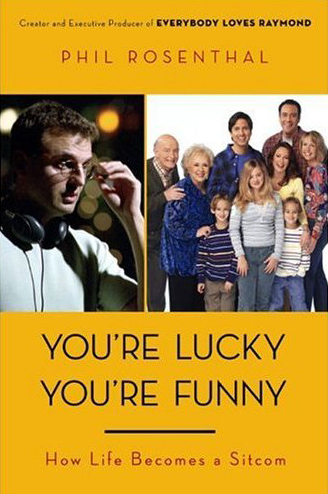 Though much of the Mary Poppins-related attention today will be directed at the new Disney movie "Saving Mr. Banks," I'm reminded of a different story about everybody's favorite flying nanny and how she influenced someone I consider to be one of the best comedy writers of our era: Phil Rosenthal.
If his name isn't familiar to you, you'll definitely recognize the sitcom he's responsible for creating: Everybody Loves Raymond. It was a brilliantly written show that managed to seamlessly integrate moments of genuine heart and poignancy among all the laughs.
In one episode, for instance, Marie (Doris Roberts) discovers Ray's (Ray Romano) diary from when he was a teenager, reads it, and discovers he wrote, "I ehat my mom" (which, in Ray's mind, was code for "I hate my mom"). Marie is hurt and lets Ray know it. He gets upset that Marie violated his privacy, and his wife Debra (Patricia Heaton) agrees with him. But when she confronts Marie about this, Marie delivers such a heartfelt speech about why she was so offended by the decades-old comment that Debra turns around and says to Ray, "Apologize to your mother." In that moment, the usually overbearing Marie became a real, relatable human being.
What does that have to do with "Mary Poppins?" Well, Rosenthal was first inspired to create entertaining-but-meaningful stories after seeing "Mary Poppins" when he was four. He shared the experience in his 2007 memoir "You're Lucky You're Funny: How Life Becomes a Sitcom." Here is the relevant excerpt:
Mary Poppins. I saw it six times in 1964. Not only was it funny, colorful, magical, warm, and charming, but it had great songs and the woman I had decided to marry was starring in it – Julie Andrews. Was I alone in this infatuation? Some of you out there must've felt the same way. I considered myself lucky: four years old, and I had found my wife already…

…Mary Poppins was practically perfect in every way, and damn it, that's what I wanted in a woman. This wonderment I was getting from the screen, these laughs, this joy…got in deep.

Why? Because the movie was a look at a magical gentile life? It wasn't just that, and it's not just a romp – it's not just lighthearted, just dance around and "Fly a Kite." The kite flying meant something. And if you've had the great pleasure of watching it with your kids recently, you'll appreciate that this film, unlike almost everything else out there now, is about something. There's a point to it. There's a point to the magic and the fun – there's something underneath – and it's something that stays with you when the two hours are over, that you can integrate into your life.

You don't get it consciously when you're four, but the reason you have to see it six times is because this deceptively simple entertainment has been sophisticatedly designed to impart its themes: Kindness. Love your family. Feed the birds. Enjoy your life. Find a wife like Mary. It's not a lesson, just a strong point of view that comes through while you're enjoying yourself.

This was the value system embedded in the screenplay by its authors, Bill Walsh and Don DaGradi, based on the books by P.L. Travers. It's in the best popular entertainment, and it's in everything that has helped make life worth living for me, not just because the movies and shows I loved gave me a way of looking at and understanding the world, but also because they didn't announce themselves as intending to do that. Watching Mary Poppins was just the most fun I had ever had in my whole life. When I was four.
When I was a four-year-old boy in the Bronx, I made every adult I knew take me to see the best movie in the world,