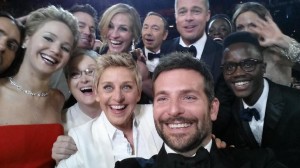 The tweet shared 'round the world – a.k.a. Ellen Degeneres's Oscar selfie with Bradley Cooper, Jennifer Lawrence, Kevin Spacey, Meryl Streep, Julia Roberts, Brad Pitt, and more – has turned into a boon for Ellen's two favorite charities: St. Jude's Children's Hospital and the Humane Society.
Samsung, who made the phone that took the picture that got retweeted over three million times, addressed both the donation and the question of whether they paid ABC to use the phone. They said, "While we were a sponsor of the Oscars and had an integration with ABC, we were delighted to see Ellen organically incorporate the device into the selfie moment that had everyone talking. A great surprise for everyone, she captured something that nobody expected. In honor of this epic moment and of course, the incredible response of nearly 3 million retweets, we wanted to make a donation to Ellen's charities of choice: St Jude's and the Humane Society. Samsung will donate 1.5 million dollars to each charity."
Having seen various TV segments about St. Jude through the years, you know their free medical care for kids with cancer is a vital resource to families during a trying time. It's great news that their work will be helped by a fun pop culture moment.