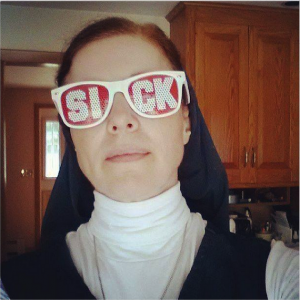 In January 2013, I wrote a blogabout Sister Helena Burns titled "A Tweeting, Facebooking Nun Shares Her Media Mission" because she was making quite a splash in Catholic circles.
Today, Sister Helena has expanded way beyond the Catholic media world by being featured in The Atlantic in a piece called "The Nun Who Got Addicted to Twitter."
As evidenced by her Twitter profile picture, she doesn't take herself too seriously. And her observations about how people of faith use social media are spot on and definitely worth a read, especially when she points out that Christians who use the web simply to vent their fury are missing an opportunity for evangelization.
Here's an excerpt:
To her, Twitter and Facebook and Instagram are like many other regions of the world: Some people are part of Christian communities; some people are part of secular communities; and some people straddle both. Evangelizing online is just like evangelizing anywhere else: You build communities animated by Christian values, which exist alongside every other community. Snarky sites like Gawker and Buzzfeed and Reddit might seem like they represent the unified culture of the Internet, one that seems incompatible with Christian values. But, of course, Burns disagrees. Where I see snark, she sees a sacrament.

"We should be the best at this, because as Catholics, we believe in sacraments. We believe God is constantly working through matter, that icons can be sacred." In other words, the Internet isn't just a vortex of rage; like everything else, it's a medium through which God can reach the world.

"Do you see yourself as being in the web, but not of the web?" I asked her.

"Hmm," she replied. "Well, that's Jesus: in the world, but not of the world. But it's almost impossible to be on the web and not be part of it—and I want to be. I want to be part of the world that's conformed to God."

This isn't necessarily how the rest of the Church sees social media, though. "I think we have a long way to go in putting more funds there," she said. "The Catholic Church is very good at education, tending the poor, soup kitchens, supporting families in need, missionary work. But when it comes to media, we don't value it enough."
Read the whole thing here.