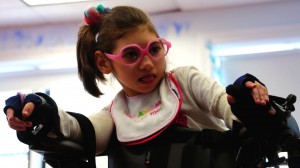 A few months ago, I posted an interview I did with Patrick Donohue, whose daughter Sarah Jane suffered a traumatic brain injury at the hands of her baby nurse when she was only five days old. Patrick shared the work that he's done establishing treatment guidelines for kids with PABI (Pediatric Acquired Brain Injury) – and his most recent effort establishing a school for the these children in New York City called the International Academy of Hope (or iHope).
NationSwell has now produced a video about Patrick and iHope, and you should take five minutes to watch it. The one thing you'll notice is that all the people who work at the school exude joy. Though the kids bear heavy burdens, the teachers and staff focus on the positive, building them up by celebrating what they CAN do instead of what they can't.
Teaching kids with brain injuries sounds like a tough job – and, no doubt, it is. But the staff of iHope treat it as if it were a blessing. That's a profound message in a society that doesn't always lift up the weak and vulnerable. Watch the people of iHope at work.