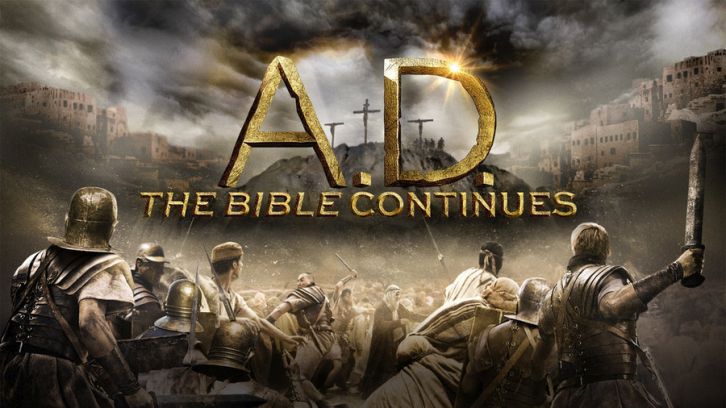 (Graphic property of NBC)
Father Jonathan Morris recently visited Morocco and the set of the upcoming NBC mini-series "A.D. The Bible Continues" on which he served as a theological consultant. In an email interview, he shared with me some exclusive observations about the production which will give life to the Bible's "Acts of the Apostles."
Tony Rossi: How did you get involved with the NBC mini-series "A.D." and what is your role with the production?
Father Jonathan: I have long respected the professionalism and faith of the producers of this all-new mini-series. You will remember Roma Downey from her iconic role as star of "Touched by an Angel". Her co-producer for "A.D" (and husband!) is Mark Burnett, best known as a reality television producer of hit shows like "Survivor" and "The Voice". So when they reached out to me to ask if I would review the scripts of the twelve part series for their theological content, I immediately said 'yes'. When big Hollywood stars like this decide they want to put their talents at the service of the Bible, I think we need to help as much as we can. Sometimes I find myself, and others, complaining about the values communicated through Hollywood. Here's an example of talented individuals in Hollywood wanting to do something very good.
TR: The production includes inter-denominational input. Have you met any other Christian leaders who are advisers on the project? What do you think this diverse group of people adds to the film?
Father Jonathan: Yes, I know they asked for help from both Catholic and Protestant circles. I'm glad they did. When I was on the movie set in Morocco, for example, I met Christians from various traditions. We all loved what we saw. Roma and Mark aren't interested in pushing any agenda. They want to tell the story of the first Christian communities, as we find it in the Acts of the Apostles. They recognize, however, that viewers come from a range of different denominational and cultural backgrounds and will thus experience the movie uniquely. They wanted my perspective, and others', to make sure they got it right…that their own backgrounds and artistic representation wouldn't turn anyone off to what the Bible tells us actually happened.
TR: What Biblical ground will "A.D." cover?
Father Jonathan: Simply put, "A.D." will make the book of the "Acts of the Apostles" come to life. Now, don't be shocked: not everything you see in "A.D." is from the Bible. The producers and writers rightly took artistic license to fill out the story. You couldn't make a twelve part series for television with only what we read in Acts. But the truth is, a lot more happened in the lives of the first Christians than what we know from the Bible. I believe they did a great job of being faithful to the Bible while at the same time taking the viewer on a fascinating and logical journey of what else might have happened.
TR: We've all used our imaginations when it comes to many of the stories in the New Testament in terms of what the people and situations were like. What was it like for you to visit the set in Morocco and see these ancient figures come to life?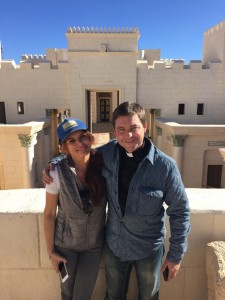 (Photo: Fr. Jonathan with Roma Downey)
Father Jonathan: When I first walked on to the set, I was blown away by its mere dimensions. It is huge! Or better said, the sets (plural) are huge! Years ago I had the blessing to work also on the set of Mel Gibson's film, "The Passion of the Christ", also as a theological consultant. That was a big production for a feature film, and I can say, that these set productions of "A.D."–made for television–are even bigger than those. As I walked through the fabricated streets of "Jerusalem" for example, I could never have guessed that I was actually in the dessert of Morocco! I think anyone who saw the first Bible series that Roma and Mark did for the "History Channel" will be blown away by how much bigger and better this production is. They have upped their game!
TR: The Christophers believe in the ideal of lighting a candle rather than cursing the darkness. How do you think watching "A.D." will serve as an aid to viewers' faith lives and serve as a candle in the darkness to them?
Father Jonathan: There is actually a remarkable connection between what Roma and Mark are doing and The Christophers. In fact, at the bottom of every email that Roma writes–and I don't think she'll mind me saying this–is that very phrase you refer to…that it is better to light a candle than to curse the darkness. This is the ideal that the founder of The Christophers loved so much. I have no doubt that he is smiling down upon us from heaven and is asking the Lord to bless this work of art that will present to many people for the very first time the story of the early Christian community.
Here is a "First Look" at the production from NBC's website: