(All photos property of The Drop Box Film/Focus on the Family)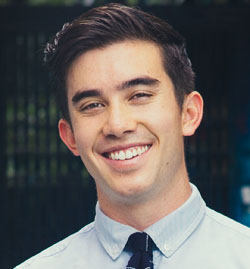 On June 20, 2011, USC filmmaking student Brian Ivie was eating his breakfast cereal and reading the Los Angeles Times when he came across a story titled "South Korean Pastor Tends an Unwanted Flock." It shared the actions of Pastor Jong-rak Lee, who had built a drop box for unwanted babies into his home and church.
The reason was that many babies born disabled or to single mothers in Seoul, South Korea, were simply abandoned on the streets to die because the culture often views these things as shameful. With a heart full of love for these children, Pastor Lee and his wife started taking them in, finding them homes, and even adopting 18 themselves. To date, over 600 babies have been saved because of Pastor Lee's efforts.
Though Brian had never considered making a documentary, he felt that this was a story that cried out to be told to the world. During an interview on "Christopher Closeup" about his film "The Drop Box," he said, "I grew up making movies in my neighborhood about being in a battle – and it seemed like [Pastor Lee] was in a battle. It felt so real that it made everything in my life seem fake. I decided I need to go chase that down and find out where all the courage came from."
Brian raised money, assembled a crew, and traveled to South Korea to temporarily live at Pastor Lee's Ju-sarang (God's Love) Community Church, capturing the essence of what they do there.

God Uses the Weak to Shame the Strong
The condition of many of the children was shocking to Brian at first. He observed, "These children were seen as the most disposable kids. They were missing limbs, a lot of times they were missing pieces of their brains, missing eyes."
But this ministry wasn't Pastor Lee's first exposure to disabled children. His own son, Eun-man, was born with cerebral palsy and with a cyst that blocked blood flow to his brain leaving him permanently brain damaged.
This led to a crisis of faith for Pastor Lee. Brian explained, "There's a great scene in the movie 'Awakenings' where this woman says, 'When my baby was born healthy, I didn't ask God why I deserve such a thing. But when my baby was born sick, I said, God, why would you do such a thing to me?' I think Pastor Lee did have a crisis, where he said, 'Why wouldn't you give me a healthy baby?' But what ended up happening is he realized his son wasn't a mistake. God put him on earth in this way because the weak shame the strong. He uses people that are weak and helpless to change the world."
Eun-man is currently 29 years old and he's lived his entire life in bed with twisted limbs and unable to speak. Despite this, Pastor Lee and his staff call Eun-man's room "the happy room." Why? Brian said, "I think for them, there are two ways to look at this world: that it's pitiless and indifferent – or there's a purpose [to everything], and God's going to bring something beautiful out of the ashes. Also, [Eun-man], even though he lays on his back and has severe brain damage, he has one of the best smiles on planet earth. So for Pastor Lee, [calling it the happy room] is a rebellion against what society would call satisfaction or happiness."
I'll Embrace Your Suffering with You
That doesn't mean, however, that Pastor Lee doesn't feel the pain and suffering around him. His Christian faith remains the cornerstone of how he deals with it.
Brian said, "[Pastor Lee] doesn't put on a plastic smile when he sees women come to him with crippling grief, when children die in front of him. It is not the way he deals with it, nor is it the way anyone in the Bible deals with it. That's why we have the Psalms. We need to return to this idea of lament. I don't know why every individual thing happens, but Christianity offers unrivaled resources for suffering. We have a God who got into the mess with us, who said, 'I'm not some aloof being walking in heaven while all you guys squirm in your suffering. I'm getting involved in a way that I'm going to experience the worst of it and I'm going to give you a way through it.' So the reason why people are attracted to Pastor Lee is because he embraces the suffering of the people in the world. As a church, that's what we've always been called to do. Not just say, 'Don't have an abortion, don't abandon your child.' It's, 'Bring the children to me. I'll help you. I'll love you and I'll embrace your suffering with you.'"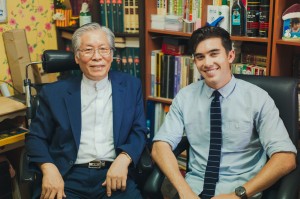 Happy Endings Are Not Naive
Being exposed to Pastor Lee and the children became a revelation to Brian about his own faith. He chronicles his personal story in the book "The Drop Box: How 500 Abandoned Babies, an Act of Compassion, and a Movie Changed My Life Forever."
During our interview, he explained, "I thought I was a Christian because I didn't smoke cigarettes and I watched Fox News with my mom. Christianity was very decorative to me. But it wasn't until I realized that I was as broken as any of these kids [that] I knew I needed to be saved….I call film school my seminary because it taught me how to tell stories. Now I want to tell stories about what God is like."
Brian peppers his book and our conversation with numerous pop culture and movie references, conveying that he is not a Christian who thinks that everything coming out of Hollywood is warped or bad. In fact, he believes the opposite.
He said, "Yes, there are pieces of entertainment that are trashy. But Hollywood does a much better job of expressing what it's like to go through pain and suffering than Christians do when they make movies. I don't know if it's just because we haven't been trained in the same way or something, but I think people have an authenticity meter. So when people see movies and it doesn't feel like it's burst out of pain, immediately it's fake. That's why I try to tell stories that have my heart broken all over them. When I watch things, I'm looking for something real. We're all made in the image of God and we all go through this world and think, 'This isn't how it should be. It shouldn't be hopeless. It shouldn't be a mess. I shouldn't be broken. Maybe there's an answer for that.' That's why I don't reject happy endings, because they're not naive. It's what we all desire because we still have the imprint of how God always wanted it to be."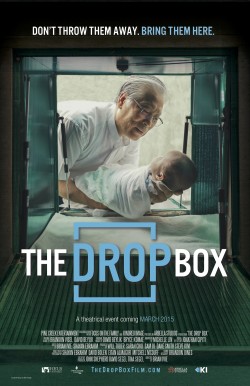 Brian created an organization called Living Proof of a Loving God
Kindred Image to support Pastor Lee's work with children and create a culture of life in South Korea. The young filmmaker's efforts to share Pastor Lee's story are on an upswing as well. "The Drop Box" film will be in theaters nationwide on March 3, 4, and 5, 2015 – and you can visit the film's website to see where it's screening in your area.
Regarding the movie, Brian concludes, "I planned this as a five-minute short film. Now it's an 80-minute feature to be released across the entire United States of America and Canada and a ton of other countries – which was not my plan. But the reaction has been really good because I think people are seeing something real, something authentic. [Pastor Lee] is living proof of a loving God. So anytime they see the movie, whether they're a believer or not, they're seeing something true, something tested, and something they can sink their teeth into."
(To listen to my full interview with Brian Ivie, click on the podcast link):