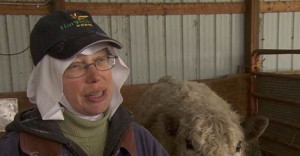 (Photo property of NBC News)
Last night, NBC News's Erica Hill reported on a group of Benedictine nuns in Colorado who combine their prayer lives with raising cattle on a 250 acre ranch. Their home, the Abbey of St. Walburga, is a self-sustaining working farm – and now an increasingly-thriving natural beef business.
Sister Maria-Walburga Schortemeyer says the farm work complements their spirituality, and observes, "Having an agrarian part of our life keeps us rooted to the earth." Sister Maria-Michael Newe says, "This farm teaches you [that] you have to pray because you are not in control of any of it."
Here's the three-minute segment about the Abbey of St. Walburga that originally aired on the Today show a few weeks ago.
Visit NBCNews.com for breaking news, world news, and news about the economy