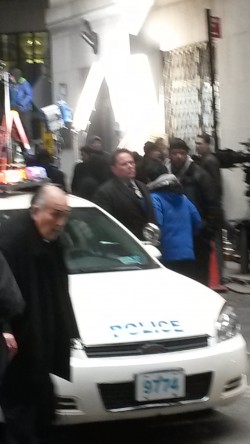 When I got to work this morning, I saw an ambulance, cop cars, and several police officers standing on the corner. No, there was no emergency. It was a shoot for the CBS series "Person of Interest."
I stood there for a while to see if I could get some pictures of anyone on my phone. Sure enough, Kevin Chapman (Detective Lionel Fusco) was a major presence in the scene and got close enough for me to snap a few pics. He also interacted with the crowd, taking pictures with several tourists.
Jim Caviezel (John Reese/Detective Riley) eventually showed up in the distance too, so I got one pic of him as well.
I would have stayed outside longer, but my work day had to begin. Here are the pictures: