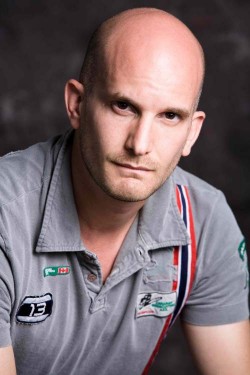 TV host and author Leon Logothetis was walking down Hollywood Boulevard one day when he saw a homeless man holding a sign that read, "Kindness is the best medicine."
It dredged up a lot of memories for Leon, who had originally moved to the United States from England where he worked as a successful broker in London's version of Beverly Hills. Despite earning excellent money, he found himself miserable and, at times, suicidal until he decided to abandon his comfortable life and walk across America with only $5.00 in his pocket.
That journey became the basis for a book and television show called "The Amazing Adventures of a Nobody," during which Leon encountered a lot of good people who showed him kindness. When he returned home to Los Angeles, he still believed he wasn't living the life he really wanted to pursue. Then he saw the homeless man's sign and it triggered a new goal.
This time, Leon decided he would travel through the United States, Europe, India, Cambodia, Vietnam, and Canada on a yellow motorcycle he dubbed "Kindness One" (like Air Force One) and literally live off the kindness of strangers. That means he wouldn't spend any money on food, gas, or shelter himself. Everything would have to be provided by the people he met along the way. In turn, he would respond to other people's generosity with special kindnesses of his own.
Leon chronicled this special journey in his book "The Kindness Diaries: One Man's Quest to Ignite Goodwill and Transform Lives Around the World," and we spoke about it recently on "Christopher Closeup."
Explaining the motivation behind his unique idea, Leon said, "I took away all my money in order to be able to force myself to connect with people. Because when you have no money and you have to get from A to B, it's really through the connections that you meet that you are able to get to that destination. So it was really a social experiment to take myself out of my comfort zone and to connect myself with the rest of humanity…I got lots of different reactions, some good, some not so good, some bad. But ultimately, you tend to find that one angel who you can connect with, and who is inspired by what you're doing. That's where the magic is. The magic is the power of human connection."
One of those human connections was made with a man named Willy, who invited Leon to stay in his home. Originally from Scotland, Willy had moved to Colorado and dedicated his life to helping others after hearing Billy Graham speak in 1984. He and his wife Cheri were currently working at a retirement home which they planned to visit that day because it was the 96th birthday of a resident named Kay. In the book, Leon quotes Willy as saying, "If we don't bring [Kay] cake, no one else will."
When Leon himself met Kay, she told him why she adores Willy: "He makes me feel like I'm part of the human race and not just some old leftover luggage."
Leon realized that this was the perfect opportunity to show kindness to a man who was helping others. When he discovered that Willy and Cheri were going to miss their son's wedding in Scotland because they couldn't afford the plane fare, he decided to pay for their trip himself. Willy shed tears of gratitude and noted, "This is the answer to my prayers."
Regarding Willy, Leon recalled, "We turn on the news and it's all bad. Yet there's so much more goodness around than we get to see. Willy was someone who showed me how much goodness there really is out there."
Another example of that selfless goodness came from an unexpected source on the streets of Pittsburgh. Leon approached a man in a park, told him what he was doing, and asked if he could provide him with a place to stay. The man, named Tony, responded that he was homeless and living on the streets. At first, Leon was ashamed at having imposed upon someone in such a dire situation. But then he was surprised again.
Leon said, "In the end, [Tony] offered to put me up for the night, which was basically to sleep next to him on the streets of Pittsburgh. He protected me, he fed me, he gave me some of his clothes. It was one of the most powerful, heart-opening experiences I've ever had. Because there I was, sleeping on the streets next to this man who had nothing, and basically gave me everything! The next morning, I felt in my heart that I needed to help this man. So I set him up in an apartment, and I sent him back to school because he wanted to become a chef. So now he's learning to become a chef…Tony says to me, 'Leon, you changed my life.' But what he doesn't realize is that he changed my life. Tony changed my life."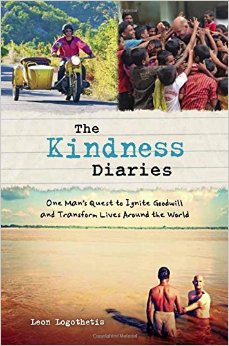 "The Kindness Diaries" is filled with plenty more adventures and things don't always go Leon's way initially. He admitted during our interview that pain and struggle and asking people for help are humbling experiences. His travels taught him, "Whatever life throws at you, just deal with it."
He also hopes readers take another lesson from his book: "Kindness doesn't have to be a grand expedition, like traveling around the world on a motorbike. That's just one form of kindness. Kindness can simply be saying, 'Have a happy day!' to a barista at Starbucks. It's a spectrum. You have the small acts and you have the big acts. But it's a way of life. It's a smile when you check into a hotel, it's a 'good day' to someone you see on the street. Little things like that go a long way."
So what are the results of Leon's social experiment on Kindness One? Thankfully, kindness won.
(To listen to my full interview with Leon Logothetis, click on the podcast link):