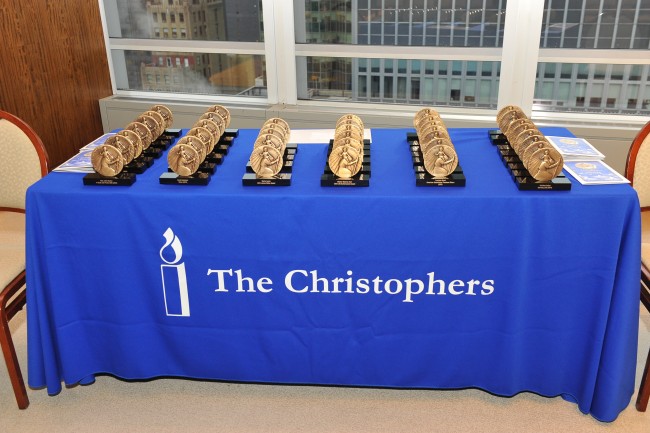 NEW YORK, April 8, 2015 — An Olympic gold medalist, the actor best known as "the Fonz," and a nine-time Grammy Award-winning jazz musician are among the creative forces behind the 20 feature films, TV/Cable programs, and books for adults and young people being honored at the 66th annual Christopher Awards, to be presented in New York City on May 13th, 2015.
Created in 1949, The Christopher Awards are presented to writers, producers, directors, authors and illustrators whose work "affirms the highest values of the human spirit." Tony Rossi, Director of Communications, says, "The Christopher Awards are unique in that they celebrate both sacred and secular works across a variety of media. The stories we're honoring—whether true or fictional—highlight people who rise above their own wants and needs to act selflessly, regardless of the sacrifice involved. These individuals are motivated by a higher purpose or a higher power—and sometimes both. As a result, they're leaving their world better than they found it."
One of this year's winners, Martha Williamson – best known as the creative force behind the popular CBS series "Touched By an Angel" – had this to say about winning a Christopher Award for her latest project: "We are deeply honored to receive the Christopher Award for 'Signed, Sealed, Delivered for Christmas,'" said series Creator and Executive Producer Martha Williamson. "When Hallmark asked me to expand our franchise into a series of movies starting with a Christmas story, my goal was to prepare hearts to once again receive the true healing miracle of Christmas. This acknowledgement is encouraging to all of us who worked on the movie."
Winners in the various categories are:
Feature Films
The American Nurse (Carolyn Jones Productions) goes beyond hospital walls to offer a moving, in-depth portrait of five nurses whose empathy and selflessness lead them to serve those dealing with miscarriage, aging, war, poverty, and prison life. American civil rights history comes alive in Selma (Paramount Pictures/Harpo Films) as Rev. Dr. Martin Luther King Jr. faces violence and blackmail while leading peaceful protests to secure voting rights for African Americans. In the edgy and endearing comedy St. Vincent (The Weinstein Company), a curmudegonly senior who smokes, drinks, curses, and cavorts with a prostitute may not seem like a candidate for sainthood, but 12-year-old Oliver makes a solid case for his neighbor's goodness.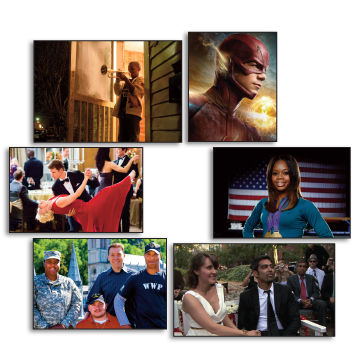 TV & Cable
48 Hours: The Whole Gritty City (CBS News) explores New Orleans music programs that channel students' energies in a positive way so they don't become participants in—or victims of—the violence that surrounds them in their neighborhoods. In the DC Comics-based The Flash: Pilot episode (The CW), Barry Allen becomes the fastest man alive after a science experiment goes awry, allowing him to fulfill his lifelong dream of being a hero. The Gabby Douglas Story (Lifetime) highlights the roles that faith, family, and perseverance played in the gold medal-winning gymnast's journey to the 2012 Summer Olympics.
In POV: When I Walk (PBS/WNET), filmmaker Jason DaSilva chronicles his own debilitation after being diagnosed with multiple sclerosis at age 25, along with the love of his wife Alice who has helped him endure. Sacred Journeys with Bruce Feiler: Lourdes (PBS/WGBH) follows members of the military injured during wartime who seek physical, emotional, and spiritual healing in the renowned French Catholic shrine. Martha Williamson, the creative force behind "Touched by an Angel," brings us Signed, Sealed, Delivered for Christmas (Hallmark Movies and Mysteries), the story of four postal detectives who try to answer a little girl's letter to God while dealing with emotional wounds from their own pasts.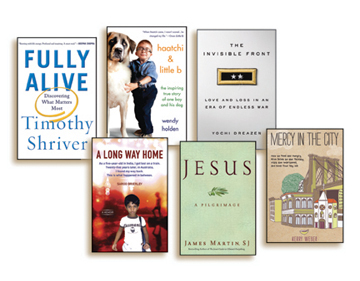 Books for Adults
In Fully Alive (Sarah Crichton Books/Farrar, Straus and Giroux), Special Olympics Chairman Timothy Shriver reveals why people with intellectual disabilities have been his greatest teachers in life, giving him a more meaningful way of seeing the world. A boy with a rare genetic disorder and a disabled Anatolian Shepherd puppy, who was abused and left for dead, transform each other's lives in Wendy Holden's heartwarming Haatchi & Little B (St. Martin's Press/Thomas Dunne Books). Combating the stigma of suicide and mental illness in both the Army and society becomes the primary mission for a decorated Army officer and his wife in Yochi Dreazen's The Invisible Front (Crown Publishers).
In Jesus: A Pilgrimage (Harper One/Harper Collins Publishers), James Martin, S.J. chronicles his visit to the Holy Land and invites believers and non-believers to encounter the Christ of history and the Christ of faith. A Long Way Home (G.P. Putnam's Sons/Penguin Group) by Saroo Brierley shares the author's personal story of getting lost on a train in India at age five, living on the streets for a year, being adopted by an Australian couple, and finally reconnecting with his Indian family 25 years later with help from Google Earth. In the memoir Mercy in the City (Loyola Press), Kerry Weber documents her commitment to living out the Corporal Works of Mercy, which led her to volunteer at New York City homeless shelters and breadlines and visit inmates at California's San Quentin State Prison.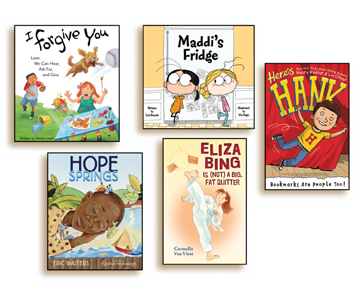 Books for Young People
Through fun rhymes and colorful illustrations, author Nicole Lataif and illustrator Katy Betz teach children to forgive others like God does and channel their anger in a positive way in I Forgive You (Preschool and up, Pauline Books and Media). When a young girl discovers that her friend's family is struggling with hunger because they can't afford food, she comes up with creative ways to rectify the situation in Maddi's Fridge (Kindergarten and up, Flashlight Press) by Lois Brandt, illustrated by Vin Vogel. Here's Hank: Bookmarks Are People Too! (ages 6 and up, Grosset & Dunlap/Penguin), by Henry Winkler and Lin Oliver, finds lovable and comical second-grader Hank Zipzer affirming the intelligence and self-esteem of children struggling with dyslexia.
Though an orphan boy in drought-stricken Kenya is denied water by villagers who fear there won't be enough for their own families, his kindness and generosity leads him to find a solution for everyone in Hope Springs (ages 8 and up, Tundra Books/Random House) by Eric Walters, illustrated by Eugenie Fernandes. With a history of not following through on her commitments, Eliza Bing, who has ADHD, needs to muster up all the determination and inner strength she has to prove to herself and her parents that she can finish a martial arts class in Carmella Van Vleet's Eliza Bing is (Not) a Big, Fat Quitter (Ages 10 and up, Holiday House).
The 2015 special Christopher Awards will be announced soon.

Feature Film credits:
The American Nurse
(Carolyn Jones Productions)
Director: Carolyn Jones
Producer: Lisa Frank
Executive Producer: Carolyn Jones
Selma
(Paramount Pictures)
Director: Ava DuVernay
Screenwriter: Paul Webb
Producers: Christian Colson, Oprah Winfrey, Dede Gardner, Jeremy Kleiner
Executive Producers: Brad Pitt, Cameron McCracken, Diarmuid McKeown, Nan Morales, Nik Bower, Paul Garnes, Ava DuVernay
St. Vincent
(The Weinstein Company)
Writer/Director: Theodore Melfi
Producers: Peter Chernin, Jenno Topping, Theodore Melfi, Fred Roos
Co-Producer: Ivana Lombardi
Executive Producers: Bob Weinstein, Harvey Weinstein, Dylan Sellers, Don Cheadle, G. Mac Brown
TV & Cable credits:
48 Hours: The Whole Gritty City
(CBS News)
Co-Executive Producers: Richard Barber, Susan Zirinsky, Judy Tygard
Producers: Richard Barber, Andre Lambertson
Host: Wynton Marsalis
The Flash: Pilot
(The CW)
Director: David Nutter
Teleplay: Andrew Kreisberg, Geoff Johns
Story: Greg Berlanti, Andrew Kreisberg, Geoff Johns
Producer: JP Finn
Co-Producers: Jennifer Lence, Carl Ogawa
Executive Producers: Sarah Schechter, David Nutter, Andrew Kreisberg, Greg Berlanti
The Gabby Douglas Story
(Lifetime)
Director: Gregg Champion
Writers: Maria Nation, Sterling Anderson
Producer: David A. Rosemont
Executive Producers: Gabrielle Douglas, Natalie Hawkins, Zev Braun, Philip Krupp
POV: When I Walk
(PBS/WNET)
Directors/Producers: Jason DaSilva, Alice Cook
Executive Producers: Yael Melamede, Stanley Nelson, Lydia Dean Pilcher, Peter Starr
Executive Producer (POV): Simon Kilmurry
Executive Producer (ITVS): Sally Jo Fifer
Co-Executive Producer (POV): Cynthia López
VP, Programming and Production (POV): Chris White
Coordinating Producer (POV): Nikki Heyman
Sacred Journeys with Bruce Feiler: Lourdes
(PBS/WGBH)
Director: Wayne Derrick
Series Director: Leo Eaton
Producer: Sally Thomas
Senior Program Producer: Anne Adams
Series Producer: Rebecca Dobbs
Executive in Charge: Denise Dilanni
Executive Producers: Laurie Donnelly, Bruce Feiler

Signed, Sealed, Delivered for Christmas
(Hallmark Movies and Mysteries)
Director: Kevin Fair
Writer: Martha Williamson
Story: Kerry Lenhart, John J. Sakmar, Brandi Harkonen
Producer: Harvey Kahn
Supervising Producer: Allen Lewis
Executive Producers: Martha Williamson, Joel Rice, Michael Prupas
Books for Adults credits:
Fully Alive: Discovering What Matters Most
(Sarah Crichton Books/Farrar, Straus and Giroux)
by Timothy Shriver
Haatchi & Little B: The Inspiring True Story of One Boy and His Dog
(St. Martin's Press/Thomas Dunne Books)
by Wendy Holden
The Invisible Front: Love and Loss in an Era of Endless War
(Crown Publishers)
by Yochi Dreazen
Jesus: A Pilgrimage
(Harper One/Harper Collins Publishers)
By James Martin, S.J.
A Long Way Home
(G.P. Putnam's Sons/Penguin Group)
by Saroo Brierley
Mercy in the City: How to Feed the Hungry, Give Drink to the Thirsty, Visit the Imprisoned, and Keep Your Day Job
(Loyola Press)
by Kerry Weber
Books for Young People credits:

Preschool and up:
I Forgive You
(Pauline Books and Media)
by Nicole Lataif, illustrated by Katy Betz

Kindergarten and up:
Maddi's Fridge
(Flashlight Press)
by Lois Brandt, illustrated by Vin Vogel
Ages 6 and up:
Here's Hank: Bookmarks Are People Too!
(Grosset & Dunlap/Penguin)
by Henry Winkler and Lin Oliver
Ages 8 and up:
Hope Springs
(Tundra Books/Random House)
by Eric Walters, illustrated by Eugenie Fernandes
Ages 10 and up:
Eliza Bing Is (Not) a Big, Fat Quitter
(Holiday House)
by Carmella Van Vleet