(All photos and artwork property of Katy Betz Studio.)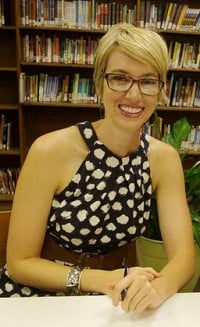 Like a lot of kids, Katy Betz grew up admiring the illustrations she saw in popular books like "Where the Wild Things Are" and "The Berenstain Bears," but it wasn't until a trip to Europe as an 18-year-old college student that she realized she wanted to make art her career.
During an interview on "Christopher Closeup," she recalled, "Going to Italy, seeing the Vatican and the Sistine Chapel – and even in France, the Gothic cathedrals and the stories of the Bible in the stained glass windows – that to me was saying, 'This is a way to communicate God's truth and His redemption.' I realized, 'This is my calling. I need to do this.'"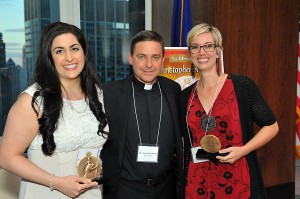 That passion and talent, especially for creating illustrations that connect with children, led Betz and author Nicole Lataif to a Christopher Award win earlier this year for their book "I Forgive You: Love We Can Hear, Ask For, and Give."
Betz credits Lataif with making her illustration job easier by creating "great visual metaphors" through her writing. She also cherished the opportunity to be part of a project that reflects her faith: "Some of my freelance work is commercial and there's no underlying moral, necessarily. With 'I Forgive You,' I was thrilled to work on a book that was teaching a clear message. That was so rewarding because everybody needs forgiveness. I felt like I was able to glorify God through [my work]."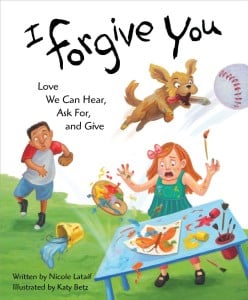 While "I Forgive You" is written for children ages four to eight, it's actually appropriate for adults as well who may not have time to read lengthy explorations of the topic. Through simple-but-meaningful words and illustrations that convey joy, humor and sorrow, Lataif and Betz capture the essence of learning to forgive others, learning to ask forgiveness from those you've hurt and from God, and how to forgive without letting people walk all over you.
Betz appreciates the book's cross-generational appeal as well, citing a favorite quote by author C.S. Lewis: "Someday you will be old enough to start reading fairy tales again." She notes that adults often dismiss so-called children's stories because they think they're not complex. "But that's the beauty of fairy tales and picture books because the metaphors do hold a deeper truth."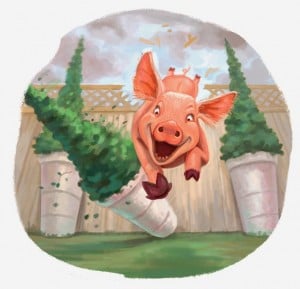 Though Betz admits that her faith drives everything that she does and that she sees God everywhere, especially in nature and other people, she doesn't believe that a Christian artist only needs to create religiously-themed work. As someone who takes her sketchbook everywhere she goes, her own philosophy involves "creating space for imagination" and "using visual puns and visual symbols to create something that can wake people up inside and stir their sense of awe." That grounds her whimsical illustrations for projects like "Some Pig in the City" and the upcoming "My Pet Spider."
Some of Betz's inspiration comes from her job as a Professor of Illustration at Florida's Ringling College of Art & Design. She says, "I absolutely love my students, sitting and listening to them. From the reviews that I've gotten, that makes a big difference, when they see that you actually care. And I do…It's humbling because we have amazing students, very talented. Seeing their ideas and their enthusiasm inspires me, and I go home and work on my stuff and I bring it into the classroom and it inspires them. It's a positive creative environment every day. The only downside of it is grading; I don't like doing that. But other than that, it's awesome!"
Betz also finds herself inspired by spiritual ideas. One piece, entitled
"Divine Dependency,"
came about after a Sunday sermon she heard on "how we're umbilically connected to the Holy Spirit, and we have to humble ourselves and let the Holy Spirit flow through us. Sometimes you feel like you're swimming or you're drowning, so that was like a symbol of being an infant and letting God move through you. There's also an eagle in the corner because currently I've had a conviction that I need to be more involved in current affairs and politics, and being more knowledgeable. So that represents our American symbol of left-wing, right-wing and finding the balance. I don't expect anybody to look at that and [say], 'Oh, I get it!' It definitely is cryptic, and that's the point."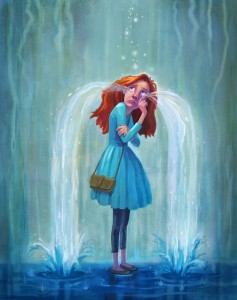 Another example of Betz's artwork, entitled "The Gift of Tears," was prompted by the Rising Kite Illustration Contest, which invited artists to interpret the line "Robin's gift was different from all the others."
Instead of choosing an obvious theme like a child opening a present, Betz opted for "something off the wall. Let me start by saying I cry a lot! I don't know if it's because I'm easily moved by beautiful things or whatever, but I feel like it's cathartic. I think it's cleansing and healthy…And so I thought about the gift of tears, where you can weep for the sins of the world and have that kind of background for this character. I was also trying to create a portfolio piece that would be like a book cover. So this girl has this uncontrollable flow of tears that go through her, and that is her gift. So that's definitely a piece that is meant for different commercial usage, but it has a faith influence."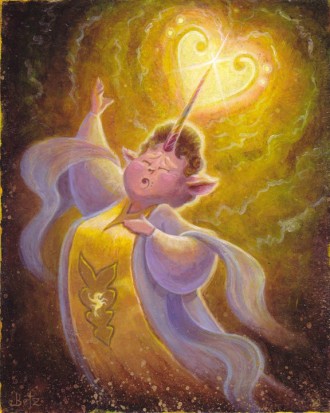 Being that she finds inspiration and story ideas everywhere, Betz is aiming to expand her horizons and become an author as well as an illustrator. She's already got a concept worked out and wants to make the faith elements implicit to the story instead of explicit, a la C.S. Lewis and J.R.R. Tolkien: "It's called 'Guardians of the Heart,' and it's based on Proverbs 4:23: 'Above all else, guard your heart, for it is the wellspring of life.' I find such wisdom in that. There's another verse in Hebrews 1:14 that talks about angels – 'What are angels but ministering spirits of those who will inherit salvation?' So the story would be written to show people that you are called to know Christ and you need to guard your heart and live your life honoring Him. But it would be high fantasy or something like that."
In conclusion, Betz reflected on the Christopher motto that's imprinted on her Christopher Award, "Better to light one candle than to curse the darkness." How does she find the courage to move through dark times when they inevitably arrive:
"It's come from different sources during different times. I'm an introvert and I like to spend time alone so sometimes it comes from quiet time with the Lord, reading the Scripture or being outside in nature. Other times, it has to come from somebody else – and that's why relationships and forgiveness are so important. God uses other people to pull you out of those moments and my friends have definitely done that for me. And sometimes, it comes through little snippets that I see walking around or as I flip open my sketchbook and see an old quote. It pulls me back out of the darkness and reminds me, 'There is hope in this. You've gotta keep your head up and keep going.'"
(To listen to my full interview with Katy Betz, click on the podcast below):