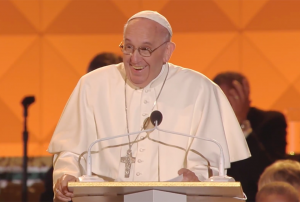 (Photo courtesy of The Tablet)
Before the euphoria fades from the visit of the People's Pope to the United States, I'd like to suggest some new nicknames for Francis based on what I observed while he was here.
1. The Confounding Pope. Following his speech to Congress, some conservatives took to social media to criticize Pope Francis for not condemning abortion more explicitly. Planned Parenthood, on the other hand, denounced Pope Francis for condemning abortion TOO explicitly. The irony would be comical if not for the unborn children denied the chance at life who are at the heart of the matter. The fact of the matter is that Pope Francis talks like a liberal at some times – and like a conservative at other times. In essence, he talks Catholic. That's confounding to a lot of people in our black and white , all or nothing at all, overly politicized world.
2. The Wheelchair Pope. From the beginning, Pope Francis has made it a point to go out of his way to embrace the infirm and disabled. It was while I was watching TV coverage of his New York and Philadelphia visits that I really noticed the beeline he tends to make toward those in wheelchairs. After vespers at St.Patrick's, for instance, I saw him take a couple of minutes to talk to an elderly woman in a wheelchair. He really engaged with her, no doubt making this a thrilling moment in her life. And he was putting his money where his mouth was in terms of appreciating senior citizens and making them feel valued, which he advocated the day before in Congress.
Then when he got to Philly, he stopped his motorcade when leaving the airport to meet and bless an 11-year-old boy in a wheelchair, bringing the boy's family to tears. As reported by USA Today, "It's not the first time the pope has stopped for a tender moment with a child in a wheelchair during his U.S. visit. After his plane landed in New York on Thursday, he blessed 12-year-old Julia Buzzese. Later that evening, at St. Patrick's Cathedral, he noticed 17-year-old Stephanie Gabaud, who has spina bifida."
Sometimes people forget that there's more to being pro-life than just opposing abortion. It's also about the way you treat those who society might cast to the side because they can't be "productive" in the way our culture defines that term. By publicly embracing these people, Pope Francis is giving a powerful pro-life witness that goes far beyond what mere words could accomplish.
3. The Energizer Bunny Pope. I'm over 30 years younger than Pope Francis and I have to admit I got tired just trying to follow his schedule on TV. He started Friday at the U.N., then traveled downtown to Ground Zero, then traveled uptown to bless cancer-stricken kids at Ronald McDonald House, then traveled further uptown to East Harlem to meet with children at Our Lady Queen of Angels school, then traveled to midtown to wave at 80,000 people in Central Park, then traveled further downtown to celebrate Mass at Madison Square Garden. After that he finally got to go to sleep.
By Saturday, he looked a little worn out, especially when he almost tripped three times while walking up the steps to board his plane to Philadelphia. (Surprisingly, there was no Simon of Cyrene to rush up to help him.) By the time the Festival of Families rolled around that evening, I figured he would barely be able to keep his eyes open. Instead, he got to the podium and delivered the best, most animated, most energetic, and most profoundly holy and simple speech of his trip. It was amazing! He just kept going and going.
I hope he gets to take a nap now that he's back in Rome. He's more than earned it.
4. The Cynicism-Busting Pope. TV news reporters can be a cynical bunch. It's understandable since they often report stories that reveal the worst of human nature. In fact, I remember when Pope Francis was elected, all the networks were tripping over themselves to try to find some dirt on this priest no one knew much about. Time after time, they came up empty. While flawed like any human being, he really did seem to practice what he preached.
In hopping around the local news channels last week watching coverage, one thing I learned is how many reporters are actually Catholic – or at least were raised Catholic. The other thing I learned is that even news people could be spiritually swept up in the joy that Pope Francis brings wherever he goes. That was evident in CNN's Carol Costello who penned an article a few months ago about how Pope Francis brought her back to the Church.
Special praise goes to the WCBS NY anchor team of Maurice DuBois and Kristine Johnson, along with reporter Tony Aiello. They're all Catholics with an actual understanding of the Church along with a respect for it – and they ably conveyed that to their viewers. The joy they felt at Francis's arrival was palpable. It wasn't the euphoria of a teenage girl meeting Justin Bieber. There was something deeper to it, more transcendent. As a Catholic TV viewer, it was heartening to watch.
In addition, my local diocesan TV station Net TV did an outstanding job with their own coverage anchored by Liz Faublas, Relevant Radio's Father "Rocky" Hoffman, Father Agustino Torres, and others. The field team of Katie Breidenbach, Michelle Powers, and Konrad Aderer with insightful commentary from papal expert Austen Iverigh were also excellent.
Now that Pope Francis is home, the news cycle will inevitably turn back to Trump's proclamations and Hillary's emails. But the break from it all, led by a humble and holy man, sure was fun and meaningful. Once again, Pope Francis demonstrated that he is a Christopher – a Christ-bearer – in the truest sense of the word, bringing light to places of darkness. How we do or do not grow from the experience is now in our own hands.
RELATED:
– Joy Is On Tour – How Pope Francis Stunned Me & America