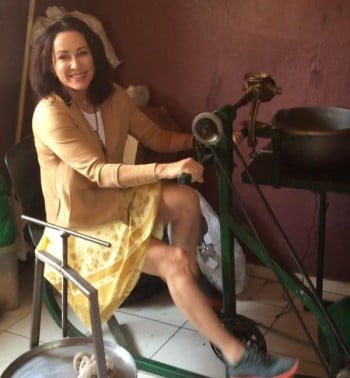 When Emmy Award-winning actress Patricia Heaton got time off from filming her hit sitcom "The Middle" last month, she traveled to Africa, built bicycles, and made soy milk. In fact, this is a picture of her grinding soybeans on a contraption that looks like an exercise bike.
Granted, that's not all she did there, but these were some of the non-Hollywood activities she engaged in while getting to know the people of Zambia and helping promote the work of World Vision.
During a recent interview on "Christopher Closeup," Heaton explained that she is a longtime supporter of World Vision, a Christian NGO (non-governmental organization) that works with children, families and communities around the world to combat poverty and injustice.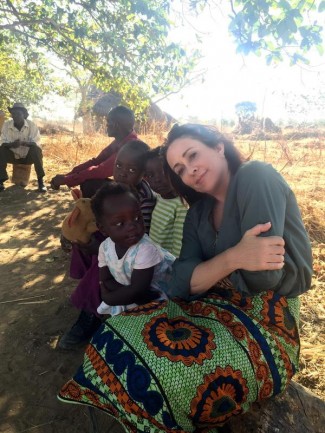 The mother of four boys with her husband David Hunt, Heaton made the trip with her youngest son, who is 16. "We were able to meet our new sponsor children," she said, "and build bikes that World Vision gives to people. Getting a bike is like having a car there."
They also witnessed many of World Vision's development programs in action, including clean water projects, mother's nutrition projects, and the construction of medical clinics in conjunction with U.S. churches. In addition, they saw the benefits of the charity's gift catalog which allows Americans to buy things like school supplies and even goats to meet the needs of families living in poverty.
World Vision also supports savings clubs which, says Heaton, allow women to "take out loans, start businesses, build onto their house, and buy goats and animals…So it was great for me and my son, who lives a pretty nice life in California, to see how a large number of people in the world live with no electricity and who are just now getting clean water and wells. And the people of Zambia are so beautiful. They don't have much, but they're lovely and grateful. It was humbling."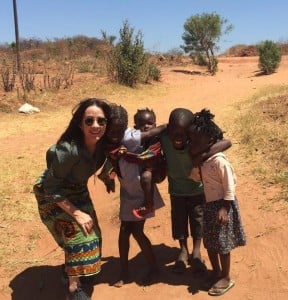 The trip also affected Heaton spiritually, giving her a different perspective on the way she lives – and the way all Americans live: "I came home more determined to simplify my life and clear out a lot of the clutter…I think it is a reminder of how much we've been given in this country. Just being born on this soil is a huge gift because no matter what level you were born at economically, you can have opportunities. I saw people in Zambia who were fairly gifted with talents and had dreams of wanting to do certain things that they were not able to do because of where they live. We can get so angry and frustrated and entitled here when Starbucks doesn't have soy milk. It ruins our day. So to see people who really struggle but have the joy of the Lord in them was extremely humbling and definitely has made me go back to basics with my faith."
One of the best parts of life in Zambia is the sense of community felt among the people Heaton met there. Fostering a sense of community is also an aim of her new Food Network Show "Patricia Heaton Parties," which premieres Saturday October 24 at Noon Eastern/11:00am Central.
Though her characters of Debra Barone on "Everybody Loves Raymond" and Frankie Heck on "The Middle" aren't known for their cooking skills (except for Debra's lemon chicken), Heaton is much more knowledgeable in the kitchen. Her talent stems from the fact that she worked "survival jobs" at a high-end hotel and some restaurants in New York City before her acting career took off. She taught herself how to cook and started having friends over for cocktail and dinner parties. While those parties took a backseat during the years she was both raising her four sons and working, her kids are now more independent so she can "get back to those things that I love."
Heaton admits that her cooking attempts haven't always been perfect: "I've made some disastrous mashed potatoes that you could plaster our house with instead of eating." But she insists that a few mistakes shouldn't deter you from trying.
Regarding "Patricia Heaton Parties," she says, "It's really about not being intimidated by having people over and trying some new dishes. It's a little more about cocktail parties, which is an easy way to have friends over without feeling like you have to do a five-course sitdown dinner. So [the show is] encouraging people to gather together with their friends and family and get creative and have fun."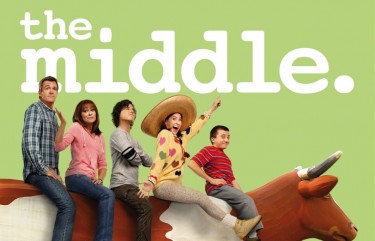 Among the guests on "Patricia Heaton Parties" will be her co-stars from "The Middle," which has just entered its seventh season. Heaton praises the show's writers for doing a great job coming up with storylines that are funny while still grounded in real life.
She says, "Sometimes when the kids go off to college in a show, [it] kind of fails because they start having to bring in the long lost cousin from Albania. But what's been great is they've followed the kids' journey into college. Fortunately, the college they go too is not far away, so they can come home. But that's what I'm going through right now in my life. We just had an [episode] about dropping Sue off at college and it was a very similar experience to what I had taking my third one to college. They're just hitting the nail on the head every time and I'm so impressed with their talent and dedication, all our writers."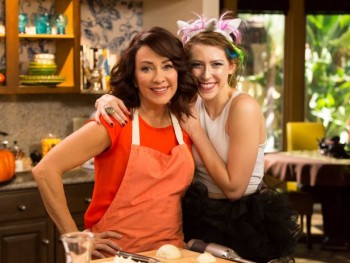 Speaking of Sue Heck (played by Eden Sher), I pointed out to Heaton that there's probably not another character on television who embodies the Christopher ideal of "lighting a candle rather than cursing the darkness" better than her on-screen daughter. Heaton agreed, noting how unique Sue is among the pantheon of TV teenagers – and how blessed she herself has been to find a second successful TV show where she enjoys spending time with her fellow actors.
Heaton noted that Sher's character isn't sexually promiscuous or bratty or disrespectful to her parents. Instead, she's "optimistic despite never having anything go her way. And she's cheerful and has a vision for her future. Eden, who plays Sue is wonderful – and she herself is a very down-to-earth, non-Hollywood person who's a joy to work with, as are all the cast members. I must add – Sometimes people can get tired of each other after this many years and spending 12-to-14 hours a day together. But we have a great relationship and I'm so blessed to have gotten yet another show like "Everybody Loves Raymond" where we all adore each other. And it's been a blessing to do another show that's a family show. We've gotten many comments about people feeling comfortable that they can sit down with their kids and [watch] 'The Middle.' It's hard to find a show like that anymore, so I'm blessed that I can feel comfortable with the work I'm doing."
(To listen to my full interview with Patricia Heaton, click on the podcast link):

(All photos courtesy Patricia Heaton, Food Netword, and Disney/ABC)