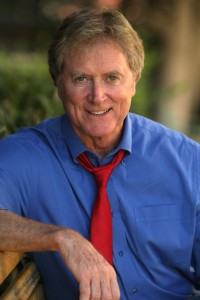 "I felt that God was right in my face."
That was one girl's reaction after a pre-release screening of the movie "Heaven Is For Real" a few years ago – and the film's writer/director Randall Wallace was so moved by her statement that he mentioned her in the dedication of his new book "Living the Braveheart Life: Finding the Courage to Follow Your Heart."
A Christopher Award winner for directing the 2010 film "Secretariat," Wallace gained fame when he was nominated for an Academy Award 20 years ago as the screenwriter of "Braveheart," which told the story of William Wallace's (Mel Gibson) battle and eventual martyrdom for the cause of Scotland's freedom.
The movie's lessons left Randall asking several questions that have gestated in his mind over the last two decades: What does it mean to live a Braveheart life? Can anyone do it, even those who aren't on a literal battlefield? Can joy be found through "faithful suffering"?
That aforementioned girl, named D'Asia, provided some answers. During an interview on "Christopher Closeup," Wallace explained, "She knew what it was to run and play and have all of her limbs working. But when she was nine or ten years old, she was in a car accident that paralyzed her from the neck down. Her mind is brilliant and sharp – and her spirit is beautiful. She watched 'Heaven is for Real,' and said, 'I felt that God was right in my face.' The idea of that is so humbling to me. And her attitude is that her accident was a great gift because she got to know the loving doctors and nurses who take care of her. So [the idea] that joy is a byproduct of faithful suffering is certainly accurate in her case."
The Pillars of a Braveheart Life
Upon reflection, D'Asia was only a recent example of a Braveheart life for Wallace. His life has been full of them, beginning with his parents.
Specifically, Wallace saw his father exemplify the five pillars of a Braveheart life: 1) Have a father and be a father, even if you don't have a biological child, 2) Develop a warrior spirit, 3) Have a teacher and be a teacher, 4) Find a holy man, a priest or sage to offer spiritual guidance, 5) Find your outlaw spirit.
Wallace explained, "[My father's] father died before he was born, of typhoid fever. So my father grew up without a direct biological father to teach him what it was like to be a father, and yet he became the greatest of fathers to me. He knew how important a father was because he didn't have one directly in his life. He also became a warrior who had wounds – and his wounds, while difficult to experience for him and for all of us around him, prodded him and shaped him and taught him how to be a greater warrior. He was also a sacred figure in my life. My father showed me what prayer really meant and what love really meant."
To this day, Wallace's faith remains a cornerstone of his life, grounded in the fact that "God manifested Himself in the person of Jesus Christ. I don't know what God is or looks like without Jesus."
Wallace has also come to respect the different roads that people take to grow closer to Jesus: "I grew up Baptist, and Baptists are totally evangelical. We almost never had a religious gathering in which there was not some effort to have conversion. I also want to say that there are times when I go to church with Catholic friends and I love the sacredness of the Mass. I love the sanctity that we experience there and the understanding that everyone comes to God."
'Run That Way Right Now or You'll Die'
Two of Wallace's college professors, Hilda and Mikhail Pavlov, taught him other important lessons, about joy being a choice along with an "outcome of faithful suffering." The Pavlovs survived the siege of Leningrad during World War II and experienced other periods of unimaginable hardship, so Wallace was surprised they lived with such vibrance.
One day, he asked Mrs. Pavlov if she had been able to take anything with her when she left Russia. She paused and said, "Three times in my life, I have been somewhere where someone ran into the room where I was sitting and said, 'If you don't get up and run that way right now, you'll die.' I could take nothing with me. Three times in my life. I have no regrets."
Wallace said, "It caused me to think about what we consider the necessary stuff in our lives – I need this or that to be happy. But she had gone through the crucible of knowing that those things were unnecessary, that what made a life was love."
'None of Us Are Beyond Salvation and Transformation'
Wallace needed all those examples when he faced a crisis in his own life. After years of struggling to be a writer in the entertainment industry (he even spent some time managing an Opryland animal act involving a pig who played the piano and a duck that played a drum), he finally achieved success in the TV industry. "I had more money than I needed, and had a young family so I bought a beautiful home for us."
Then, a writer's strike happened and he was out of work for eight months. Facing financial ruin, Wallace "got on my knees and I prayed from the depth of my soul and said to God, 'If what is best for my sons is that they don't grow up in a house with a lot of bedrooms and bathrooms and a swimming pool – and they grow up, as I did, in a two-bedroom house with one bathroom and some economic struggles – if that's what's best for them, then I pray for the strength to bear it. But if I only have one more thing that I can write before I have to go find some other way to feed my family, then let me write the kind of movie I want to see on screen. Let me go down with my flag flying, not on my knees to the false idols of Hollywood.'"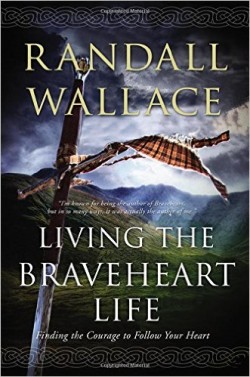 That prayer became the turning point in Wallace's life and put him on the path to writing "Braveheart." It was during a trip to Scotland when he first saw the statues of both William Wallace and Robert the Bruce, one of the country's greatest kings, standing side by side.
Little was known about Wallace, but the guard there said "that Robert the Bruce may have been involved in the betrayal of William Wallace to clear the way for himself to be king."
Randall continued, "It was as if I had heard that Judas Iscariot and St. Peter were the same person! I began to ask myself, 'What if there was something in the heroism and nobility and courage of William Wallace – and even in the death that he died – that helped transform Robert the Bruce from a man who would betray a patriot of his own country into a man who could become the greatest king in his country?' And that to me was the ultimate Christian story, the idea that we're all lost, we're all broken and none of us are beyond salvation and transformation. And transformation like that – real deep profound change in who we are – has fascinated me all my life, and is the basis of my faith."
(To listen to my interview with Randall Wallace, click on the podcast link):