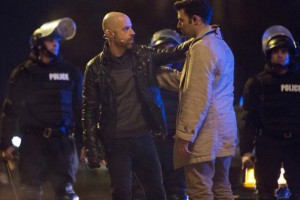 Last night, Fox aired "The Passion: Live," a re-enactment of the story of Jesus's final days, death and resurrection told in modern-day New Orleans with pop stars and songs that reflect what was going on in the minds and hearts of the participants at the time. No doubt, this approach will not appeal to all, especially those who prefer their biblical productions more authentic and traditional. (I enjoy those, too. My go-to is the 6-hour "Jesus of Nazareth" starring Robert Powell.)
But just because an approach is new or different doesn't mean it's wrong. "The Passion: Live" wasn't meant to be the definitive version of Jesus's death and resurrection, but a way to bring it alive for a current audience and hopefully whet people's appetites for the real deal as told by Matthew, Mark, Luke and John. As the project's executive producer told Kathy Schiffer, "The Catholic Church [in the Netherlands] got behind it, helping to fund and promote it. It just took the country by storm. So when I saw that response in a country that's largely atheist, I thought This is perfect! We've got to get it here!"
There were four elements of the show in particular that I appreciated:
1. Tyler Perry made for an excellent host and narrator. His sincerity and enthusiasm for telling this story, which obviously means a lot to him, was palpable. During the airing, Perry commented that he respects all religions, but he believes that Jesus was the Messiah and rose from the dead to save us from our sins. Again, this was a two-hour, pro-Christian message on prime time network television that could potentially be seen by millions of believers and non-believers. As Kathy Schiffer quotes Perry saying during her interview with him, his hope is that Hollywood says, "Hey, let's do more things that people of faith, believers want to see! Let's do more stories that are uplifting! Let's tell more Bible stories! Let's tell more stories about Christ and the Disciples! Let's tell those stories!"
2. The use of modern songs as the heart of the production showed that God (or at least a spiritual subtext) can be found in popular culture if we open our eyes and ears. Jencarlos Canela as Jesus singing "Calling All Angels" in the Garden of Gethsemane was especially fitting. ("When there is no place safe and no safe place to put my head / When you feel the world shake from the words that are said / And I'm calling all angels / I'm calling all you angels."). And his duet with Prince Royce as Peter on the Phillip Phillips hit "Home," brought a new dimension to the song when thought of from the point of view of how Peter felt when Jesus told him he would be the head of His church. ("Settle down, it'll all be clear / Don't pay no mind to the demons / They fill you with fear / The trouble—it might drag you down / If you get lost, you can always be found / Just know you're not alone / 'Cause I'm gonna make this place your home.")
3. While "The Passion: Live" was more about singing than acting, there was one scene that struck me as powerful on both counts: Judas's betrayal of Jesus in the Garden. In the Jesus-Judas duet on the Imagine Dragons song "Demons," Chris Daughtry's performance as Judas re-enforced the ultimate traitor as a tragic figure with a tortured soul – while also highlighting Jesus's desperation to save him. Judas sings, "Don't wanna let you down / But I am hell bound /Though this is all for you / Don't wanna hide the truth / No matter what we breed / We still are made of greed / This is my kingdom come / This is my kingdom come."
Meanwhile, Jesus desperately tries to change Judas's mind, singing, "Your eyes, they shine so bright / I wanna save that light / I can't escape this now / Unless you show me how."
We all know the choice Judas makes, but this was a powerful look into both men's hearts and souls.
4. Mary, the mother of Jesus, portrayed by country star Trisha Yearwood, was given a much more prominent role than I expected. She actually had five solos, the most songs next to any other character than Jesus. This should especially make Catholics happy because we revere and honor Mary (as opposed to worshiping her), and her prominence and importance in Jesus's life was beautifully emphasized in this production. The deep link between mother and son – especially when the mother knows her son will be murdered – is a relevant and relatable part of the Passion story, so seeing that brought to the fore was welcome. And the lyrics of songs like Whitney Houston's "My Love is Your Love" brought that connection home as well: "If tomorrow is judgment day / And I'm standing on the front line / And the Lord asks me what I did with my life / I will say I spent it with you… / 'Cause your love is my love / And my love is your love / It would take an eternity to break us / And the chains of Amistad couldn't hold us."
Overall, "The Passion: Live" was a well-intentioned, well-done production of the story at the heart of Christianity. Fox deserves credit for putting a program on television that affirms the beliefs of many of its viewers.
(Photo property of Fox)
Stay in touch! Like The Christophers on Facebook: