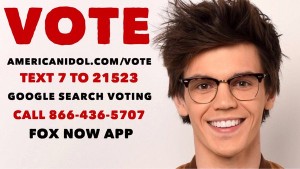 (Photo property of Fox/AmericanIdol.com)
On last night's "American Idol," viewers got to see videos featuring the contestants' supporters from their hometowns. Top five finalist MacKenzie Bourg, age 23, was shown to be a graduate of St. Cecilia Catholic School in Broussard, Louisiana – and and St. Thomas More Catholic High School in Lafayette, Louisiana.
It was also revealed that Bourg almost died several years ago due to a virus that caused him to go into heart failure. That may be why he seems to have a joyful spirit about him: he is grateful to be alive in a way that only someone who's faced death can be.
When I did a little more research on Bourg this morning, I discovered that he credits his faith with helping him through his health battle and inspiring him to pursue a career in music. Here's an excerpt from a St. Thomas More High School newsletter that was written a few years ago when Bourg competed on the other singing competition show "The Voice."
MacKenzie returned to the halls of STM to say hello and to give back. And herein lies the story, that the rest of the world has yet to hear, but that those of us back home were blessed to experience. MacKenzie's first public appearance following the national airing of his audition was for STM Campus Ministry's 8th Grade Retreat put on for Cathedral Carmel.

MacKenzie agreed, on a spontaneous request from Coach Strother, to share his deeper testimony of how he fought through his illness and made it to this point of his music career…With the crowd's attention and eager ears, MacKenzie impressed every heart as he testified to the power of God and his faith. MacKenzie emphasized that God can take us through anything and that we need Him in our life. He followed this beautiful sharing with his personalized version of 'Amazing Grace' as students listened and reflected on his words and song.

This flourishing artist and STM graduate continued to give back to his school. He returned to STM the same night and joined the STM Campus Ministry Praise Band for the kickoff Light Night. Our STM community is so proud of MacKenzie Bourg. He is a gifted musician and even more impressively, an awesome young man of God. His faith shines bright and his heart returns him to his home to share the joy of God's blessings in his life.
Here is MacKenzie Bourg's performance of the Whitney Houston classic "I Wanna Dance with Somebody." You can watch him on "American Idol" Thursday night at 8/7C.
Stay in touch! Like The Christophers on Facebook: