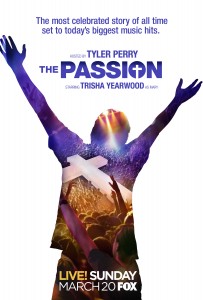 Network television has found success in recent years by airing live musicals such as "The Sound of Music" and "Grease." And at the box office, faith-based films like "Heaven Is For Real" and "War Room" have won over large audiences looking for affirmation of their religious beliefs.
This Sunday – Palm Sunday – the genres of TV musical and faith-based entertainment will be combined in the live production of "The Passion." Unlike some TV Jesus coverage around Christian holidays, this production doesn't seem inclined to debunk the New Testament, but rather to depict it respectfully.
As a fan of Trisha Yearwood (Mary, the mother of Jesus) and Chris Daughtry (Judas), I'm especially looking forward to their performances. You can read more of the official press release and watch the trailer below.
THE PASSION, a two-hour epic musical event, will air LIVE from New Orleans on Palm Sunday, March 20, 2016 (8:00-10:00 PM ET live/PT tape-delayed) on FOX. THE PASSION, written by Peter Barsocchini ("High School Musical"), tells the 2,000-year-old story of the last hours of Jesus Christ's life on earth through passages from the Bible and a variety of popular music, sung by the cast, and arranged specifically for this event by executive producer and hit music producer Adam Anders ("Glee," "Rock of Ages").

The event will follow the dramatic and inspirational story of Jesus of Nazareth, as he presides over the Last Supper, and then is betrayed by Judas, put on trial by Pontius Pilate, convicted, crucified and resurrected. The event will unfold live at some of New Orleans' most iconic locations, while featuring a procession of hundreds of people carrying a 20-foot, illuminated cross from outside the Superdome to the live stage at Woldenburg Park on the banks of the Mississippi River.

Tyler Perry will host and narrate THE PASSION, which features a star-studded cast: platinum-selling, multiple-Grammy Award-, CMA Award- and ACM Award-winning artist Trisha Yearwood (Mary, mother of Jesus); multi-platinum artist Chris Daughtry (the disciple Judas); multi-platinum singer-songwriter Seal (Pontius Pilate), star of multiple TV productions and accomplished singer Jenclarlos Canela (Jesus Christ), critically-acclaimed singer, songwriter and musician Michael W. Smith (disciple), triple-platinum singer-songwriter Prince Royce (the disciple Peter) and Grammy Award-winning gospel singer Yolanda Adams (special guest).
RELATED:

– "The Passion" Brings Whole City of New Orleans Into Start of Holy Week
Stay in touch! Like The Christophers on Facebook: