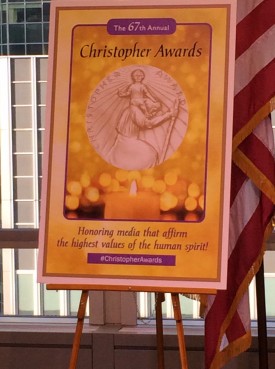 This was the first year that we promoted the hashtag #ChristopherAwards at the ceremony and more extensively online, and it was a success. While we didn't trend on Twitter, we got to the point where you typed in #chri – and #ChristopherAwards was the second option under #ChrisBrown. So, yay us.
Part of our Twitter success is owed to the Hearties, fans of our Christopher Spirit Award-winning TV series from the Hallmark Channel, "When Calls the Heart." They've been hankering to see video of the presentation by Kathie Lee Gifford and acceptance speeches by Bill Abbott, Michelle Vicary, and Brian Bird, so here it is:
The title of this post, of course, is taken from Brian Bird's biblical quote during his acceptance speech, but it could apply to all the winning projects. Love is most definitely a crucial factor in overcoming life's struggles or taking the right path at a crossroad – be it a soldier's love for his family helping him to deal with the loss of all his limbs after an IED explosion in Afghanistan, or an advertising executive who bought lunch for an 11-year-old begging for change on the street, leading to a positive change in both their lives.
Meanwhile, we've gotten excellent coverage elsewhere as well. Catholic New York's Editor-in-Chief John Woods penned a thoughtful editorial about the event titled "Inspiration is Easier to Find When You Know Where to Look." Here's a brief excerpt, but read the whole thing.
Where do you find inspiration? I'll let you in on a secret source of the stuff. Well, it's not really a secret, it's actually been around for 67 years. It's called the Christopher Awards.

Sponsored by the nonprofit organization of the same name, founded by Maryknoll Father James Keller, the awards annually recognize the creators of books, films and television programming that affirm the highest values of the human spirit. Even if you don't know too much about The Christophers, you are probably familiar with its motto: "It's better to light a candle than to curse the darkness."…

…Where else in the same evening could you hope to meet and greet WCBS-TV newsman Tony Aiello, Hallmark Channel executive vice president for programming and publicity Michelle Vicary and comedy writer and radio personality Tom Leopold, who served as master of ceremonies.

Or listen to a heartfelt expression of faith by Today Show co-host Kathie Lee Gifford, one of the awards presenters, as she described the long and deep friendship she's shared for many years with former Hollywood agent Sam Haskell. He was honored in the TV and cable category as an executive producer of "Dolly Parton's Coat of Many Colors" on NBC.
Also at Catholic New York, Juliann DosSantos, on her young adult blog, reflected on the issue of caring for aging parents that's addressed in the Christopher Award-winning book "The Gift of Caring." An excerpt:
Marcy Cottrell Houle won a Christopher Award last night for her book, "The Gift of Caring: Saving Our Parents from the Perils of Modern Healthcare." When I heard the topic of her book, I knew immediately that I wanted to speak with her. I am sure like me that many of you are coming to an age where it is becoming necessary to take care of sick or aging parents. I also know how difficult it can be. I was there to take care of my sick father during the last years of his life and have witnessed other close people taking care of sick relatives as well.

I wanted to share her book and her thoughts with you because I was definitely able to relate.
At Beliefnet, John Kennedy also focused on "When Calls the Heart" by interviewing executive producers Brian Bird and Michael Landon Jr., Hallmark V.P. of Programming and Publicity Michelle Vicary, and Hallmark President and CEO Bill Abbott. Here's a snippet:
The good stuff. Hallmark Channel's When Calls the Heart, which recently scored a series-record 3-million total viewers in Live+3 day ratings for its Season 3 finale was honored with the prestigious Spirit Award at the 67th annual Christopher Awards held in Midtown Manhattan Thursday night. The awards are presented to film, TV and book projects that uphold the ideals of the organization's founder Father James Keller. Those ideals are encapsulated by the group's inspirational motto "It is better to light one candle than curse the darkness."…

BILL ABBOTT: I think we're one of the few channels out there that are on 24/7 to really celebrate life's special moments. That's our vision statement and we feel (the fact) that we're so successful is indicative of the need of the genre and quality content that we produce…We're very excited about our success.
You can see more video of the event at World Liberty TV, who cover the Christopher Awards every year.
You can read about author John Schlimm's journey to the Christopher Awards here at the Huffington Post.
Here's the Books for Adults category, introduced by WCBS-TV's Tony Aiello (whose introduction by MC Tom Leopold is unfortunately cut off because we had to reposition the camera.)
Books for Young People category (presented by Joan Bauer):
Feature Films category (presented by Joan Bauer)
TV/Cable category (presented by Kathie Lee Gifford)
2016 Christopher Life Achievement Award to Emmy Award-winning broadcaster Ernie Anastos (presented by Tony Aiello)
RELATED:
– Pictures Galore from the 2016 Christopher Awards, Where Stories of Heart and Courage Dominated
Stay in touch! Like The Christophers on Facebook: