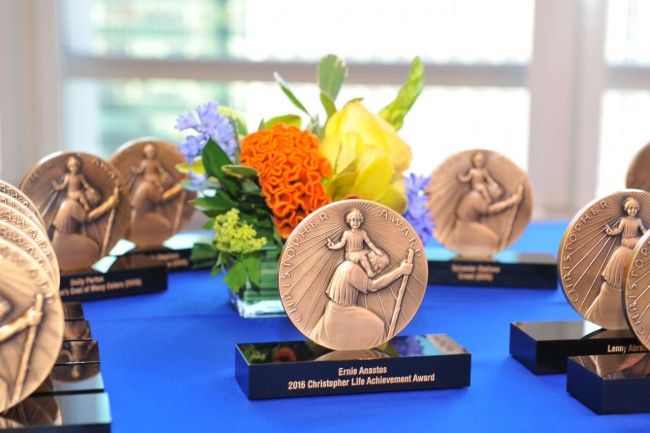 After months of preparation, the 67th annual Christopher Awards took place in New York City last night to honor storytellers who highlight the better angels of our nature. Based on what guests told me afterwards, a wonderful time was had by all and the food was excellent as well. (Some day, I'm actually going to have time to eat at one of these parties. All I had was a cookie and a piece of asparagus wrapped in prosciutto.)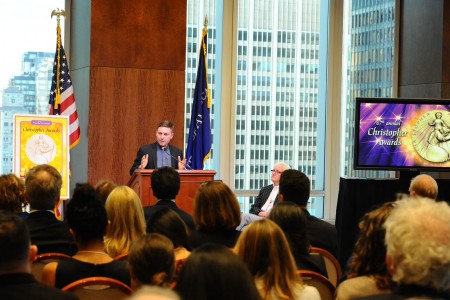 Father Jonathan Morris welcomed the crowd with some background on the Awards and the importance of telling stories that uplift the human spirit. Master of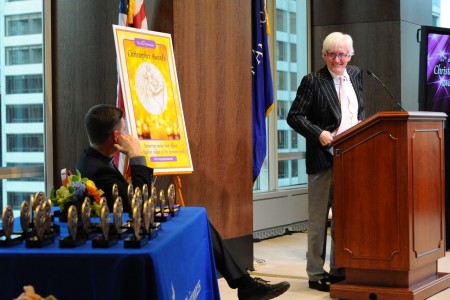 Ceremonies Tom Leopold (comedy writer for Bob Hope, Lucy, "Cheers," "Seinfeld" and 2014 Christopher Spirit Award winner) then brought the laughs in his opening remarks.
Our presenters were: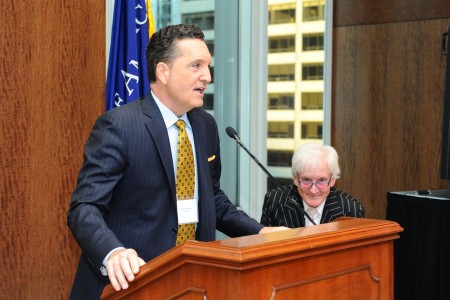 1. WCBS-TV reporter Tony Aiello, whose introductions lent a sense of gravitas to all our winning projects – and who revealed an unknown side of himself. As several people commented to me after the ceremony, "I didn't know Tony Aiello could be that funny."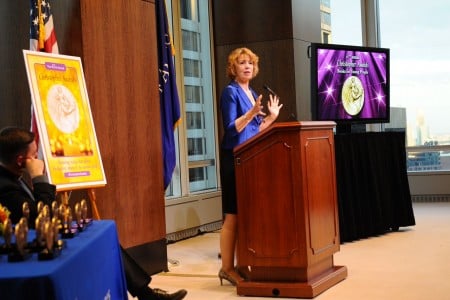 2. Two-time Christopher Award-winning author and New York Times Best-Selling author Joan Bauer, whose insights on the power of hope for creative artists recharged everyone's creative batteries.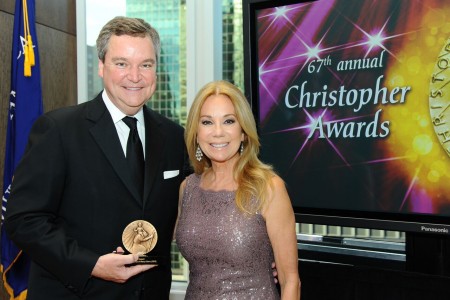 3. Emmy Award-winning "Today Show"co-host Kathie Lee Gifford, whose grace, class, and words of inspiration were deeply meaningful to all the guests, especially to her dear friend Sam Haskell, who won an award as executive producer of the TV movie "Dolly Parton's Coat of Many Colors."
Here are some pictures from the event, as well as descriptions of all our award winners. (All photos by Paul Schneck)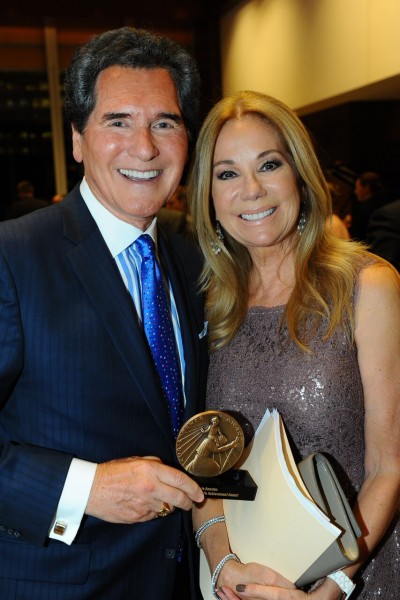 (Life Achievement Award winner Ernie Anastos with Kathie Lee Gifford)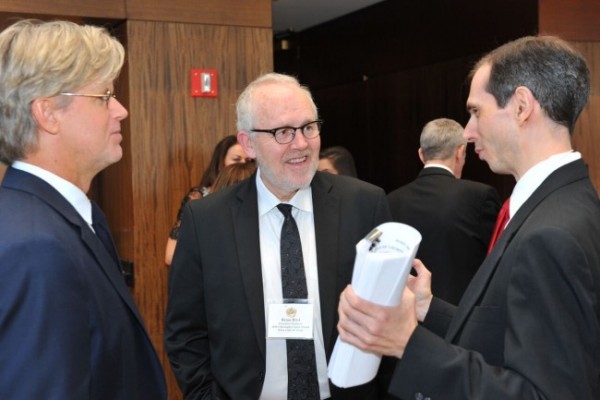 (Me chatting with executive producers of Hallmark Channel's "When Calls the Heart" Michael Landon Jr. and Brian Bird)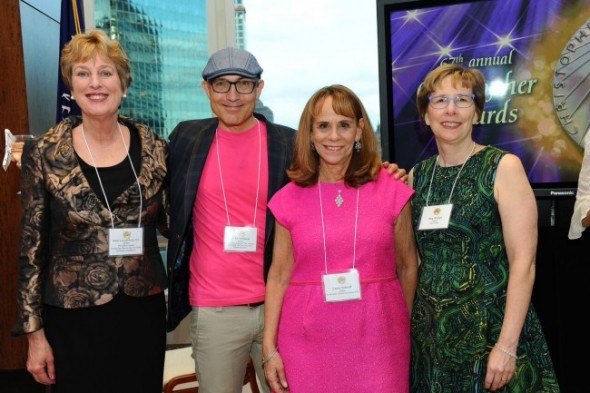 (l to r: Winning authors Marcy Cottrell Houle, John Schlimm, Laura Schroff, and Meg Wiviott)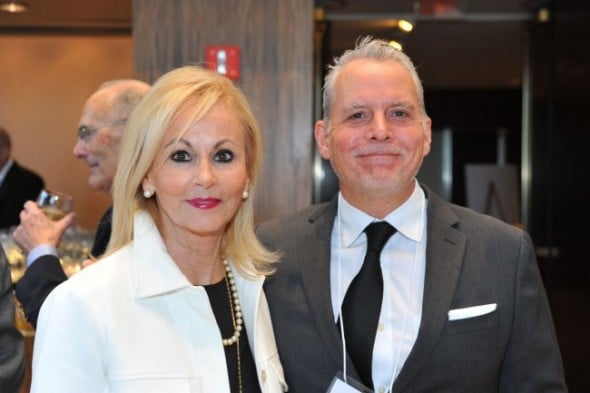 (The Christophers' Vice President and COO Mary Ellen Robinson with award-winning illustrator Christopher Denise)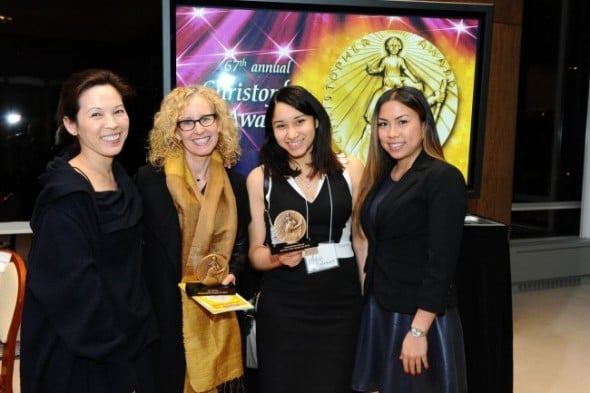 (ABC News 20/20's Muriel Pearson, Terri Lichstein, Astrid Rodrigues, and Stephanie Fuerte)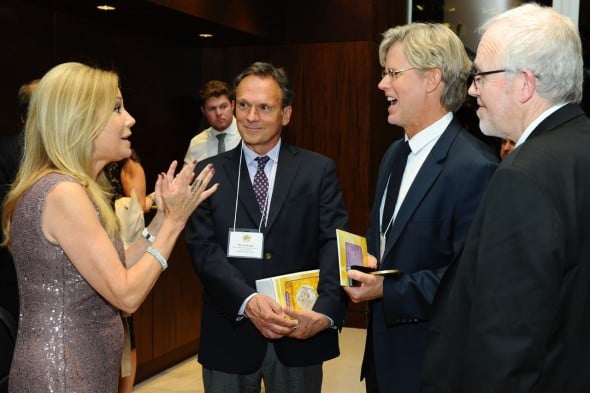 (Kathie Lee Gifford chats with "When Calls the Heart" executive producers Brad Krevoy, Michael Landon Jr. and Brian Bird)
Books for Adults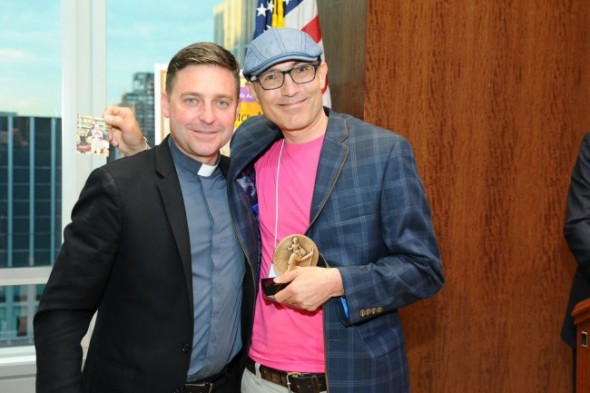 (Father Jonathan Morris presents Christopher Award to John Schlimm)
FIVE YEARS IN HEAVEN by John Schlimm (Image Books/Crown Publishing) – John Schlimm felt unfulfilled despite achieving career success working at the White House and then in Nashville. His quest for meaning led him back to his Pennsylvania hometown, where he befriended a joyful 87-year-old nun named Sister Augustine (Uh-GUS-tin). She ran the ceramics shop at a local monastery and created all its pieces of art. Sister Augustine became John's mentor, sharing her hard-earned wisdom on faith, doubt, and finding inner peace. Though she has moved on to her eternal reward, her words in this book continue to bring a touch of heaven to readers of all faiths.
————————————————————–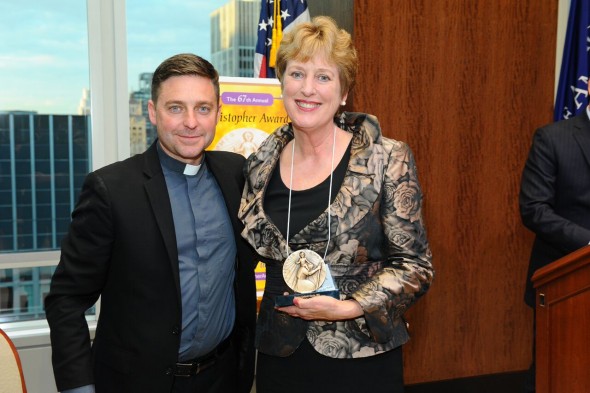 (Father Jonathan Morris presents Christopher Award to Marcy Cottrell Houle)
THE GIFT OF CARING by Marcy Cottrell Houle and Dr. Elizabeth Eckstrom (Taylor Trade Publishing/Rowman and Littlefield) – For 14 years, Marcy Cottrell Houle cared for her aging parents through all their health problems, including Alzheimer's. She learned that seniors are often misdiagnosed or overlooked in the modern healthcare system because too few doctors are trained in geriatrics. In this heartfelt memoir, Marcy chronicles her experiences so readers can avoid the pitfalls that she and her parents faced. And Dr. Elizabeth Eckstrom offers advice on treating or preventing common health problems for seniors. In the end, both women encourage us to reform a broken system for the sake of our loved ones and ourselves.
————————————————————–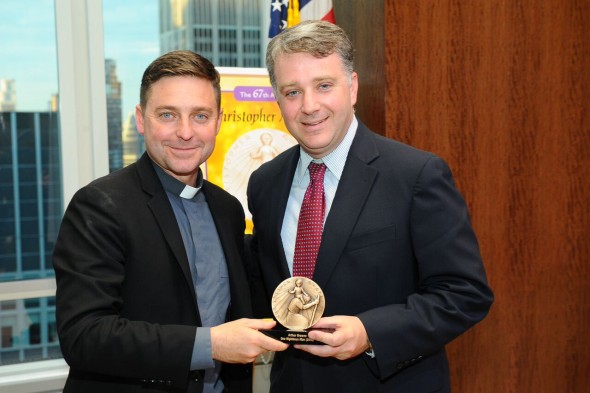 (Father Jonathan Morris presents Christopher Award to Christian Browne, accepting for his father Arthur Browne)
ONE RIGHTEOUS MAN by Arthur Browne (Beacon Press) – Samuel Battle has been called the "Jackie Robinson of the NYPD," yet his story has never been fully told until now. During the early 1900s, he became the city's first black police officer. The young cop withstood many incidents of discrimination – often from his own colleagues. But he eventually won their respect because of his kindness, talent, and integrity. In addition, he also helped integrate the Fire Department and create the country's first regiment of black soldiers. "One Righteous Man" cements Battle's legacy as one of America's civil rights pioneers.
————————————————————–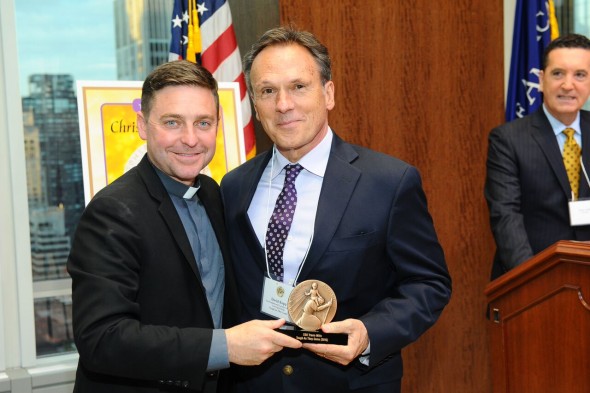 (Father Jonathan Morris presents Christopher Award to the Vice President and Executive Editor of Convergent Books – David Kopp, accepting for Travis Mills)
TOUGH AS THEY COME by Staff Sergeant Travis Mills with Marcus Brotherton (Convergent Books/Crown Publishing) – Staff Sergeant Travis Mills was on his third tour in Afghanistan when an IED explosion changed his life. At age 24, he became one of the few soldiers from our wars in the Middle East to survive the amputation of both arms and both legs. Though pain and despair almost broke his spirit, Travis's toughness won out. After 13 surgeries and hundreds of hours of rehabilitation, he is able to walk, drive, and make breakfast for his wife and daughter. He also runs a foundation that shows wounded veterans and their families that they can overcome their challenges.
————————————————————–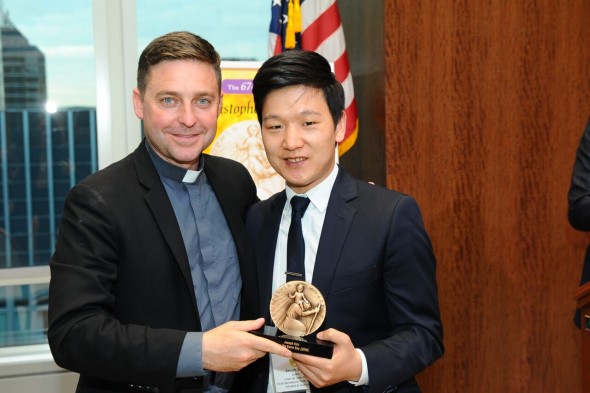 (Father Jonathan Morris presents Christopher Award to Joseph Kim)
UNDER THE SAME SKY by Joseph Kim with Stephan Talty (Houghton Mifflin Harcourt) – The famine that hit North Korea during the mid-1990s transformed young Joseph Kim's life from one of comfort to one of despair. His father died, his mother was sent to prison, and his sister was sold to men in China. Survival sometimes trumped morality during Joseph's years as a homeless beggar and thief. But after escaping to China, he encountered Christian activists, who put him on the road to his current life as a college student in America. Joseph hopes to find his sister someday. Until then, he takes comfort in the fact that they both live "under the same sky."
————————————————————–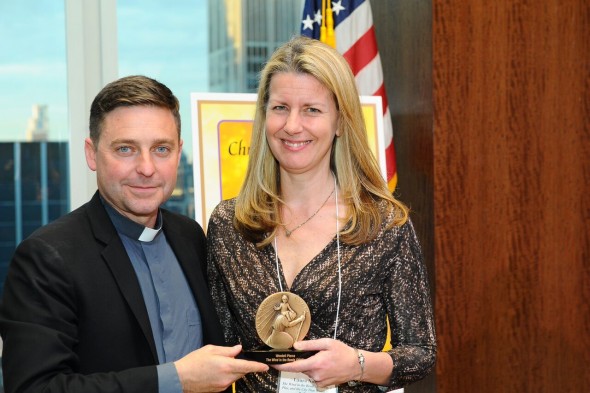 (Father Jonathan Morris presents Christopher Award to Wendell Pierce's agent Laura Nolan)
THE WIND IN THE REEDS by Wendell Pierce (Riverhead Books/Penguin Random House) – When the floodwaters of Hurricane Katrina devastated the New Orleans community in which he was raised, actor Wendell Pierce used the arts to bring a spirit of hope and resurrection back to his hometown. He also re-examined his family heritage: specifically, the heroic example of his mother and father. Pierce lovingly recalls his parents' sacrifices in the face of racism – sacrifices grounded in their love of family, God, and the power of education. More than a memoir, "The Wind in the Reeds" is a love letter to a community that reflects the most noble virtues of American life.
Books for Young People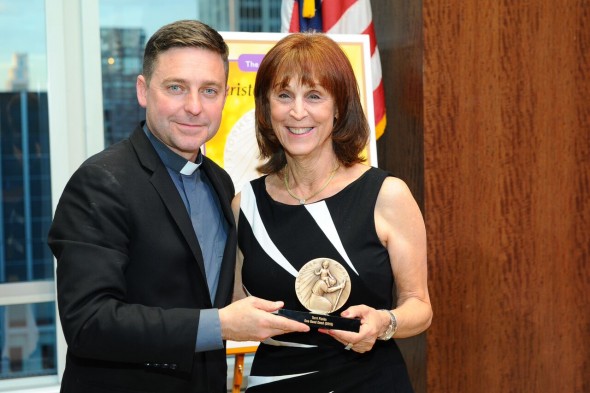 (Father Jonathan Morris presents Christopher Award to Terri Fields)
For Preschool and Up:
"ONE GOOD DEED" by Terri Fields, illustrated by Deborah Melmon (Kar-Ben Publishing) – Even on sunny days, Lancaster Street seems dark and gloomy because neighbors don't smile at each other, talk to each other, or help each other. That all changes when a boy named Jake decides to give some fresh berries that he picked to an elderly neighbor. The woman is so delighted that she makes an extra pie to give to another neighbor. The ripple effects of kindness continue, and soon, Lancaster Street is full of friendship and sunshine, even on gloomy days, all because of one good deed.
————————————————————–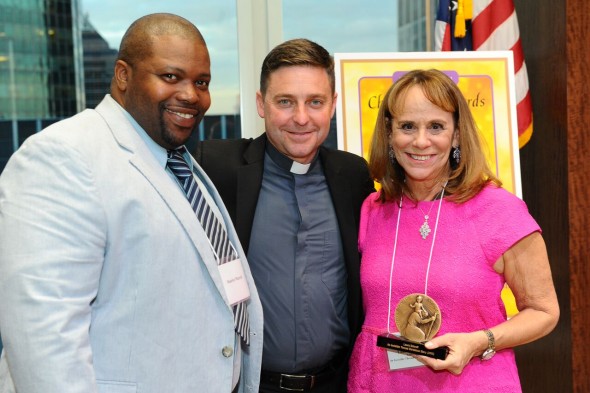 (Father Jonathan Morris presents Christopher Award to Laura Schroff, joined by the inspiration from her book Maurice Mazyck)
For Kindergarten and up:
"AN INVISIBLE THREAD CHRISTMAS STORY" by Laura Schroff and Alex Tresniowski, illustrated by Barry Root (Little Simon/Simon and Schuster) – At age eleven, Maurice Mazyck asked a stranger on the streets of Manhattan if she had any spare change. That stranger was Laura Schroff, and she decided to buy Maurice lunch instead. A friendship was born that day between the advertising executive and the boy who lived in a shelter hotel. When Laura discovered that Maurice had never celebrated a real Christmas, she gave him presents under her tree – and a fun-filled day with her extended family. The two of them embraced the spirit of the season that year – and it forever changed their lives for the better.
————————————————————–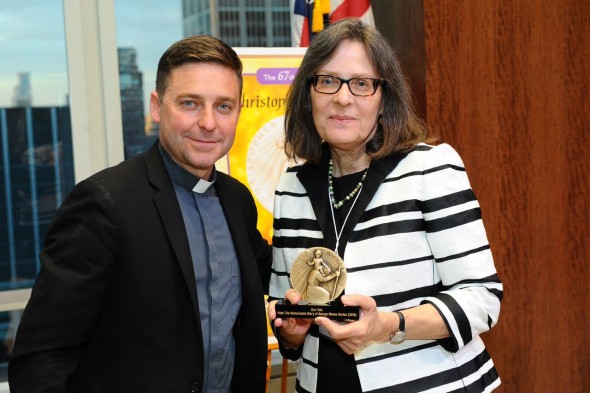 (Father Jonathan Morris presents Christopher Award to the President and Publisher of Peachtree Publishers Margaret M. Quinlin, accepting for Don Tate)
For ages 6 and up:
"POET" written and illustrated by Don Tate (Peachtree Publishers) – The Bible readings and hymns he heard as a boy taught George Moses Horton to love words. But because he was a slave, he had to teach himself how to read. Then, his own words just flowed. George composed poetry, which he recited on the University of North Carolina's campus while selling fruit for his master's farm. He gained a wide following and became the first southern African-American man to be a published writer. George finally gained his freedom at age 66. But as author Don Tate writes, "Words loosened the chains of bondage long before his last day as a slave." Accepting for author and illustrator Don Tate is .
————————————————————–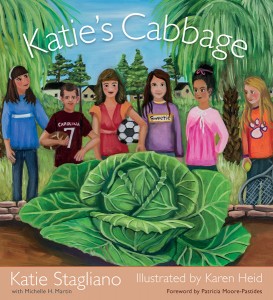 >For ages 8 and up:
"KATIE'S CABBAGE" by Katie Stagliano with Michelle H. Martin, illustrated by Karen Heid (Young Palmetto Books/University of South Carolina Press) – As a third grader, Katie Stagliano planted a cabbage seedling in her yard for a class project. That seedling soon grew into a forty pound cabbage. After her parents told Katie that many families go to bed hungry every night, she donated her cabbage to a local ministry where it fed 275 people. That experience inspired Katie to grow more food to feed the hungry – and invite others to do the same. Her project is now a national youth movement that aims to end hunger one vegetable garden at a time.
————————————————————–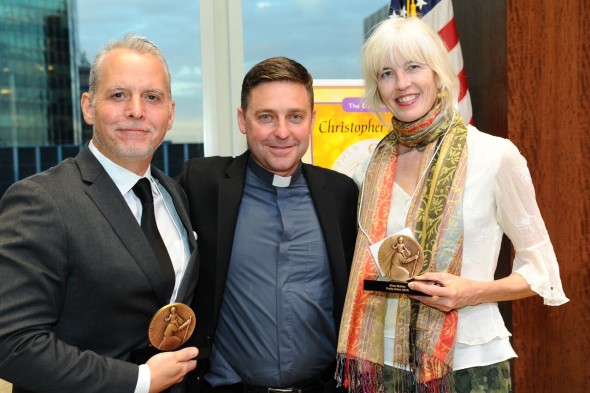 (Father Jonathan Morris presents Christopher Award to Alison McGheee and Christopher Denise)
For ages 10 and up:
"FIREFLY HOLLOW" by Alison McGhee, illustrated by Christopher Denise (Atheneum Books for Young Readers/Simon and Schuster) – Cricket and Firefly are taught to fear the world outside their hollow, but they both harbor big dreams. Firefly wants to touch the moon, while Cricket yearns to be a catcher like his idol Yogi Berra. When the two creatures befriend a wise old river vole and a lonely boy named Peter, they form a bond that inspires them to overcome their fears, move beyond self-imposed limits, and even deal with grief. In the end, this unique band of adventurers learn that dreams sometimes have to evolve in order to be fulfilled.
————————————————————–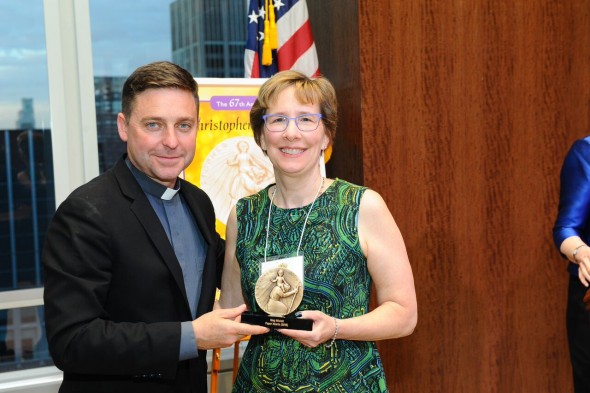 (Father Jonathan Morris presents Christopher Award to Meg Wiviott)
For young adults:
"PAPER HEARTS" by Meg Wiviott (Margaret K. McElderry Books/Simon and Schuster) – In the Auschwitz concentration camp, a Jewish girl named Zlatka risked death at the hands of her Nazi captors by creating an origami heart for her best friend Fania's birthday—and having her fellow captives sign it as well. This act of friendship in an otherwise dehumanizing environment gave the girls the hope they needed to survive. Inspired by a true story, this powerful novel-in-verse reminds us, in Zlatka's own words, "Everything in life passes by like a wave over a rushing river. Only true love stays faithful forever."
————————————————————–
Christopher Spirit Award
The Hallmark Channel series "When Calls the Heart" was inspired by the Janette Oke novel of the same name, and stars Erin Krakow, Daniel Lissing, Lori Loughlin, and Jack Wagner. It takes place in 1910, and tells the story of Elizabeth Thatcher, a young teacher who gets assigned to the frontier town of Hope Valley. The storylines include plenty of action, adventure, and romance. But they also celebrate the power of education, making sacrifices for those you love, practicing your faith, and coming together as a community. Community is also one of the reasons for the show's success: namely, the online fanbase known as "Hearties." Their Tweeting during each episode has set new social media records for the Hallmark Channel and continues to win the show more viewers as it prepares to enter its fourth season.
The message of the Hearties is that people are starved for entertainment that is family-friendly. And in an age where everybody is watching TV shows by themselves on their phones or iPads, the producers and executives behind "When Calls the Heart" hope that families sit down and watch this show together. For all those reasons and more, The Christophers are happy to present the 2016 Christopher Spirit Award to "When Calls the Heart."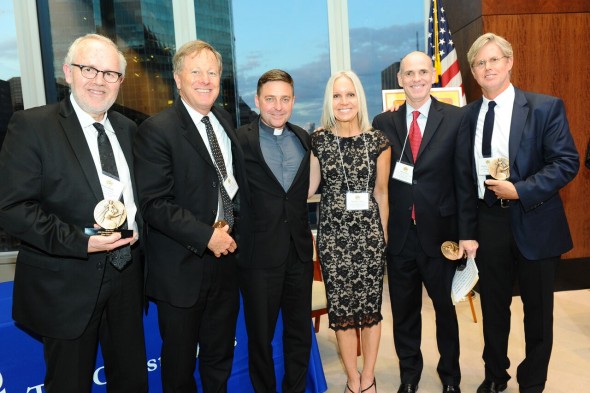 (Father Jonathan Morris presents Christopher Awards to executive producers Brian Bird and Brad Krevoy, and Brian Bird; Hallmark Channel Executive Vice President of Programming and Network Publicity, Michelle Vicary; the president and CEO of Crown Media Family Networks, Bill Abbott; and executive producer Michael Landon Jr.)
VIDEO TO COME SOON
Feature Films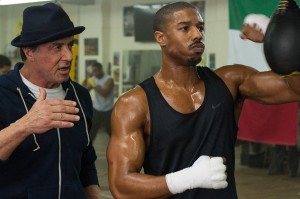 CREED (Warner Brothers, MGM, and New Line) – Rocky Balboa is a lonely widower when Adonis Creed, the son of his late friend Apollo, shows up looking for a mentor. Through their relationship, Rocky regains a sense of purpose in his life, while Adonis gains the caring father figure he desperately needs. The odds against their success mount, especially after Rocky's cancer diagnosis seems to knock him down for the count. But that's when the young boxer and former champion become a mutual support system, mustering up the determination and courage to take on their respective fights.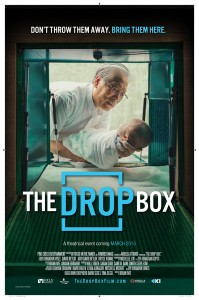 THE DROP BOX (Arbella Studios) – Pastor Jong-rak Lee built a drop box for unwanted babies onto his home and church in South Korea. The reason? Many babies born disabled – or to single mothers – are abandoned on the streets to die. With a heart full of love for these children, Pastor Lee and his wife started taking them in, finding them homes, and even adopting 18 themselves. To date, they have saved over 600 babies. This moving documentary introduces us to Pastor Lee's noble efforts, and reminds us of the inherent dignity of every human being.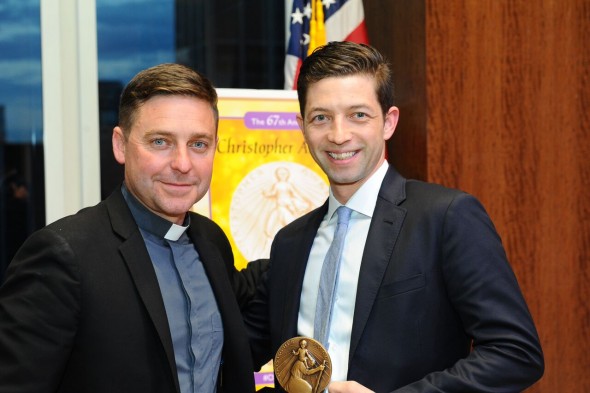 (Father Jonathan Morris presents Christopher Award to 20th Century Fox senior publicist Todd Michalak)
THE MARTIAN (20th Century Fox) – Stranded on Mars because his fellow astronauts believe he died in a windstorm, Mark Watney uses his science and botany background to stay alive. He gets around with NASA machinery and manages to grow potatoes, all while listening to the disco classics one of his crewmates left behind. When the world discovers that Mark survived, nations come together to find a way to save him, even though he is 30 million miles away from home. Ultimately, "The Martian" is an uplifting film about achieving the impossible through ingenuity, initiative, and cooperation.
————————————————————–
ROOM (A24 Films) – Held captive by a sexual predator for nearly a decade, Joy Newsome and her five-year-old son Jack are always confined to a one-room shed. While Joy sustains Jack with love, he gives her hope for the future — hope that's borne out when her escape plan finally works. Readjusting to normal life brings challenges when Joy feels unfairly judged by others, and Jack finds himself both scared of the outside world and awed by its beauty. The powerful bond between mother and son proves tougher than any challenges, though, allowing them both to move forward together.

TV/Cable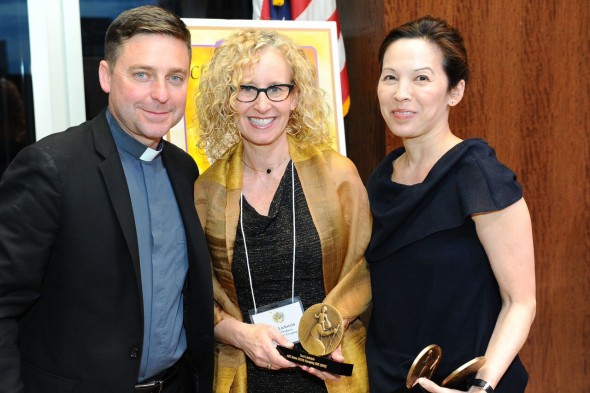 (Father Jonathan Morris presents Christopher Award to senior producers Terri Lichstein and Muriel Pearson)
ABC NEWS 20/20: ESCAPING ISIS – In the aftermath of ISIS attacks in 2015, hundreds of Iraqi Christians fled their home cities. These men, women and children found shelter on the grounds of a Catholic church in Erbil, where they were welcomed by Father Douglas Bazi. In conjunction with two former CIA officers, the priest works to relocate these families to a new country, but runs into anti-refugee sentiment. This timely episode of "20/20" highlights the horrors of the refugees' ordeal, along with the moments of light. As Father Bazi says, "ISIS took our houses, but we became one family."
————————————————————–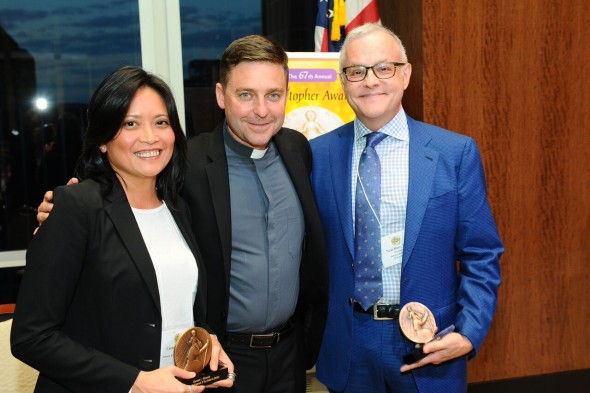 (Father Jonathan Morris presents Christopher Award to producer Dr. Neal Baer and series producer Carmen L. Vicencio)
AMERICA REFRAMED: IF YOU BUILD IT (World Channel) – With a passion for architectural design and building, Emily Pilloton and Matthew Miller moved to the poorest county in North Carolina. Their goal was to create a unique high school shop class that would both engage students and help them rebuild their dying community. Despite major obstacles – like the school board refusing to pay them – Emily and Matthew ignite a sense of possibility in these teens, teaching them to build everything from a chicken coop to a new farmer's market. This episode of "America ReFramed" celebrates innovative education techniques that can give young people a new vision for the future.
————————————————————–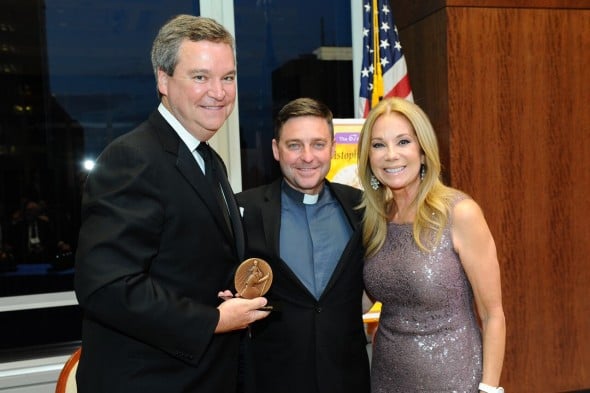 (Father Jonathan Morris presents Christopher Award to executive producer Sam Haskell, who is also a longtime friend of presenter Kathie Lee Gifford)
DOLLY PARTON'S COAT OF MANY COLORS (NBC) – Growing up in the Smoky Mountains of Tennessee, Dolly Parton's family had a lot of love and a lot of kids, but not a lot of money. However, those times inspired Dolly's songwriting, including her favorite song, "Coat of Many Colors." The lyrics recall her mom using old rags to make her a coat, just like Joseph wore in the Bible. This TV movie explores that story, and expands on it to highlight themes like bullying, forgiveness, and grieving the loss of a child. It also reminds us of a lesson Dolly learned long ago: that the love of God and family are the greatest riches of all.
————————————————————–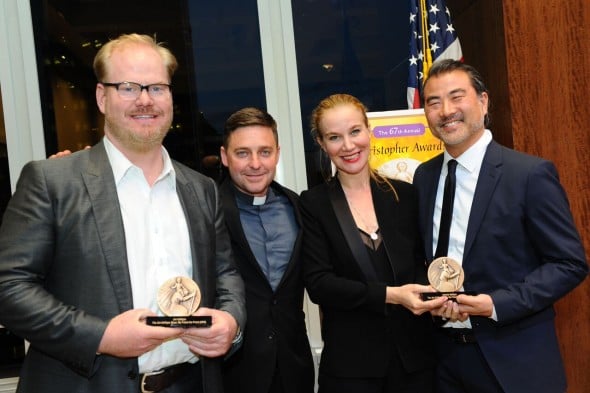 (Father Jonathan Morris presents Christopher Award to writers and executive producers Jim and Jeannie Gaffigan and director Steven Tsuchida)
THE JIM GAFFIGAN SHOW: MY FRIEND THE PRIEST (TV Land) – Every comedian dreads getting bumped from "The Tonight Show" because a previous guest runs long. But when that guest is your African parish priest who charms Jimmy Fallon and Questlove, it shows that God has a wicked sense of humor. That's the case in this episode of Jim Gaffigan's sitcom, in which his wife Jeannie invites their parish priest to tag along with Jim wherever he goes. Jim agrees to Jeannie's plan, despite being nervous that he'll say something that will land him in hell. But for viewers, the laughs are heaven-sent.
————————————————————–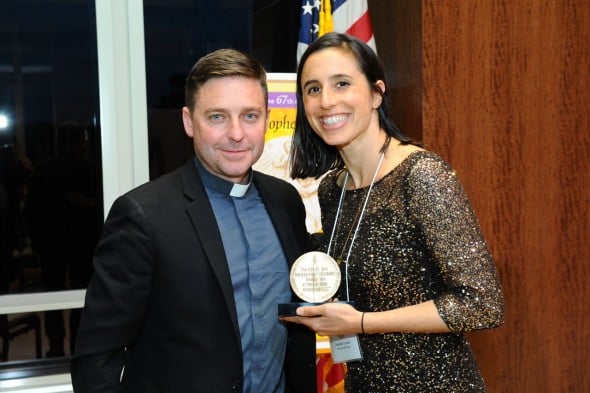 (Father Jonathan Morris presents Christopher Award to associate producer Danielle Lurie)
TASHI AND THE MONK (HBO) – In the foothills of the Himalayas lies a community that its founder calls "a living laboratory of compassion." It's a home for orphaned and neglected children that was created by a Buddhist monk, who was himself abandoned by his mother as a child. He came to understand love's power to heal broken people, and that is what he and his staff embody to the 85 children who live there – even to a wild and troubled five-year-old girl named Tashi. This revealing documentary promotes the simple truth that all children need to feel valued.
————————————————————–
2016 Life Achievement Award
Ernie Anastos has been one of New York's most recognizable faces – and most beloved reporters and anchors – for close to forty years. Legendary CBS news anchor Walter Cronkite once called him "the greatest." And Regis Philbin said, "Ernie may be the nicest guy I ever met in this business." Ernie's dream to be a part of "this business" started at age ten, when he pretended to be a radio announcer in the basement of his family's New Hampshire home. After years of hard work, he achieved his goals, and landed an anchor job at WABC-TV in 1978. His career also led him to WCBS-TV before moving on to FOX5 where he continues to anchor the news at 6:00pm.
Over the years, Ernie has interviewed notable people, ranging from Alfred Hitchcock to Mikhail Gorbachev. His accolades include more than 30 Emmy Awards and nominations, the Edward R. Murrow Award, and a place in the New York State Broadcasters Hall of Fame. And Ernie has achieved all these things without letting success go to his head. He credits his family, his faith, and his Greek-American heritage with keeping him grounded. Not only that, he's always shown an ecumenical spirit through his work with the Archdiocese of New York, and groups like Catholic Charities and The Christophers.
Ernie Anastos has accomplished a lot in his lifetime, and will no doubt do so for many years to come. So as a recognition of his hard work and his kind heart, The Christophers are happy to honor him with our 2016 Christopher Life Achievement Award.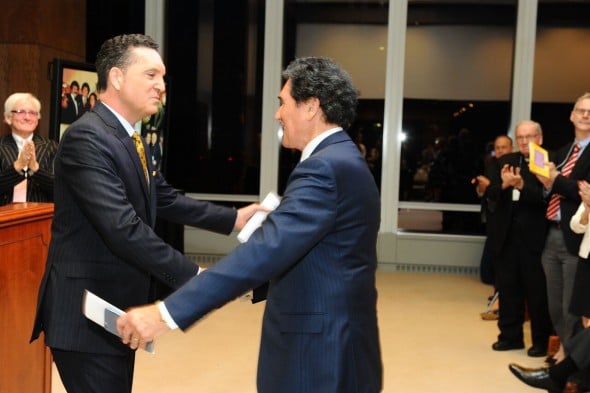 (Presenter Tony Aiello greets Life Achievement Award winner Ernie Anastos, who introduced Aiello's first ever piece as a reporter at WCBS-TV many years ago)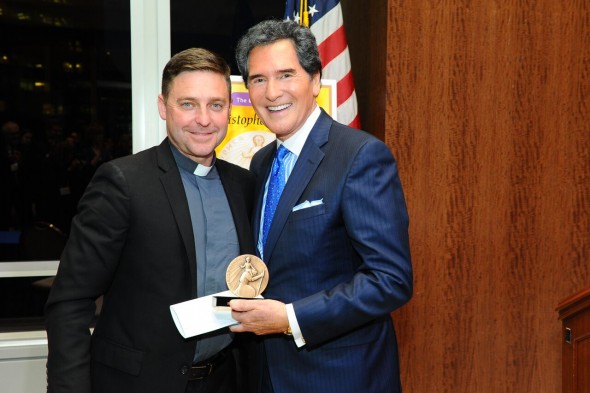 (Father Jonathan Morris presents Christopher Award to Ernie Anastos)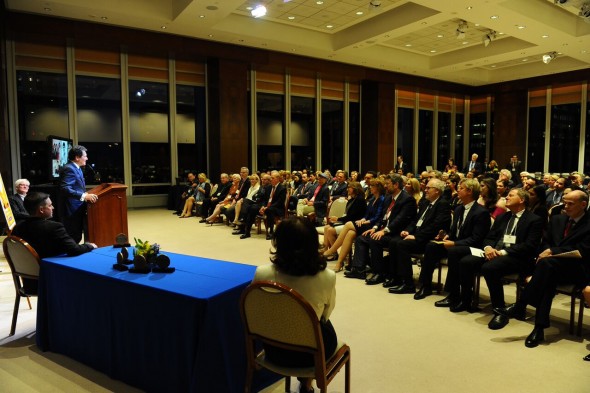 (Ernie Anastos shares words of wisdom with the crowd)
UPDATE – Read coverage of the Christopher Awards:

– Inspiration Is Easier to Find When You Know Where to Look
– Christopher Award Winner Shares Tools to Care for Aging Parents
Stay in touch! Like The Christophers on Facebook: